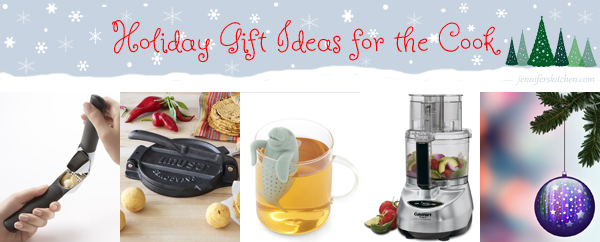 I get several emails a week asking what type of waffle iron I recommend or which is my favorite brand of ice cream maker or have I tried this rice cooker.  I thought I would put together a post of products that I have used and liked (and a few that I wasn't so impressed with) to help you equip your kitchen well … or to help you surprise that someone special with the perfect holiday gift.
Tortilla Press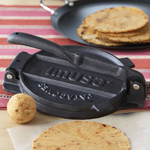 We make tortillas and wraps often, and yesterday, just for fun, I thought I would roll one of them out with a rolling pin. That lasted all of 20 seconds. I scraped the scraggly-looking tortilla off the counter and put it back in the mixing bowl and made the rest of the tortillas on the press.
Having a tortilla press means I can make my own beautifully-shaped, perfectly-thin, gluten-free tortillas at home using ingredients that I want to use. And it's so fast. I can press 8 wraps in less than 2 minutes.
Chef's Knife
This knife is my favorite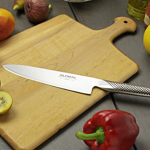 of all the knives I own. While there are some perrrty nice knives on the market, they can cost you quite a few Benjamins. This knife is good quality for not too much money.
I always bypass the other 4 chef knives in my kitchen to reach for this one. It's lightweight and well-balanced and easy to hold onto.
I'm amazed at how many people cook without a good chef's knife. I think it's one of those things you don't know what you're missing until you try it and then you say, "How did I manage before I had one?!"
Blender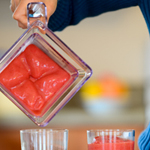 I've worn out more than my share of blenders and was very happy to finally find one that could stand up to heavy use. I use my blender at least once a day and often several times a day. It's the workhorse of my kitchen.
I have more information about my Blendtec blender in a post I wrote about How to Choose a Blender, if you're interested. I also wrote an as-fair-and-objective-as-I-can-possibly-be comparison between the Blendtec blender and the Vitamix to help you make the decision about which blender is best for you.
Veggie Chopper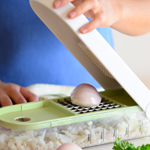 I really like my veggie chopper and it has saved me countless hours in the kitchen – plus it makes very pretty soups and salads. (All the veggies pieces come out matchy matchy.) It can cut my chopping time to less than half.
The one thing I don't like about the veggie chopper is the base isn't as durable as I think it should be. But, until I find something better, I will resign myself to replacing the base when it cracks, because the chopper saves me soooo much time in the kitchen.
Waffle Iron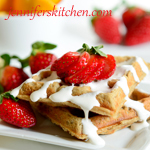 I own a Toastmaster and it's held up for many years. I estimated I've made over 4,000 waffles in that iron. Unfortunately, I don't think they make that model anymore, and I highly doubt the new models are just as durable.
I've test driven a few others and was not impressed until I found the Krups waffle iron. It's a high-quality iron and we really like it. And we like our Oster Flip that makes 2 waffles at once.
Swiss Julienne Peeler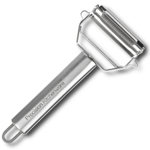 Definitely not essential, but this little tool is a lot of fun! It's like being able to julienne at 4 times the speed. It makes beautiful garnishes and cool additions to salads. And when I don't want diced carrots in my soup but shredded carrots are too small, I use this for the perfect size pieces.
I use it mostly for carrots and to shred my homemade vegan cheese, but you can also make zucchini noodles and lots more with it.
Food Processor
I like both the KitchenAid 11-cup Food Processor and the Breville 16-cup Food Processor.  These are powerful, versatile, and efficient kitchen tools. Read more about how to choose a food processor here.
I use mine for making pesto, chopping nuts, making No-Bake Coconut Date Bites, shredding vegetables, making nut butter, slicing potatoes (it only takes me 15 minutes to make these Skinny Scalloped Potatoes), making this White Bean Garlic Dip, and more.
Crock Pot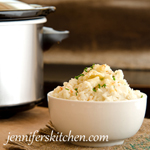 My crock pot is another tool that gets used nearly every day at my house. We love the convenience of putting beans or grains in the crock the day before and having a hot meal ready and waiting for us the next day.
A slow cooker also comes in handy for keeping foods warm while waiting for dinner. This is super convenient during the holidays – you can make your mashed potatoes ahead of time and they'll stay warm in the crock pot while you tend to other things.
I own a small crock pot for cooking overnight hot cereal and a couple large ones for cooking beans, soups, and other main dishes.
Measuring Tools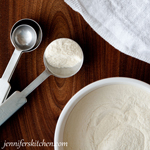 Measuring cups and spoons seem like a small, insignificant part of cooking … until recipes don't turn out quite right because of using inaccurate measuring.
A quality set of measuring cups and spoons is essential for good results in baking and cooking.
I highly recommend stainless steel (for dry ingredients) and glass (for liquids) rather than plastic. The fact that they hold up longer and are easier to use more than justifies the little extra they cost.
Garlic Press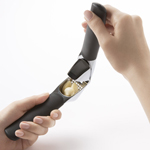 Have you noticed that many recipes call for a "clove of garlic, crushed"? How do you crush a clove of garlic? With a garlic press.
A garlic press makes adding garlic to your recipes super fast and super easy.  Just place the clove in the press – peel and all – and squeeze the handles together, and out comes crushed garlic. (The skin gets left in the press.)
When purchasing a garlic press, be sure it comes with a cleaner. Mine came with one and it takes less than 5 seconds to clean under running water; but without a cleaner this job can be difficult.
Other Very Useful Tools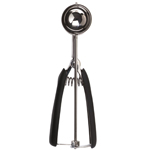 There are several other tools that I have found to be very helpful for working efficiently in the kitchen. These include a kitchen timer (so I don't burn my cookies), cookie scoops (to make these yummy date bites, and patties, and of course, cookies), a cutting board (I like these because they don't dull my knives and are easy to clean), a heat-proof spatula (I use it every day for cleaning out my blender and for cooking stuff like tapioca pudding), my Cuisinart Ice Cream Maker (to make healthy homemade ice cream), a stainless steel colander (for draining pasta and washing produce), and a good set of mixing bowls.
Gadgets that I think are very cool but do not own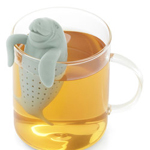 Even though cute and/or unique kitchen gadgets really tempt me (I'm a food blogger – I need a bike-shaped pizza cutter, right?) my kitchen doesn't have the room, so I try to utilize the space I have for the tools that will be the most useful.
But that adoooooorrrrable manatee tea infuser.  I just might find room for that.
Books
Food Matters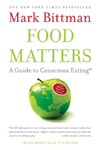 A New York Times Bestseller by cookbook (How to Cook Everything) author Mark Bitman, Food Matters combines scientific research with the author's own experiences and shows how simple dietary changes helped him overcome his personal struggle with weight, high cholesterol, and sleep apnea – without resorting to dieting and calorie-counting.
There are more than 75 recipes included in this interesting read.
The Food Revolution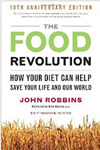 Bestselling author John Robbins, son of the Irv Robbins, co-founder of the world's largest ice cream company, Baskin-Robbins, was groomed to follow in his father's footsteps. However, at a young age, he felt his conscience drawing him in a different direction. He choose to leave his father's company, which promised success and money, to promote a bigger dream – that of promoting healthy, environmentally sound food choices.
Food Revolution was "one of the very first books to discuss the negative health effects of eating genetically modified foods and animal products of all kinds, to expose the dangers inherent in our factory farming system, and to advocate a complete plant-based diet."
Happy Holidays!
Popular Posts