How to Cook Quinoa and Recipe for Quinoa Patties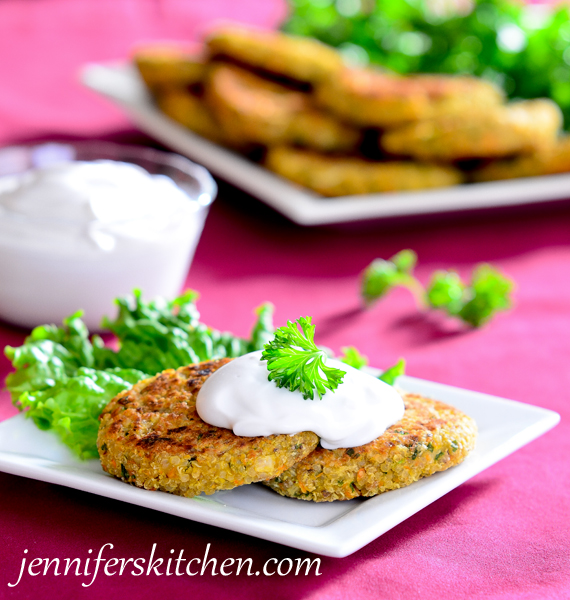 It's the new year and time to try something new … right?
Introducing quinoa!
You may have heard about this little grain-like seed — after all quinoa (pronounced KEEN-wah) has become quite mainstream – but have you tried it?
This delicately flavored grain-like seed was a staple in the diet of the ancient Incas and has been called "the gold of the Incas," or "mother grain." Quinoa is gluten-free, easy-to-digest, and packs a powerful punch nutritionally – it's a complete protein, and provides a plethora of essential nutrients, like folate, magnesium, manganese, zinc, and iron.
And it's cute as a bug's ear.
Where to Buy Quinoa
Quinoa seeds come in a wide array of colors, including black, red, gray, pink, yellow, purple, green, and orange. The most common colors are white, red, and black.
You can buy quinoa from most grocery stores, but (because I enjoy shopping about as much as I enjoy pulling my toenails off one-by-one) I like to get mine from Azure Standard. It's always fresh and delicious. They carry white quinoa, red quinoa, black quinoa, and even quinoa flakes!
I have also purchased quinoa from Amazon and it's usually decent quality. One click and it's at my door in two days.
I've never been really happy with quinoa from the grocery store; it's not only more expensive, but it usually isn't fresh.
How Do I Cook Quinoa?
So now that you have this light, tasty, and easy-to-prepare "super grain" in your very own kitchen pantry, what do you do with it?
Quinoa is easy. Simply place 2 cups of water, vegetable stock, or broth (scant) in a wide-bottom pan and bring to a boil. Stir in 1 cup* quinoa, cover, and return to a boil.
Reduce heat and simmer for about 15 to 20 minutes or until all liquid is absorbed. Remove from heat, fluff with a fork, and season to taste.
I use my pan with glass lid so I can see when the liquid is absorbed without lifting the lid (which can affect the cooking time and results).
When quinoa is properly cooked, you can see little curled "tails" emerged from the grains/seeds.
* Quinoa almost quadruples in volume when cooked, so 1 cup of uncooked quinoa will make approximately 3 1/2 to 4 cups cooked, depending on the type of quinoa.
The User's Guide to Quinoa
Not only is quinoa easy to cook, but it's ultra versatile too. Quinoa can be used in all sorts of dishes, like tabbouleh, breads, stuffing, pilafs, salads, soup … and these very tasty Quinoa Patties!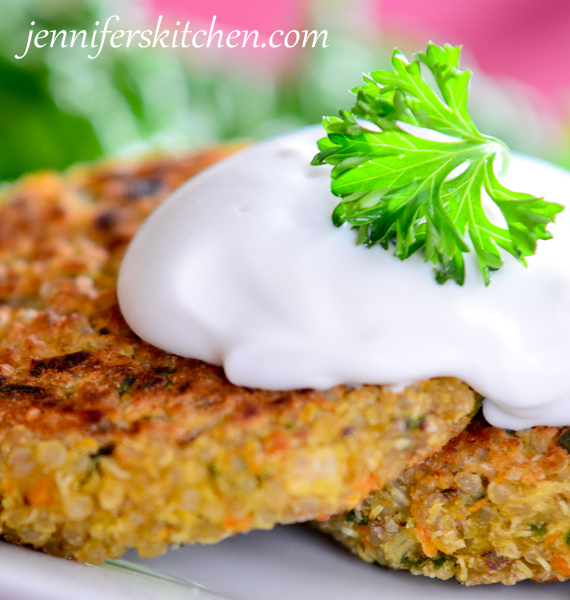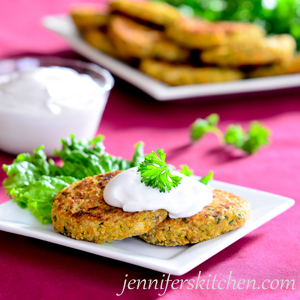 Quinoa Patties
Packed with super-nutritious quinoa, these patties are easy to make and wonderfully delicious!
Instructions
Finely chop parsley in food processor. Transfer to another bowl and set aside.

Cut carrot into large pieces, place in food processor, and pulse until finely chopped.

Add beans, seasonings, oil, lemon juice, and starch and pulse just until mixed but still slightly chunky.

Add finely diced onion, parsley, and quinoa and process just until mixed. Do not over-process; you want the mixture thoroughly combined but not mushy.

Using approximately 2 tablespoons of mixture at a time, form into patties. (I use a cookie scoop to form the mixture into quick, nice, neat balls and then I gently pat them flat to form quick, nice, neat patties.)

Heat small amount of oil in a non-stick skillet. Cook patties until browned on bottom. Turn over and cook until the other side is browned.

Serve hot.
Notes
If beans are well drained and quinoa is cooked correctly, the patties should hold together firmly. However, if you find that the patties fall apart when cooking them, simply stir one tablespoon flax meal into mixture OR place mixture into refrigerator to chill before shaping into patties.
>> One quick request: if you like this recipe, please leave a rating and a comment. Ratings help more people find these healthy recipes!
Print Recipe
Leave a comment
Your comments make my day! 🙂
You my also like:
Before you go . . .
Did you know that you can eat all this delicious food AND lose weight? You can!
No calorie counting. No portion sizes.
Join my online weight loss program today!