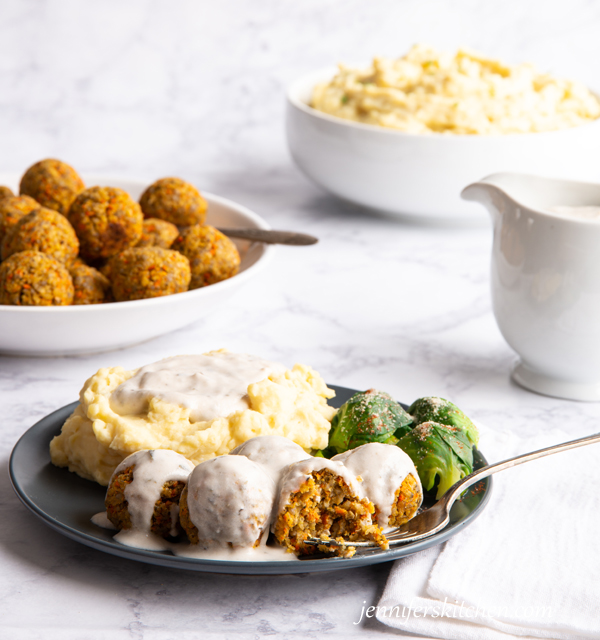 Want to include more vegetables in your diet but not super enthused about a pile of cooked carrots on your plate? These Vegan Veggieballs are the answer. They're perfect for sneaking some extra vegetables into your day in a very delicious way.
Quick and Easy!
One of my favorite things about these Vegan Veggie Balls? With my handy-dandy food processor, I can whip these little guys up in only 12 minutes!! Now that's healthy fast food!

Very Versatile
Our favorite way to enjoy these Vegan Veggie Balls is with these amazing vegan mashed potatoes.
They're also delicious
in a sandwich
in a wrap
as an appetizer
as a topping for a green salad with some of this delicious Creamy Dill Dressing
on top of pasta with a cream sauce
by themselves with this delicious Vegan Herb Gravy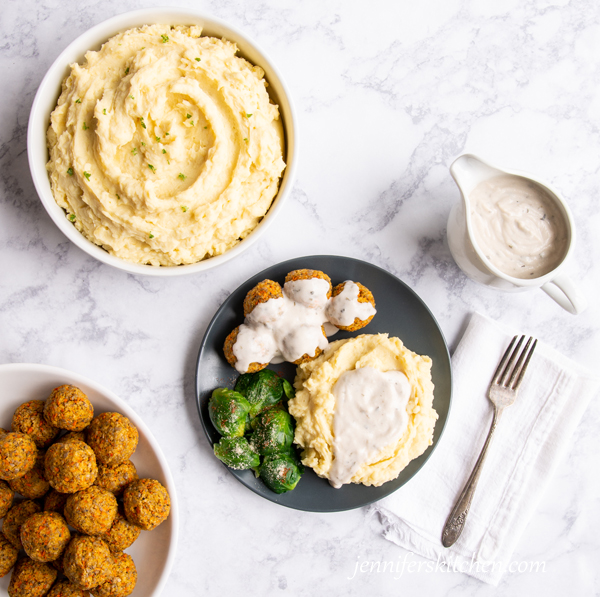 Whole Grain Nutrition
Not only are these scrumptious Vegan Veggie Balls a yummy way to eat veggies, but every serving gives you a healthy dose of whole grains.
Whole grains, like brown rice, oats, and millet, are superfoods that are a great source of fiber, iron, selenium, magnesium, and B vitamins.
Here are some of the benefits of eating whole grains:
1. When properly cooked, whole grains can reduce inflammation.
Whole grains are loaded with phytochemicals that have any anti-inflammatory effect in the body.
2. Whole grains promote good gut health.
Research shows that whole grains feed the beneficial bacteria in the gut and promote a healthy gut microbiome.
3. Whole grains can help with weight loss.
Numerous studies have shown that people lose weight faster and are able to keep the weight off when they include whole grains in their diet. One reason for this is that whole grains boost metabolism. Another reason: whole grains are very high in fiber, and fiber not only pulls fat out of your body, but also helps you feel fuller longer.
4. Whole grains help prevent disease.
Several studies have found that individuals who eat about 4 servings of whole grains per day have a lower risk of developing several diseases, such as heart disease, cancer, and diabetes.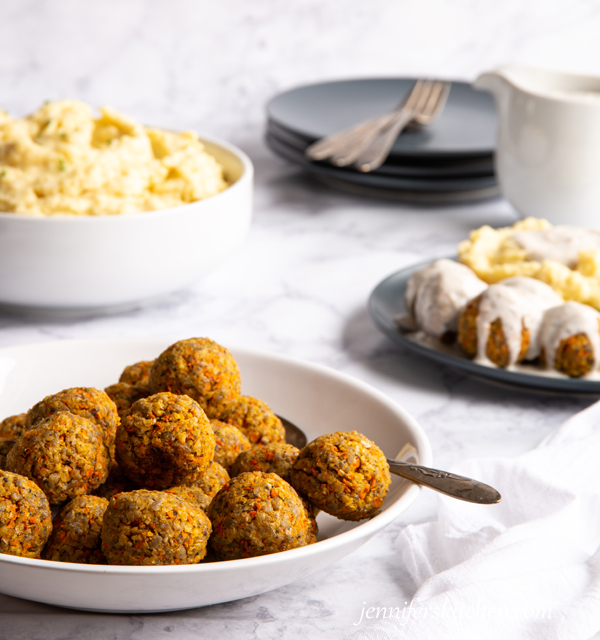 FAQs
How long do they keep in the refrigerator?
These keep in the refrigerator for about 4 to 5 days. They keep best without gravy or sauce on them, but I've also placed gravy-laden Veggie Balls in the refrigerator and they reheated fine.
Can the Vegan Veggie Balls be frozen?
Yep! They freeze and reheat well. Place them in an airtight container or ziplock bag and they will keep in the freezer for about 3 months.
How do I reheat them?
When you are ready to eat them, place frozen Vegan Veggie Balls on a baking sheet and reheat in the oven at 350 for 15 to 20 minutes.
If the Vegan Veggie Balls are thawed, they will reheat in about 10 minutes.
Are these Vegan Veggie Balls gluten-free?
Yes.
Are these Vegan Veggie Balls oil-free?
Yes.
Are these Vegan Veggie Balls WFPB?
Yes, these Vegan Veggie Balls are a delicious whole-food-plant-based food.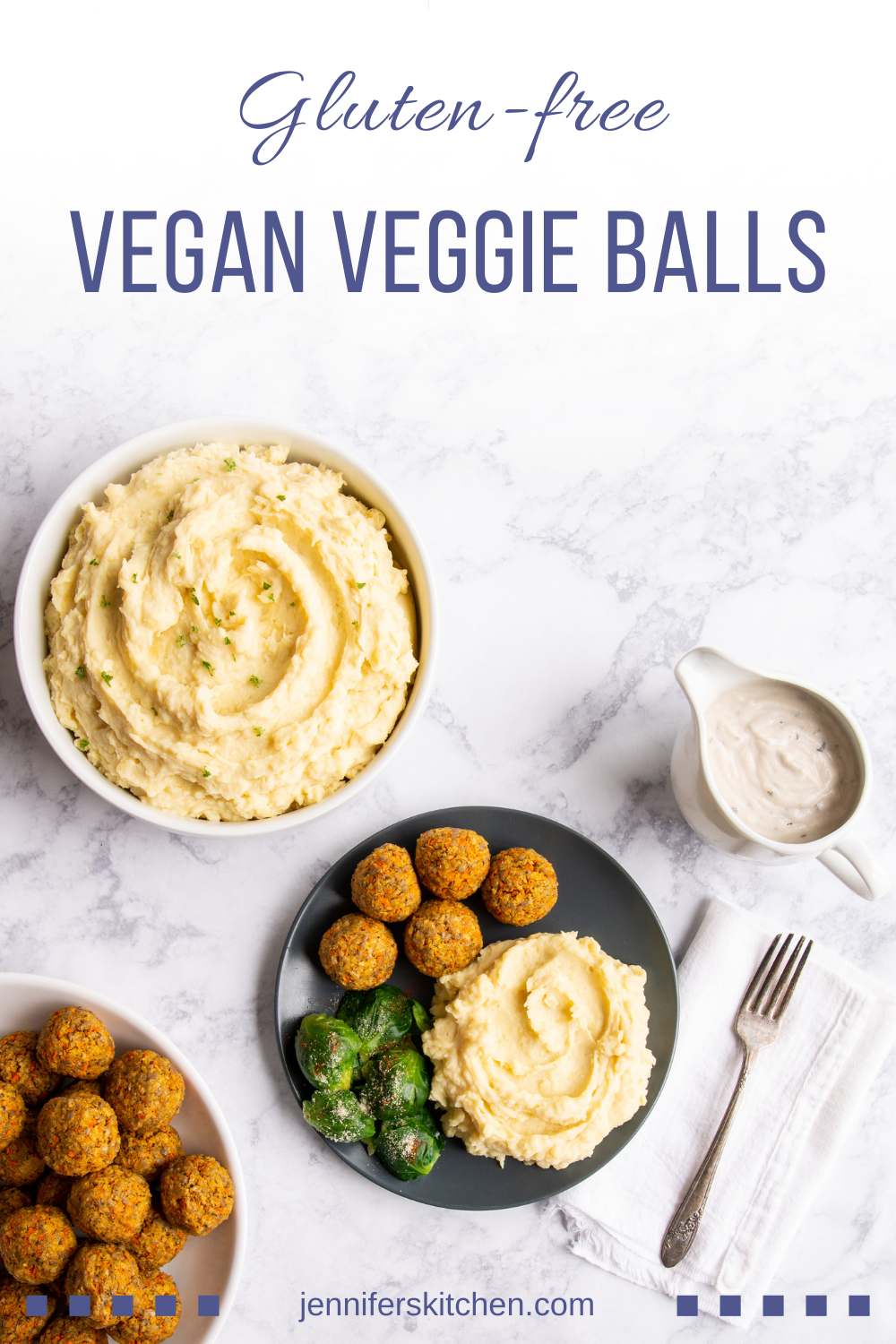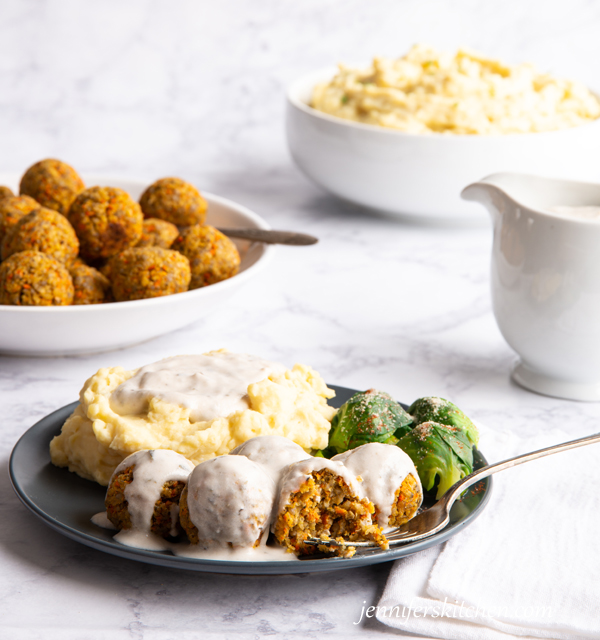 Vegan Veggie Balls
Quick and easy to prepare, these Vegan Veggie Balls are gluten-free and delicious!
Instructions
Place seeds in a food processor and grind until medium-fine. Transfer to a bowl and set aside.

Cut carrots into large pieces and place in a food processor along with kale, and process until carrots are finely chopped (slightly smaller than the size of a grain of rice). You should have about 3/4 cup of finely chopped vegetables.

Add remaining ingredients to food processor (including sunflower seeds) and pulse several times until rice is chopped (but not pureed!) and mixture is well combined and starting to stick together.

Shape into 2-tablespoon balls. Place on a parchment-lined or oiled baking sheet.

Bake at 400°F for 25 minutes or until lightly browned on the bottom.
Notes
For a crispy (instead of a tender) outside, bake Vegan Veggie Balls at 425°F for 25 minutes.
The texture of these Vegan Veggie Balls is NOT good cold. I strongly recommend heating them before serving.
Make Ahead Tip:
Can be made ahead of time and kept in freezer. When ready to serve, remove from freezer and bake at 350 for 15 to 20 minutes or until thoroughly heated.
* * * This recipe for Vegan Veggie Balls is … gluten-free, plant based, oil-free, sugar-free, high in fiber, dairy free, egg-free, vegetarian, vegan, and made from real, whole foods.
>> One quick request: if you like this recipe, please leave a rating and a comment. Ratings help more people find these healthy recipes!
Print Recipe
Want More?
For more healthy and delicious recipes like this one that will simplify your journey to a healthier and thinner you, check out my
Healthy Weight Loss Program!
You my also like:
Before you go . . .
Did you know that you can eat all this delicious food AND lose weight? You can!
No calorie counting. No portion sizes.
Join my online weight loss program today!