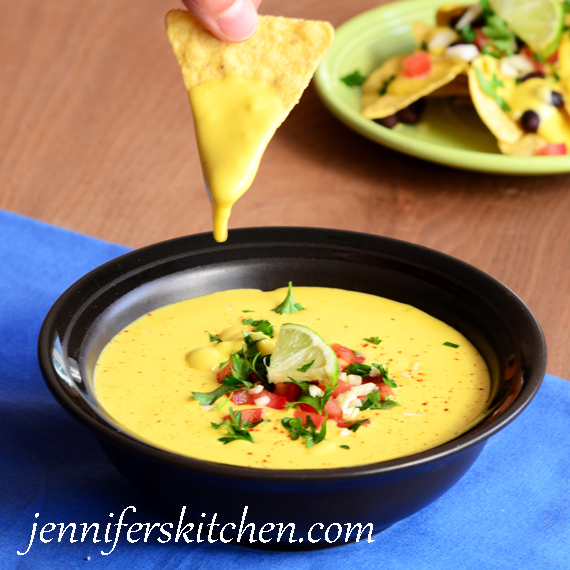 So if you were thinking of having broccoli or a baked potato for dinner today and wanted a low-fat, healthy cheese sauce to top it … maybe one that has no cholesterol or is low in saturated fat … or maybe you needed one that is dairy-free or lactose-free, you may have done a search on Google and come across a few vegan "cheese sauce" recipes. This is because vegan "cheese sauces" are naturally all of these healthy things. But I've seen and tasted quite a few, and while some of them are absolutely delicious, I've never had one that actually tasted like real cheese sauce.
And, this one is no exception. But wait!
I've learned something in my healthy cheese sauce quest I'd like to share with you. And it goes like this:
I like ice cream. It's probably one of my favorite foods. And I like guacamole too. Right up there with ice cream.
So let's say you invited me to your house for some guacamole and ______. (Fill in the blank. It doesn't matter; everything's good with guac.) When I'm eating your yummy guacamole, I wouldn't complain that it didn't taste like ice cream.
And then if you served me some ice cream, I wouldn't whine that it didn't taste like guacamole. (Actually, if you fed me both ice cream and guacamole on the same visit, I'd probably just move in with you. But I digress.) They both taste different, but they both taste good!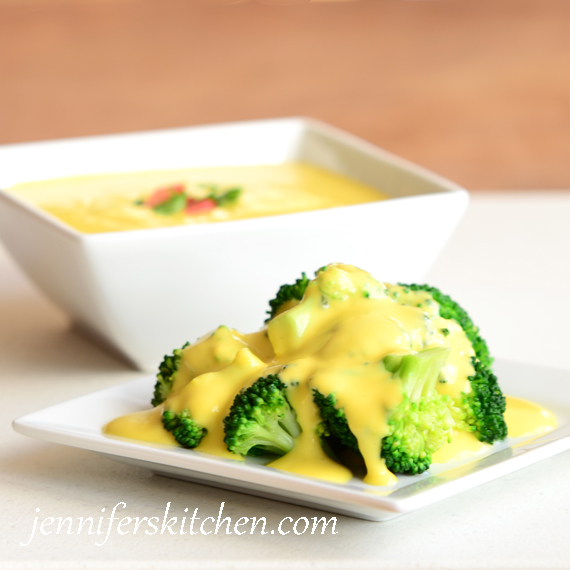 That's the way I look at vegan cheese sauce. Even the best of them don't taste like "real" cheese sauce. Real cheese sauce and vegan cheese sauce are two different foods. That said, many vegan cheese sauces are oh-soooo-wonderfully scrumptious! I could eat this "cheese" sauce (recipe below) on just about everything. Oh, wait. I do eat it on just about everything. And with every luscious bite, my mind never bothers to remind me that it doesn't taste like "real" cheese sauce.

It's creamy and comforting. It's great with chips, but it's also luscious over broccoli, fabulous on potatoes, and wonderful with cauliflower. In fact, this cheesy sauce can make just about any yucky vegetable taste amazing!
Except beets.
So, if you've never tried vegan cheese sauce before, I want to encourage you to give it a try. No, it doesn't taste like the real deal, but when it's so yum (and so guilt-free), who cares?!
Cheese Sauce Nutrition
This cheesy sauce is trans-fat-free, cholesterol free, lactose & casein free, soy-free, and gluten-free. And it's a good source of fiber so it's great for weight loss. (No "real" cheese sauce out there can say that!) It also dishes up protein, vitamins A and K, magnesium, copper, selenium, and manganese, and gets its color and an added nutrient boost from raw carrots.
How to Make It
A high-powered blender, such as a Vitamix or Blendtec (definitely one of the best investments I've ever made!!), will give you the best, smoothest results; but you can make this cheese sauce in a regular blender if you take the time to blend it really, really well.
More Vegan Cheese Recipes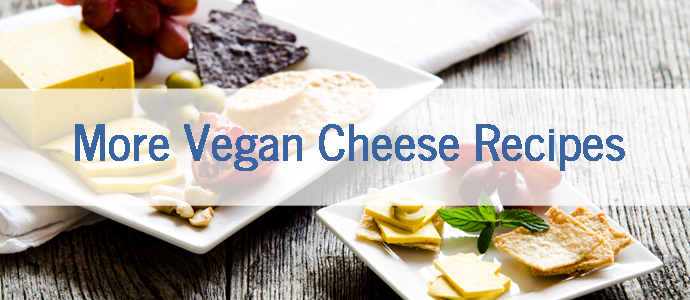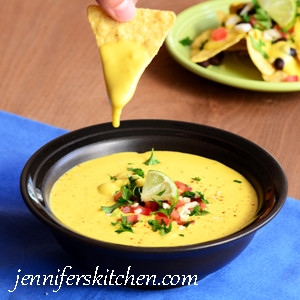 Healthy Cheese-Like Sauce
This vegan cheese sauce is made without nutritional yeast flakes. If you want the added "cheesiness" that nutritional yeast flakes offers, simply add two tablespoons in step one.
Instructions
Place 1 cup water and next 7 ingredients (cashews through tahini) in blender and blend until very, very smooth. (A heavy-duty blender works best for this.)

Add oil and blend well.

Add tapioca starch or corn starch. Blend until well mixed.

Pour into medium/large sauce pan. Rinse blender with remaining 1 3/4 cups water and add to sauce pan.

Bring to boil over medium/high heat, stirring constantly, until mixture is thick and bubbly.

Remove from heat.

Serve warm or chilled.
>> One quick request: if you like this recipe, please leave a rating and a comment. Ratings help more people find these healthy recipes!
Print Recipe
Want More?
For more healthy and delicious recipes like this one that will simplify your journey to a healthier and thinner you, check out my
Healthy Weight Loss Program!
You my also like:
Before you go . . .
Did you know that you can eat all this delicious food AND lose weight? You can!
No calorie counting. No portion sizes.
Join my online weight loss program today!