FAQ
Have a question? Hopefully you can find the answer here. If not, send me an email; I'd love to hear from you : )
SUBSCRIBE TO MY BLOG
How can I make sure I never miss a post on your blog? Can I subscribe to your blog by email?
Yep, you sure can. Just click here and you can get Jennifer's Kitchen delivered right to your inbox.

AD-FREE SITE
I noticed your blog doesn't have ads. How do you fund your site?
A high-traffic website comes with a number of expenses.
I receive emails every day from ad agencies asking if they can advertise on my site. These ads could easily pay for my site expenses many times over, but the ads are usually for items that I don't use myself and wouldn't recommend to my readers.
Unfortunately, green bean and apples aren't profitable enough to pay for bloggers to advertise them.
So, I decided that this site would be my gift to my readers, and for many years it has run at a negative. Which is ok – especially after I receive emails like this one:
Jennifer, your website is the best gift I've ever received…. Thank you for your healthy and delicious recipes. Thank you for your helpful advice. I am a new person because of you.
How can you help keep it ad-free?
If you have enjoyed the recipes and information on jenniferskitchen.com and would like to show your appreciation, here are 2 ways you can help keep this site ad-free:
1. DONATE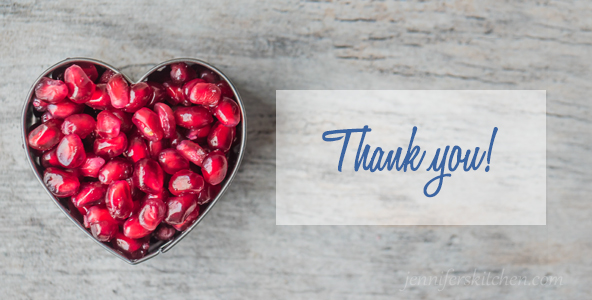 You can give a donation.
2. MAKE A PURCHASE THROUGH THE LINKS ON MY SITE

You can purchase anything through this link to my favorite source for quality ingredients – Azure Standard.
OR
You can purchase anything – anything! – through this link to Amazon.
I earn a small commission when you make a purchase and it doesn't cost you a penny more!
Thank you for helping me keep this site AD-FREE!
PHOTOS
Who does the photography on Jennifer's Kitchen?
My daughter Sarah takes all those pretty photos.
Can I use your photos on my website or blog or ______ ?
Please ask first.
All content, including photos, text, design, and any other material on Jennifer's Kitchen is copyrighted Jennifer White/Jennifer's Kitchen, which means you may not use them without my permission.
Any use of my photos without written permission is a violation of copyright laws.
Can I pin your photos on Pinterest? Or share on Facebook
Yes! I am happy when a reader likes one of my posts enough to share it with others on Pinterest or Facebook.
Please provide a link back to the original post for the recipe. (Do not copy and republish the recipe.)
RECIPES – PERMISSION TO USE
Can I use your recipes on my website or blog?
I love having other bloggers try my recipes and share the results on their own blog. As is common with most blogs and websites, I prefer that, rather than copying and publishing my recipe on your site, you would instead link back to my site as a way for your readers to get the recipe.
Readers love to hear about what you like and recommend, but it is customary practice to link back to the site that owns the original recipe and photo.
Any other use without my permission is a violation of copyright laws.
RECIPES – QUESTIONS
Where do you get your recipes?
Nearly all of my recipes are original and created by me. (If I ever use a recipe that someone else has created – even if I make changes to it – I always ask permission and then give them credit.)
I love creating recipes for my clients as well as for readers of my blog. Nearly all of my recipes work well for my weight loss program.
I have a question about one of your recipes.
If you have a question regarding a specific recipe, please check the comments section as it is possible that your question has already been answered there. If not, please feel free leave a comment directly on that post that contains that recipe. Your question may be the same question that other readers have been wondering about as well.
You may also email me, but please keep in mind that I receive many emails from readers every day, and it's impossible for me to answer them as quickly as I would like to. I make it a practice to answer questions in the comments section first, since more readers will be benefited at a time this way.
INGREDIENTS
Where can I find that ingredient?
I try to develop recipes that use ingredients that can be found in most grocery stores; however, when stores devote 23 feet of aisle space to snack cakes and one needs a private detective to find basic healthful ingredients, this can be a challenge.
You can discover my source for healthy ingredients (the best and the least expensive) on my Ingredient Glossary Page.
NUTRITION INFO
Why don't you provide nutritional information for your recipes?
One of the benefits of my weight loss program is there is no need to count calories, carbs, or points or be crazy worried about every little nutritional detail for everything you eat. If you are eating a truly healthy diet, you can rest assured that you are getting all the nutrients for a healthy body without the hassle and headstands of calculating nutritional information.
Sadly, I have seen people decide against a healthy, nourishing, and slimming breakfast recipe and instead opt for a low fat Pop-Tart and a cup of coffee. How did they come to such a mixed-up, erroneous conclusion? It was based on the nutritional information provided for the meals. (I wrote a post about the craziness of that. Click here if you'd like to read it.)
The Pop Tarts and coffee brought applause because of their low-fat, low-calorie content, but the healthy breakfast was booed off the stage because it included some chopped nuts that upped the fat content a bit. This is so unfortunate because the healthy breakfast – even with its high-calorie, high-fat (and high-fiber) nuts – was extremely beneficial for weight loss. In fact, research shows that nuts, which are loaded with naturally-occurring fat-fighting chemicals, can actually help with weight loss.
If you want to enjoy good health and eat until satisfied without gaining weight, I encourage you to look at the ingredients and don't bother with the rest. Apples don't have nutrition labels on them because their Creator knew it wasn't necessary. Whole foods = good health.
WEIGHT LOSS
Can you help me lose weight?
Absolutely! I am a weight loss coach with over 20 years of experience helping people lose weight and keep it off.
In addition to one-on-one consulting, I offer an online program that you can follow at your own pace whenever convenient for you.
Tell me about your healthy weight loss program.
My very popular and successful online Weight Loss Program includes inspirational and informative videos from me, healthy meal plans, an encouraging support group, exclusive recipes, extra tips (like the secrets to minimizing cravings), and loads of helpful resources (like 10-minute meals), to ensure that you will lose every last pound you want to lose … and keep it off!
MEAL PLANS
Do you have meal plans?
My weight loss program includes some delicious meal plans. I think you'll love them!
MY KITCHEN TOOLS
Can you tell me what kitchen appliances/tools you use in your kitchen?
While a cluttered kitchen can significantly impede kitchen productivity, and I am not a fan of lots of gadgets, I fully believe that the right tools can mean the difference between a happy and successful kitchen experience and failure.
I've developed and/or tested over 4,500 recipes for my clients and my blog and don't plan to stop anytime soon, so kitchen efficiency is very important to me. I expect a lot from my kitchen equipment.
What brand of blender/food processor/mixer/etc. do you have?
Blender:
I have tried many blenders in my countless hours in the kitchen. Most have worn out within a short period of time.
However, there are only two that I have tried – the Blendtec and the Vitamix – that can withstand heavy use.
I have more information about the Blendtec blender and the Vitamix in a post I wrote about How to Choose a Blender, if you're interested. I also wrote an as-fair-and-objective-as-I-can-possibly-be comparison between the Blendtec blender and the Vitamix to help you make the decision about which blender is best for you.
Food processor:
I own a Kitchenaid food processor that just keeps going and going. Unfortunately, the model I have isn't available anymore, so here is some information I wrote about choosing a powerful, versatile, and efficient food processor.
Check out my recipes that I use a food processor for.
Read more about how much time a food processor can save you.
Should you use a food processor or a blender?
Stand mixer:
I own a Kitchenaid stand mixer. Due to poor design, it broke after using it only a few times. You can read about my feelings about KitchenAid here.
What is one kitchen appliance/tool you could not live without?
Without a question, my blender.
No, wait! Change that to my crock pot – having food cook while I sleep makes life so much easier.
Hmmm … on second thought … without my food processor, there would be no Fettuccine with Parsley Almond Pesto. Ok, maybe it's my food processor.
Well, now that I think about it, I've cooked in kitchens where there wasn't a good knife to be found, and that transformed the process from enjoyable to drudgery. So it would be my chef's knife. (Yes, that link takes you to the one I own and use every day.)
Oh.
No.
Without my blender we couldn't have all the rich and creamy dressings, smooth and skinny sauces, and wonderful waffles that we now enjoy. I do use my blender every single day – actually many times a day. In fact, I've used my blender 9,612 times since I bought it. (That's a true fact.)
So maybe the tool I wouldn't want to live without would be my blender.
Yes, my blender.
If you don't have one, I highly recommend getting one.
CLASSES
Do you teach weight loss classes?
Yes! I teach weight loss classes across the country and around the world. My passion is helping others reach their weight loss goals.
Do you teach cooking classes?
Yes. While my main focus is weight loss, I do teach an occasional cooking class.

My schedule has become so full that I have had to limit my classes to only weight loss classes (see above).
COMMENTS
Links and URLs in Comments Section
Because I want to make my blog enjoyable to my readers, I don't want them to have to wade through a bunch of irrelevant links/product advertisements/self-promoting material in the comments area. Therefore, comments containing links of this nature will be automatically deleted.
Recipe-Specific Comments and Questions
If you have a question regarding a specific recipe, please check the comments section as it is possible that your question has already been answered there. If not, please feel free leave to comment directly on the post that contains that recipe. Your question may be the same question that other readers have been wondering about as well.
There is a grammar error/typo in your recipe/text.
Thank you for telling me! I value good grammar and proper writing, so I welcome corrections. Since I can't afford an editor, you are hired! : )