Healthy Maple-Nut Granola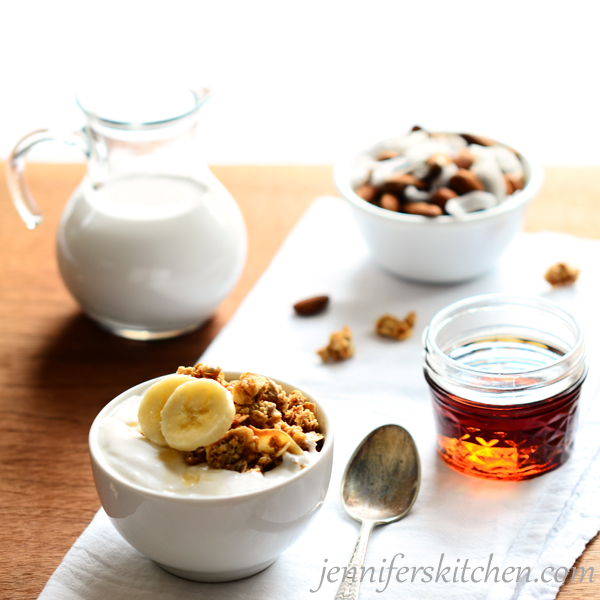 This website is brought to you without annoying ads because we can better live healthier lives without the influence of marketing. But running a high-traffic site is expensive. How can you help? If you purchase anything through the affiliate links on my site, your cost is the same, but I receive a small commission. Thank you!
Sports drinks, diet food, and energy bars. All healthy options, right?
Not necessarily. Many foods that masquerade as health foods are really diet disasters in disguise.
Typically loaded with sugar and oil, granola is another one of these shady characters. But I really like granola and have yet to find a better camping breakfast – all other cereals turn into a pile of crumbs after 2 days in a backpack.
Sugar-Free Granola?
I have tried a few sugar-free granola recipes and even a couple of oil-free granola recipes. But honestly, they were so … ummm … well … I'd rather eat plain oatmeal (and I'm not a big oatmeal fan). So I set out to create a healthier granola.
First on my list of objectionables was the sugar load. A typical granola recipe calls for about 1/2 to 3/4 cup of honey and/or sugar for every 3 cups of oats. And granola you can buy at the grocery store often packs in over a cup of sugar for every 3 cups of oats. That's as much sugar per serving as a Twinkie. Yikes!
So in my granola experiment I started out by replacing the white sugar with healthier options – turbinado sugar (Sugar-in-the-Raw) and pure maple syrup. Then I drastically reduced the sweetener amount overall and added dried fruit for natural sweetness. While I wasn't able to eliminate the sugar completely, I reduced it to a healthier level and was happy to be able to use pure maple syrup – a better sweetener because it offers some vitamins, minerals, and antioxidants.
Oil-Free Granola?
Next on my black list was the oil. Once again, nearly every granola recipe I could find had a ridiculous amount of oil in it – usually about 1/2 cup oil for every 6 cups of oats. (Even the "healthiest" oils are still 100% refined and 100% fat.)
I tried eliminating all of the oil in my granola recipe and using almond butter instead, but the granola turned out heavy and tough. So then I tried replacing most, but not all, of the oil with almond butter and adding some crispy rice cereal to lighten it up.
It came out great! Still not as healthy as plain oatmeal, but a whole lot tastier.
EDIT: After I posted this recipe, I continued working on developing an oil-free granola recipe and came up with one that was absolutely amazingly scrumptious!! It's so light and tender, I even prefer it over granola that has oil in it. The recipe for this delicious oil-free granola is included in my Weight Loss Program.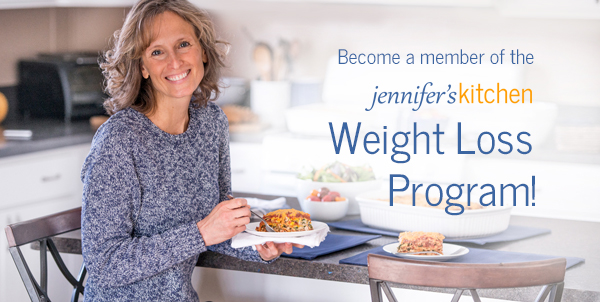 About this Recipe:
Be sure to use pure maple syrup in this recipe.  Maple-flavored syrup, pancake syrup, and other similar products, in which the primary ingredient is usually corn syrup, not only contribute to weight gain, but have a negative effect on health as well.
For the crispy rice cereal, I've tried several brands, including Barbara's Brown Rice Crisps, Edison Grainery Organic Brown Rice Crispies, One Degree Veganic Sprouted Brown Rice Crisps, and Nature's Path Organic Brown Rice Crisps and they're all very good. Nature's Path and Edison Grainery are certified gluten-free, while Babara's states that it's manufactured in a facility that also processes wheat; so if gluten is an issue for you, be sure to choose the Nature's Path or Edison Grainery brands.
One other consideration:
The Edison Grainery Organic Brown Rice Crispies contain only one healthy ingredient. (No added sweeteners.)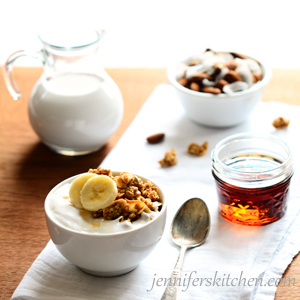 Healthy Maple-Nut Granola
Instructions
Preheat oven to 250°F.

Mix together first six ingredients in a very large mixing bowl.

In a separate bowl, using a fork or an electric mixer, cream together maple syrup, oil, almond butter, salt, vanilla, and maple flavor.

Drizzle wet mixture over dry ingredients. Gently toss with hands until all of the oats are moist, but do not over mix.

Lightly oil 1 large or 2 medium oiled baking sheets. Spread granola into a thin layer onto baking sheets. (I line my baking sheets with parchment paper because it makes clean-up so much easier.)

Bake on middle rack of oven at 250°F for 45 minutes. Remove from oven and stir. Continue baking for an additional 40 to 45 minutes or until granola is completely dry.

Remove from oven and allow to cool.

Stir in dried fruit. Store in an airtight container in a cool place.
Notes
Be sure to use rolled oats not quick oats in this recipe.
See "About this Recipe" above.
>> One quick request: if you like this recipe, please leave a rating and a comment. Ratings help more people find these healthy recipes!
Print Recipe
More Granola and Oatmeal Recipes
Check out my other recipes using nutritious oats.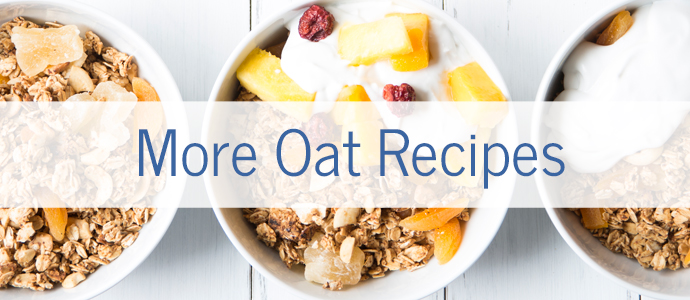 Have you tried any of these cereals or any of the other brands? Which one is your favorite?
You my also like:
Before you go . . .
Did you know that you can eat all this delicious food AND lose weight? You can!
No calorie counting. No portion sizes.
Join my online weight loss program today!