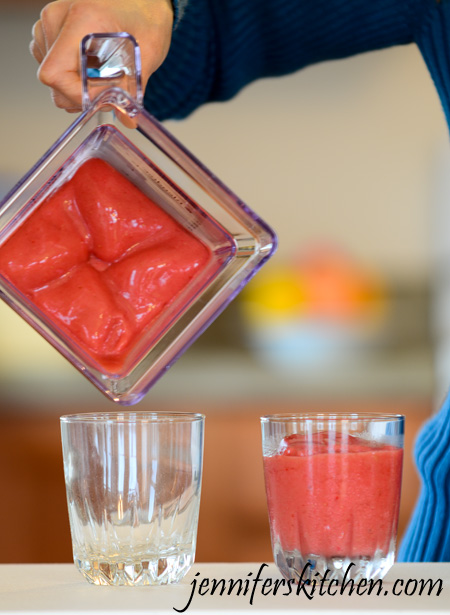 I've used many blenders over the years … and burned up quite a few of them as well.
After dumping loads of hard-earned dollars into the purchase of promising blenders, listening to long and irritating minutes of a screaming blender's meager (and unsuccessful) attempts to make a smooth salad dressing, and then smelling that ominous burnt motor odor one too many times, I decided that cooking would be so much quicker, easier, and more productive with a high-quality, heavy-duty blender.
But a good blender isn't cheap; so before I invested that much money, I wanted to make sure I got the blender that was best for me.  And I thought I would share my findings and experiences with you.
Among the many blenders I've used, the Blendtec Blender and the Vitamix stand out as superior appliances.  If I served you two smoothies or two bowls of creamy soup – one made in a Blendtec Blender and one made in a Vitamix – you probably wouldn't be able to tell the difference.  Both blenders produce a very smooth final product.
(Note: Many readers have asked what I think about the Ninja blender. I've tried it and I would never buy one unless all I wanted were smoothies. It didn't get the ingredients smooth.)
However, there are some differences between these two blenders, and I've highlighted and organized these differences in the following chart to help make you as you make your decision.  I have tried to provide unbiased information and to simply inform so you can make the decision that is best for you.
I've done my best to provide accurate information.  If you notice any inaccuracies, please let me know and I will make corrections.  If you have any questions, please leave a comment and I'll do my best to answer it : )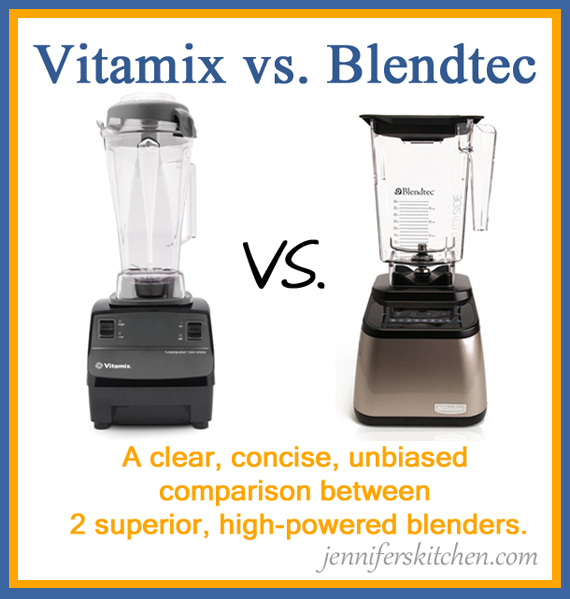 Blendtec Designer Series
Vitamix 5200 Series
Amps
13
11 1/2
Motor Wattage
1560
1380
Blade Mile per Hour
300
240
Horse Power
2; 3 peak
1; 2 peak
RPM
28,000
37,000
RPM Range
4,080 to 28,000
500 to 37,000
Noise Level
The Blendtec is louder than the Vitamix.
The Vitamix is quieter than the Blendtec.
Blade
two-prong, wingtip straight blade
four-prong
Controls
Touch lighted icons on interface to choose cycles. Use slider bar to speed up or slow down blend by simply sliding your finger left or right.
Switch and dial
On/off switch
Low/high switch
Variable speed knob
Smart Blender
Yes – Preprogrammed cycles automatically runs through a hands free automatic cycle that varies speed and stops by itself when completed.
No
Pulse Function
Yes
No – however, the Vitamix has a switch that can be easily used as a pulse
Tamper
No – Blendtec claims their pitcher and straight-blade design makes a tamper unnecessary. (I personally have found this to be true. The Blendtec quickly sucks the food down to the blade.)
Yes – includes tamper, which allows you to push food down into the blades while blender is running.
Fits under standard cabinet
Yes
(15 1/2 inches tall)
No
(20 inches tall)
Edit: Vitamix sells a shorter blender
Size of jars
*See note #2
64-ounce (FourSide)
90-ounce (WildSide)
Twister Jar – Specially designed to quickly grind grains and make nut butters
64-ounce
32-ounce
48-ounce
BPA-free jar

Yes
Yes
Grinds grains

Yes – Results are just as good as the Vita-Mix wet jar, but not as fine as the Vita-Mix dry jar
Yes – If using the dry jar, the Vita-Mix grinds grains finer than the Blendtec.
NSF approved for ETL Sanitation
Yes
No
Easy to remove food
The Blendtec's square pitcher design allows one to easily clean food out of jar.
Difficult to remove food caught beneath or around the blades in the Vitamix's narrow pitcher design.
Ease of cleaning jar* See note #6
Super easy to clean because of the wide, square jar design.
Difficult to clean because of narrow, round jar design. Also, food tends to get stuck under blades.
Ease of cleaning base
Super easy to clean! Blendtec features a push-button interface which wipes clean easily.
Switch and dial make the Vitamix not as easy to clean.
Warranty
7 year
7 year
Notes:
1. While the Blendtec Wildside jar really pulls the food down into the blades amazingly well (much better than the Vitamix), I have found that this jar doesn't work as well as the four-side jar of the Blendtec Blender.
2. The Vitamix jar can be filled almost completely full before blending. However, Blendtec recommends their jar be filled only halfway.
3. The old Blentec jar design had a design flaw that caused them to wear out quickly. This issue has been resolved and the jar is now very durable.
4. I've had a small handful of people tell me that their Vitamix has overheating and self-shutdown issues. I've also had people tell me they've had their Vitamix for 10 years and it's still going strong.
In my opinion, the Vitamix is a quality-built blender and will generally last you for MANY years, making it a wise investment.
5. Vitamix can move around on the counter a little bit when blending. I've never had this happen with the Blendtec (which is a good thing because I often start it blending and go on to other kitchen tasks since it automatically shuts itself off).
6. The Blendtec jar and the Vitamix jar  can both be cleaned by filling jar halfway with warm, soapy water and pulsing.  Both manufacturers recommend that you NOT put them in the dishwasher as this will significantly reduce the life of jar components.
7. The Vitamix seems to make nut butters faster and easier than the Blendtec.  The Blendtec seems to blend all other ingredients faster and easier. Aside from quickness and ease of blending, the final quality (smoothness) is the same for both blenders.
I'd love to hear your thoughts about what you like or dislike about your blender – even if it isn't a Blendtec or a Vitamix.
Popular Posts