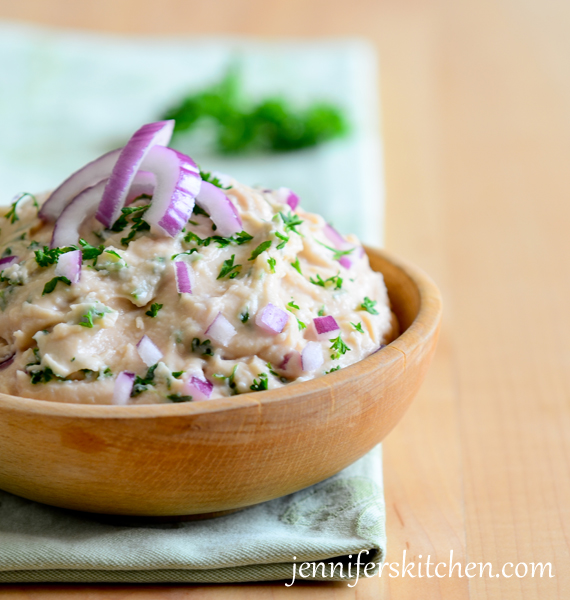 This website is brought to you without annoying ads because we can better live healthier lives without the influence of marketing. But running a high-traffic site is expensive. How can you help? If you purchase anything through the affiliate links on my site, your cost is the same, but I receive a small commission. Thank you!
Before I share this recipe with you, I have to tell you something. I like garlic. A lot. I mean, it takes a lot of restraint for me to create recipes for you that have a "normal and reasonable" amount of garlic in them. If I had things my way, every recipe would have at least 9 cloves of garlic in it – except maybe Wonderful Waffles.
At the very least, garlic would replace the lost tomatoes in my Tomato-Free Guacamole, Potato Corn Chowder would be zippy food instead of comfort food, and Cream of Leek and Kale Soup would become Cream of Leek and Kale and Garlic soup.
But alas, I'm forced to stay within the confines of "normal".
So when I tested this White Bean Garlic Dip out on my kids and they told me, "It's good, but it has a lot of garlic in it", imagine my glee when I could say, "It's supposed to be garlicky!" Ha.
I hope you enjoy.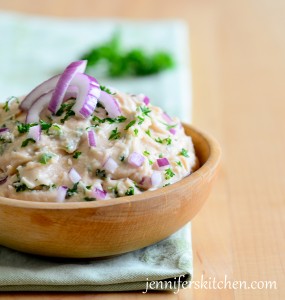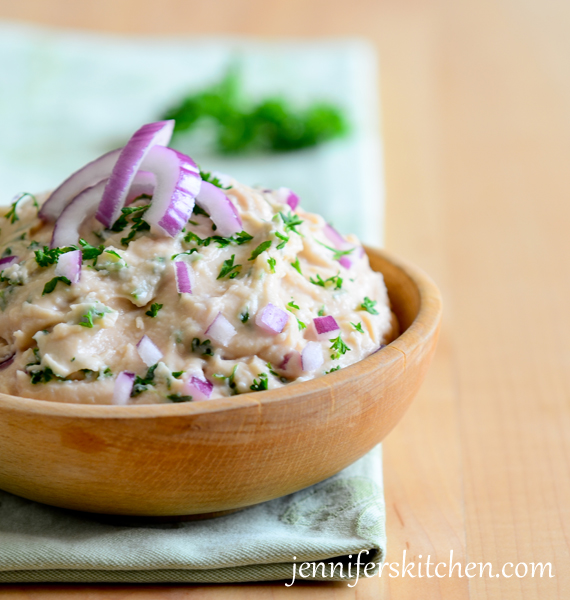 Print
White Bean Garlic Dip
This delicious dip is full of fiber and tastes great with chips or crunchy vegetables.
Ingredients
1/4 cup minced fresh parsley (about 7 "stems" of parsley)
2 – 3 cloves garlic (see note #1)
2 – 3 tablespoons lemon juice (see note #1)
1 1/2 cup cooked Great Northern beans, well drained (see note #2)
2 tablespoons olive oil or coconut oil - optional
2 teaspoons dried minced onion
1 teaspoon granulated onion
1/4 teaspoon dried basil
1/2 teaspoon salt, or to taste (see note #3)
1/4 cup finely diced red onion
Instructions
Remove long stems from parsley and finely chop in food processor.
Transfer to a bowl.
Place garlic, lemon juice, and drained white beans in food processor and process until smooth. Be sure to blend well to thoroughly puree garlic so it's distributed evenly.
Add oil and process until well mixed. Be sure to blend well to thoroughly incorporate oil.
Add seasonings, minced parsley, and diced red onion and process just until mixed.
Chill before serving. Dip will thicken slightly when chilled.
Notes
1. The amount of lemon juice and garlic you use depends on taste.
2. I used white beans that I cooked in my slow cooker (crockpot) or in my Instant Pot because cooking them this way makes beans super soft and creamy.
3. Be sure to drain beans very well or dip will be too thin.
4. The amount of salt needed will depend on the amount already in the beans.
I categorized this recipe under "Freezes Well", but it's best if you leave out the parsley if you're going to freeze it. You can stir it in after the dip thaws.

Popular Posts