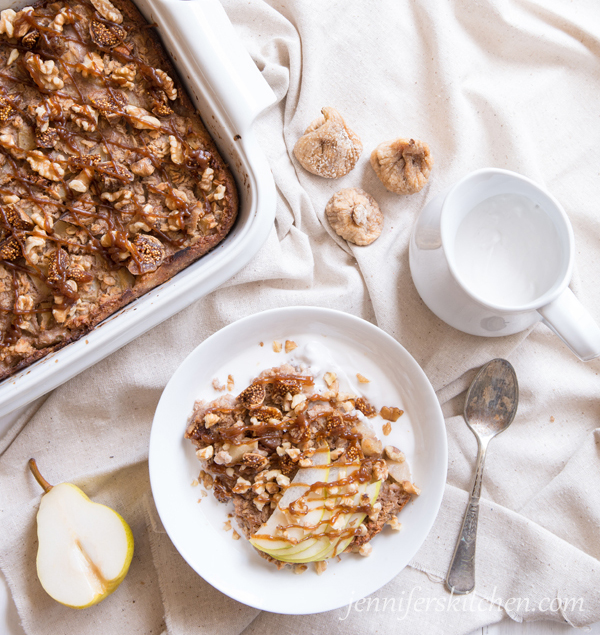 Fresh figs are one of my top ten favorite foods – right after mangoes. I can eat fresh figs by the bowlful. Unfortunately, fresh figs are hard to come by in the northern U.S.  I do have 3 fig trees in some pots that I bring into the house in the winter, but they don't produce very many figs. And when I forget to water them (which is often) they don't produce any figs.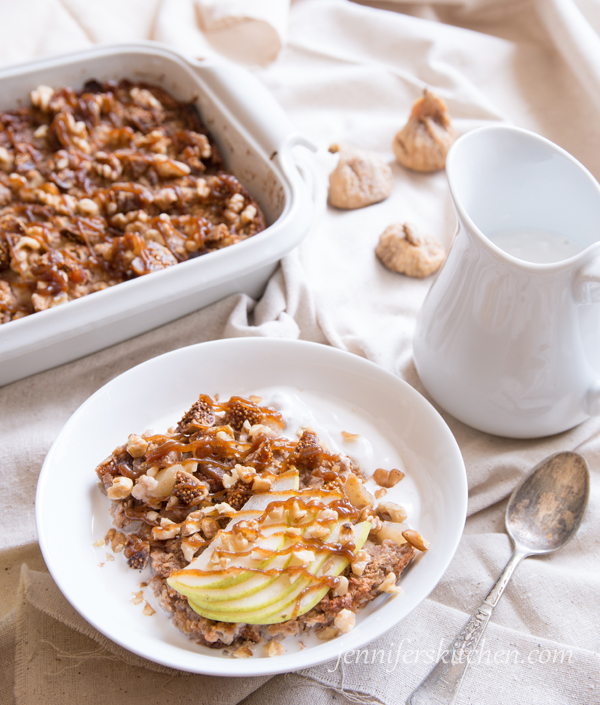 How do I run a high traffic site without ads? Some of my posts contain affiliate links. If you purchase anything through those links, your cost is the same, but I receive a small commission. Thank you for your help!
Note: If you want to be nice to me, please don't tempt me to jealousy by leaving a comment about the beautiful fig tree growing in your back yard. Unless, of course, you want to overnight some to me. Then it would be fine.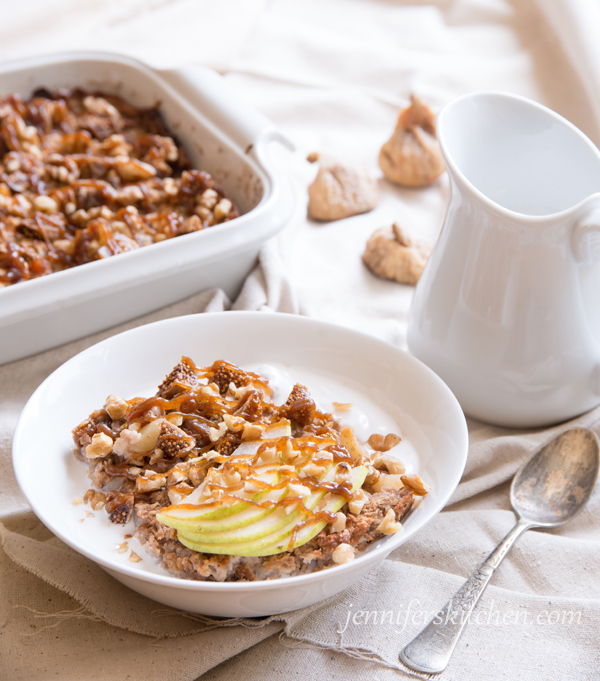 Where was I? Oh, yes. You can't easily grow fresh figs where I live. And you can't find them in the grocery store because they are highly perishable. But that's ok because dried figs still make my top 10. And dried figs can be found in just about any grocery store. And dried figs taste yummers in this delicious Fig Pear Oat Bake.
Fig Pear Oat Bake Be sure to use Turkish figs in Fig Pear Oat Bake; black mission figs don't taste very good in this recipe.

What Makes this Breakfast So Healthy?
This Fig Pear Oat Bake is a very healthy breakfast because it's high in fiber and other nutrients, and it's naturally sweetened with pears and figs.

Fig Nutrition
Figs are a good source of iron, calcium, phosphorous, and slimming fiber.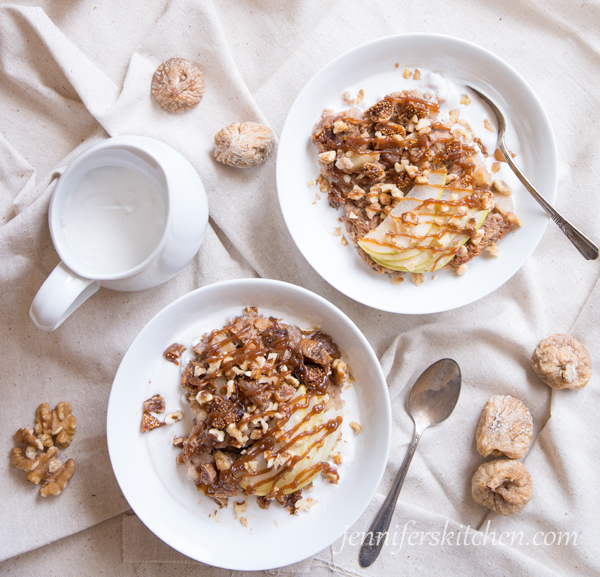 Breakfast for Weight Loss
This scrumptious oatmeal has lots of nutrients in it that are super helpful for weight loss.
And eating breakfast causes your body to release hunger-control hormones when you need them – which makes weight loss so much easier!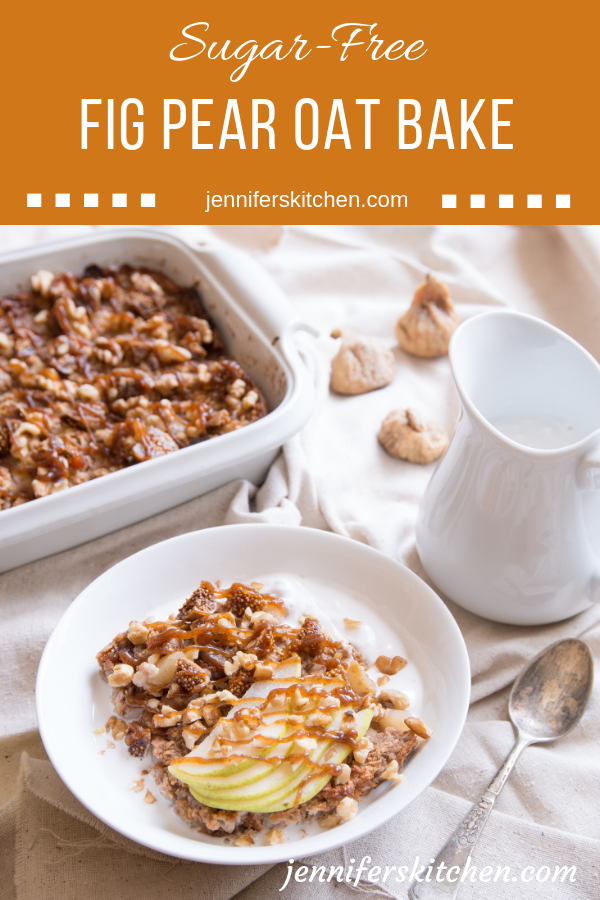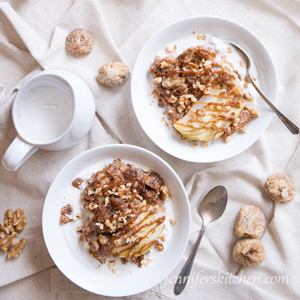 Print
Fig Pear Oat Bake
Yield 4 to 6 servings
A delightful change from plain oatmeal.
Ingredients
1/4  cup walnut butter
2 tablespoons pure maple syrup
1/2 teaspoon salt
1/2 teaspoons vanilla
1/4 teaspoon maple flavor
2/3 cups applesauce
2 1/2 cups canned diced pears, drained well RESERVING 1/2 CUP JUICE
2 1/3 cups non-dairy milk
5  dried figs, cut into quarters or smaller
2 1/4  cups regular, old-fashion rolled oats - or gluten-free rolled oats
Instructions
1. In a large mixing bowl, whisk together walnut butter, maple syrup, salt, vanilla, maple flavor, applesauce, and 1/2 cup pear juice.
2. Stir in milk, diced pears, and chopped figs.
3. Lightly mix in rolled oats.
4. Pour into an oiled 2 1/2-quart baking dish and bake at 375°F for 35 to 40 minutes or until lightly browned.
Notes
Be sure to use Turkish figs in Fig Pear Oat Bake; black mission figs don't taste very good in this recipe.
Optional Topping:
Pear Fig Oatmeal tastes lovely with Maple Date Syrup drizzled over top.
Courses Breakfast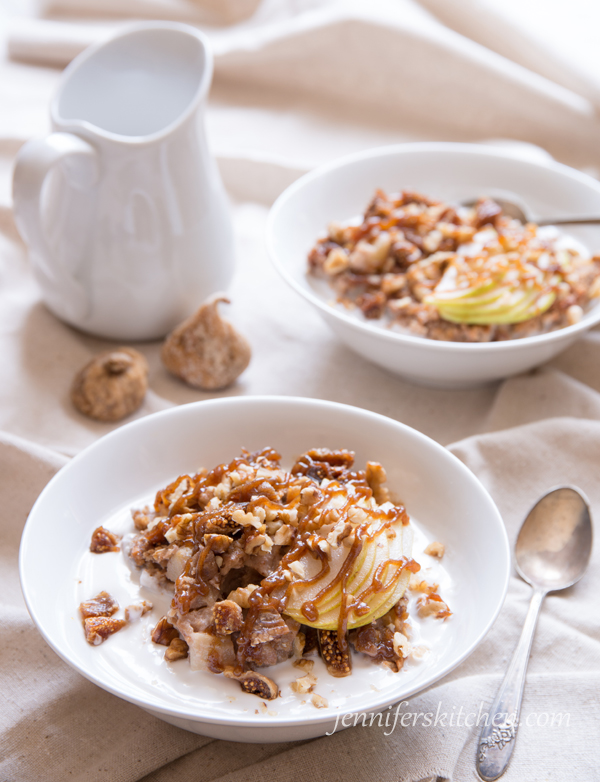 Popular Posts