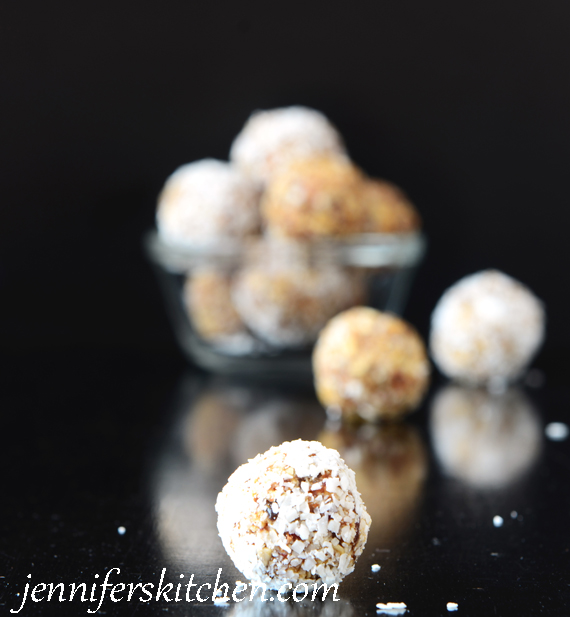 Sometimes you want something sweet.
Like cookies.
But you don't want to actually make cookies because you don't want to wait 20 minutes for them to bake.  You want something you can eat now.
Like the ice cream that's in the freezer.
But you don't want the ice cream in the freezer because you want something that isn't fattening.
Like carrot sticks.
No! Not carrot sticks!  You want something sweet.
That's when you make these yummy lil' No-Bake Coconut Date Bites.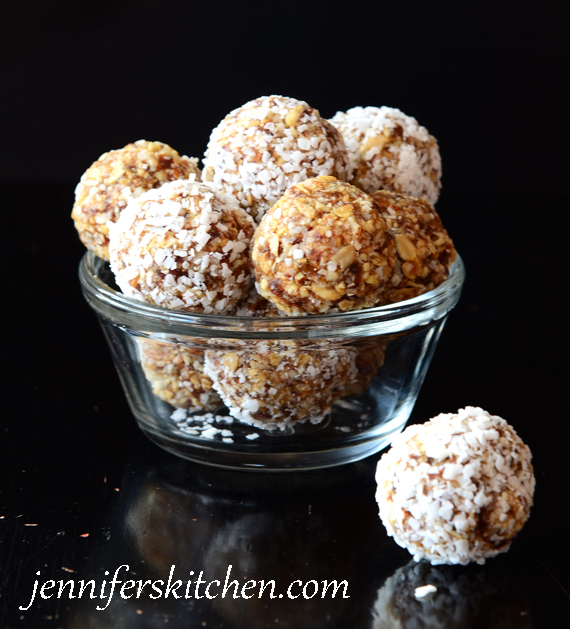 This website is brought to you without annoying ads because we can better live healthier lives without the influence of marketing. But running a high-traffic site is expensive. How can you help? If you purchase anything through the affiliate links on my site, your cost is the same, but I receive a small commission. Thank you!
They're super easy to make – takes less than 5 minutes!  They're healthy, high in fiber, low in sugar, and full of good stuff like antioxidants and iron. They are also gluten-free and vegan. Did I mention they're very good for you?
How About a Date?
While there are more than a thousand date varieties, there are three basic types of dates: soft dates, semi-soft (also called semi-dry), and dry (also called hard).
Soft dates are usually eaten fresh and are the least sweet option.  Halawy is one example of a soft date.
Semi-soft dates include varieties such as Deglet Noor, Medjool dates, and Zahidi.  They're on the chewy side.
Dry dates are dry and fibrous even when fresh. They keep very well and are often less expensive than semi-dry and soft dates. One example of a dry date is the Thoory date. These are the kind of dates I prefer because I like the sweetness of them and because they're less expensive than other kinds. But they are also hard to find.
The kind of date you use will affect the outcome of many recipes, including this one. If your mixture doesn't stick together when you squeeze it between your fingers, then your dates are on the dry side and you'll need to use more dates than called for in the recipe.
Date Nutrition
Dates are loaded with beneficial nutrients like, iron, B vitamins, magnesium, vitamin A, and vitamin K.  They are also high in fiber and fat-free.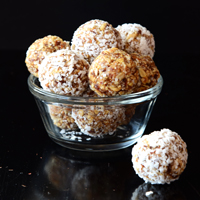 Print
Coconut Date Bites
Yield 10 - 12 bites
These healthy bites are super easy to make.
Instructions
If dates are very hard, place in saucepan with 2 scant tablespoons water, cover, bring to boil, and then remove from heat. If dates are soft, go to step 2.
Place coconut in food processor and process until fine. Remove 3 tablespoons coconut, place in a medium bowl, and set aside.
Add almonds and salt to food processor and process until almonds are fine.
Add dates and process until dates are very, very finely chopped (almost pureed) and mixture starts to stick together a little. (If you continue to blend, and it doesn't start to stick together, add more dates. See note below this recipe about different kinds of dates.)
Add granola and vanilla and process until mixture starts to stick together.
Roll/squeeze/pack dough into balls. I use my cookie scoop to help with this.
Rolls balls into extra coconut (from step 2).
Makes 10 to 12 balls. Can be stored in freezer.
Notes
If you don't want to bother with rolling the balls in extra coconut, reduce coconut amount in recipe to 3/4 cup.
Popular Posts