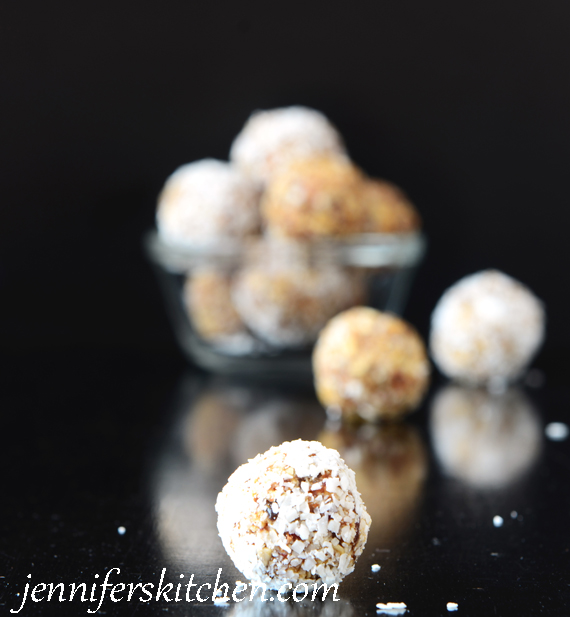 Sometimes you want something sweet.
Like cookies.
But you don't want to actually make cookies because you don't want to wait 20 minutes for them to bake.  You want something you can eat now.
Like the ice cream that's in the freezer.
But you don't want the ice cream in the freezer because you want something that isn't fattening.
Like carrot sticks.
No! Not carrot sticks!  You want something sweet.
That's when you make these yummy lil' No-Bake Coconut Date Bites.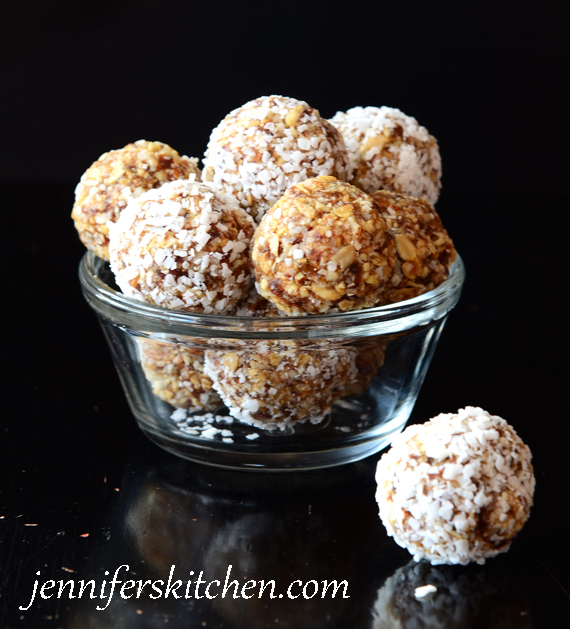 They're super easy to make – less than 5 minutes!  They're healthy, high in fiber, low in sugar, and full of good stuff like antioxidants and iron. They are also gluten-free and vegan. Did I mention they're very good for you?

Coconut Date Bites
These healthy bites are super easy to make.
:
All recipes on jenniferskitchen.com are property of Jennifer's Kitchen and cannot be included in any other recipes collection, online or offline, without prior written permission.
Instructions
If dates are very hard, place in saucepan with 2 scant tablespoons water, cover, bring to boil, and then remove from heat. If dates are soft, go to step 2.
Place coconut in food processor and process until fine. Remove 3 tablespoons coconut, place in a medium bowl, and set aside.
Add almonds and salt to food processor and process until almonds are fine.
Add dates, granola, and vanilla, and process until dates are very, very finely chopped (almost pureed) and mixture is sticky and thoroughly combined.
Roll/squeeze/pack dough into balls. I use my cookie scoop to help with this.
Rolls balls into extra coconut (from step 2).

Makes 10 to 12 balls. Can be stored in freezer.
Notes
If you don't want to bother with rolling the balls in extra coconut, reduce coconut amount in recipe to 3/4 cup.
How About a Date?
While there are more than a thousand date varieties, there are three basic types of dates: soft dates, semi-dry, and hard dates.
Soft dates are usually eaten fresh and are the least sweet option.  They aren't as common in the U.S. as they are in the Middle East. Medjool dates are one example of a soft dates.
Semi-dry dates include varieties such as Deglet Noor and Zahidi.  They are the most common dates sold in the United States. They're softer and chewier than hard dates.
Hard dates are dry and fibrous even when fresh. They keep very well and are often less expensive than semi-dry and soft dates. These are the kind of dates I used in this recipe because I like the sweetness of them and the fibrous texture doesn't matter when they are blended (and because they're less expensive than other kinds).
Date Nutrition
Dates are loaded with beneficial nutrients like, iron, B vitamins, magnesium, vitamin A, and vitamin K.  They are also high in fiber and fat-free.
Popular Posts