It's Smoothie Season!
Adding bananas to a smoothie makes a good smoothie, but adding frozen bananas makes a fabulous smoothie!  Frozen bananas give smoothies a rich, frosty texture.
How do you freeze bananas? Freezing bananas is EASY! Here's how:
1. Use very ripe bananas.
Be sure your bananas are very ripe. They should be soft with lots of brown spots. If your bananas aren't ripe enough they will taste starchy and not very sweet in your smoothie.
2. Peel the bananas.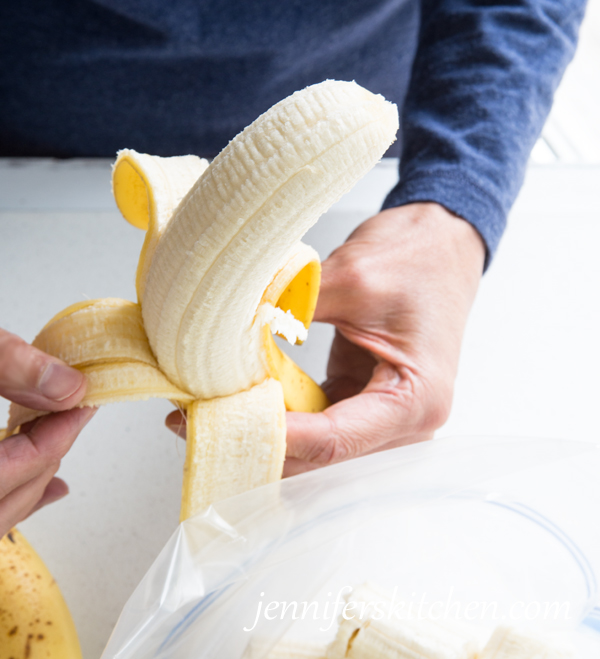 How do I run a high traffic site without ads? Some of my posts contain affiliate links. If you purchase anything through those links, your cost is the same, but I receive a small commission. Thank you for your help!
Some people freeze their bananas with the skins on, but they are waaaaaay easier to peel before they are frozen. Make your life easier and always peel your bananas BEFORE you put them in the freezer.
3. Break each banana into about four pieces.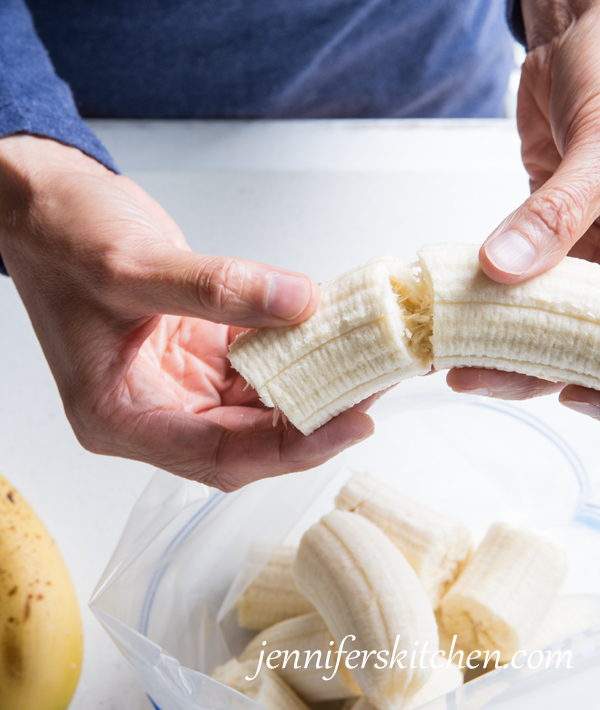 Again, do this BEFORE you freeze them. Soft bananas are much easier to break into pieces than are frozen bananas.
If you don't have a heavy-duty blender, you may want to break them even smaller – like 5 or 6 pieces.
I prefer to break them rather than cutting them with a knife. Cutting them makes the bananas turn brown faster.
4. Place the banana pieces into a freezer bag.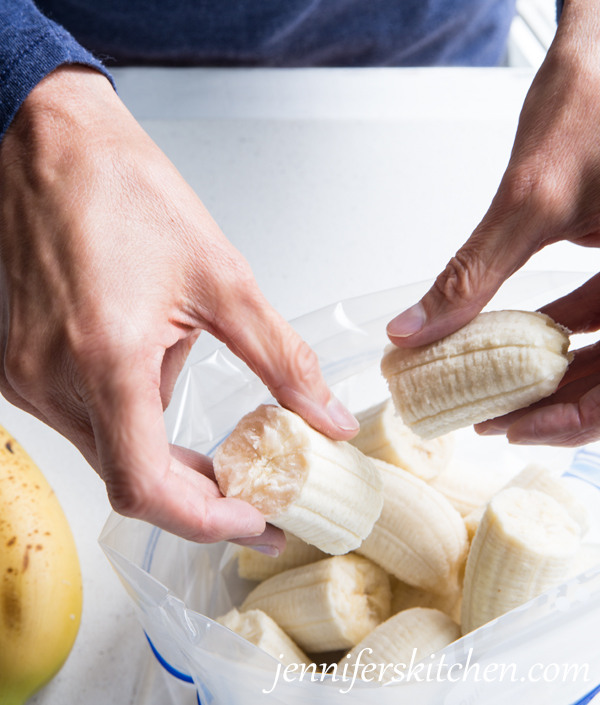 I like to store my food in glass storage containers (and avoid plastic) as much as possible, but storing frozen bananas is an exception for me.
These heavy-duty freezer bags do a better job of keeping bananas from turning brown and preventing ice crystals from forming than anything else I've tried. This is especially important if you are going to store your bananas in a regular freezer (instead of a a deep freeze – see step #6).
If you really don't want to use plastic, you could try these silicone freezer bags.
5. Seal the bag.
Remove extra air from the bag and then seal the bag.
6. Place bag in freezer.
I keep my bananas in my deep freezer, and they stay good for several months or even a year. If you don't have a deep freezer, you can keep your bananas in a regular freezer, but they should be used within about a month or they will start to turn brown.
If you don't have a stash of bananas in the freezer and you're craving a smoothie, you'll want to give them a minimum of 8 hours in the deep freeze before using them in smoothies to ensure they are completely frozen. (Freezing time may take longer depending on your freezer.)
Smoothies Anytime
I like to keep several bags of frozen bananas in my freezer so we always have them on hand for whenever we are in the mood for a sweet, frosty smoothie like this thick and rich Carob Banana Smoothie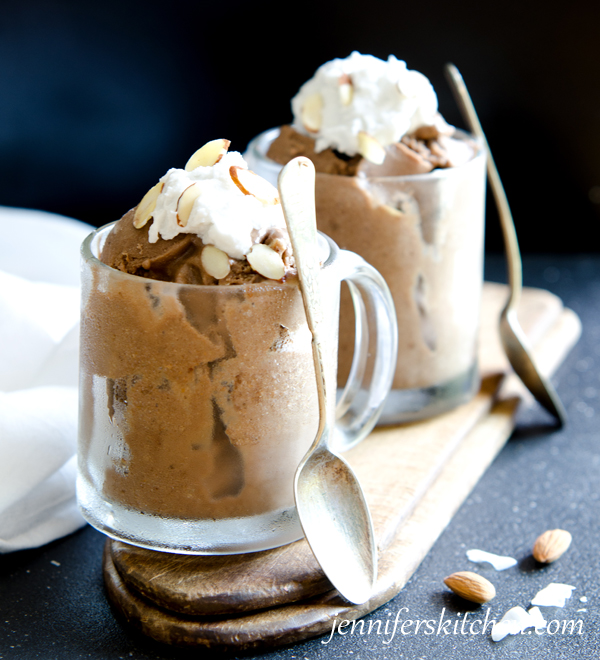 or this Strawberry Lime Smoothie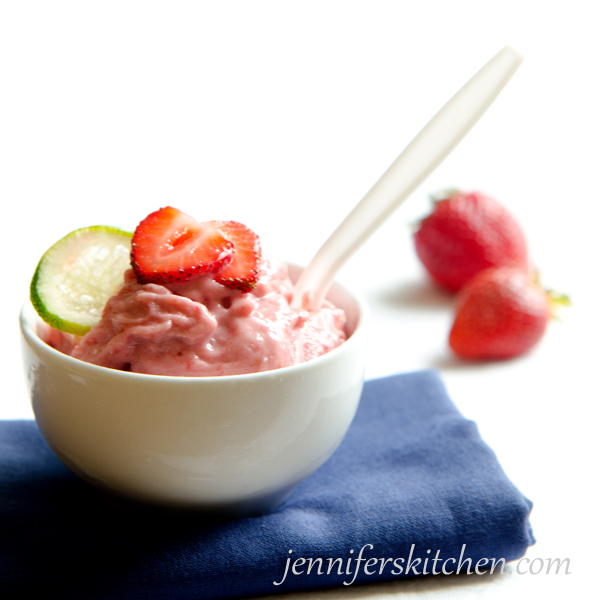 or this Fresh Peach Smoothie
Milkshakes Too!
Frozen bananas can be used for more than smoothies.  One of my very favorite ways to use frozen bananas is in this Vegan, Gluten-Free, Sugar-Free Cherry Milkshake.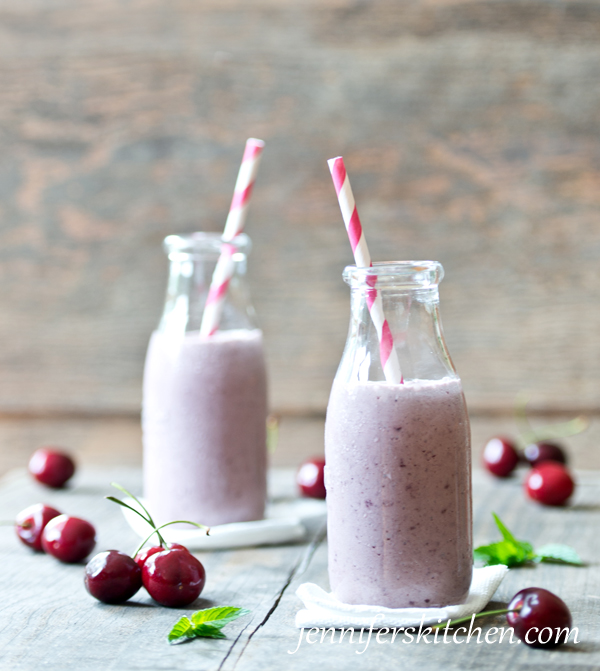 What's your favorite, homemade smoothie flavor?
Popular Posts