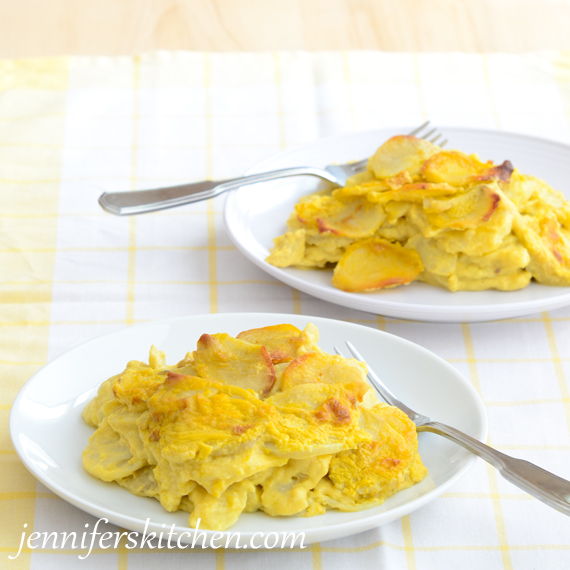 This website is brought to you without annoying ads because we can better live healthier lives without the influence of marketing. But running a high-traffic site is expensive. How can you help? If you purchase anything through the affiliate links on my site, your cost is the same, but I receive a small commission. Thank you!
I've learned two things about gardening in Michigan since I moved here:
1. You have to get out your snow shovel if you want to find your kale in January.
2. Potatoes love Michigan!
We dug 6 bushels of potatoes this past summer and have been storing them in a cool room in our basement. This means lots of these Healthy Mashed Potatoes,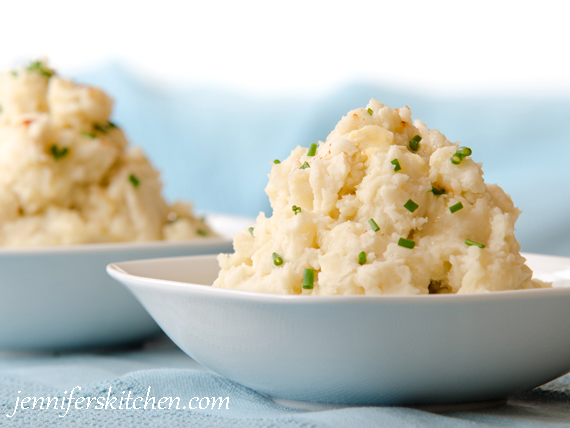 Cream of Potato and Kale Soup,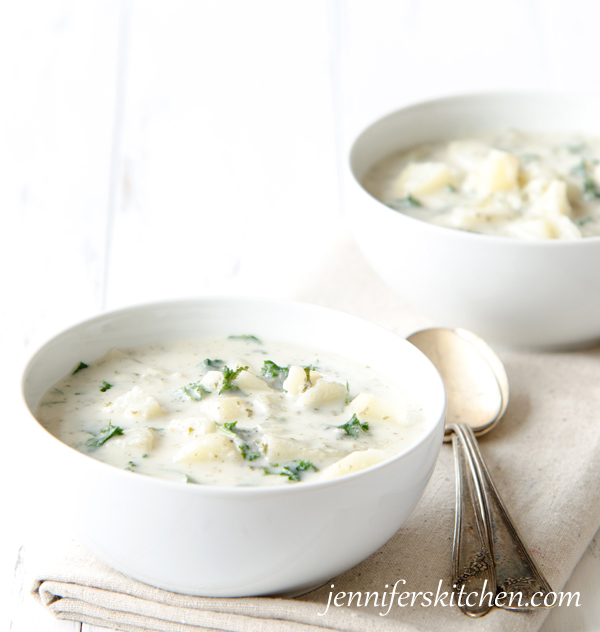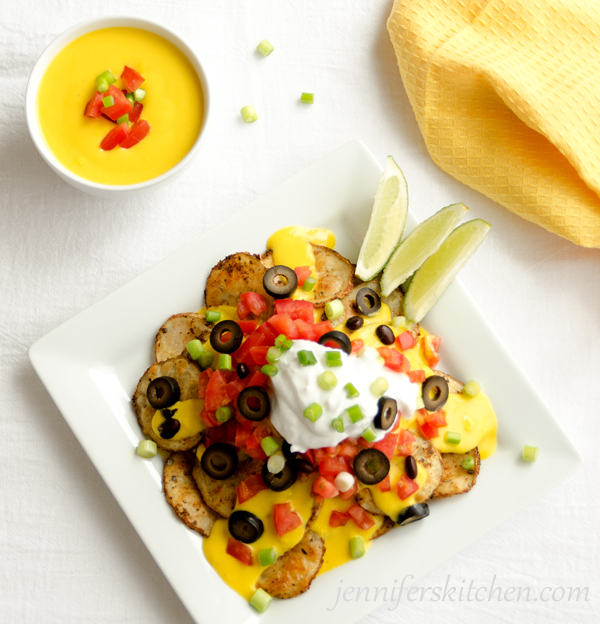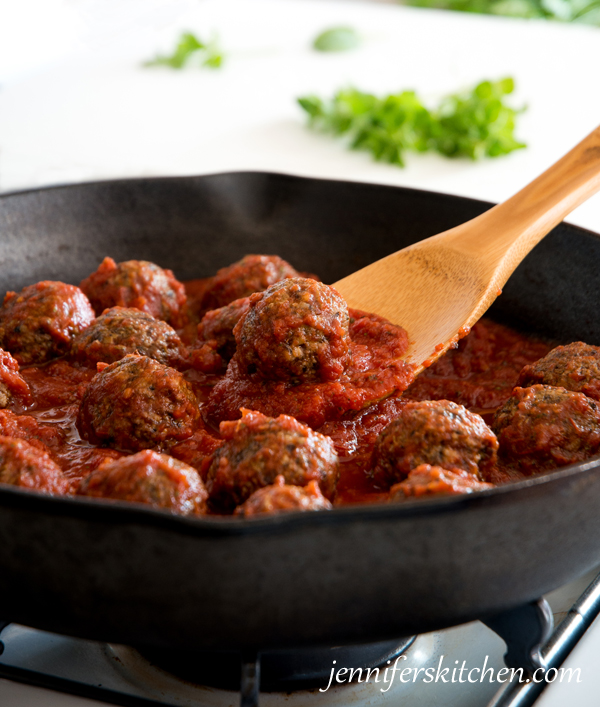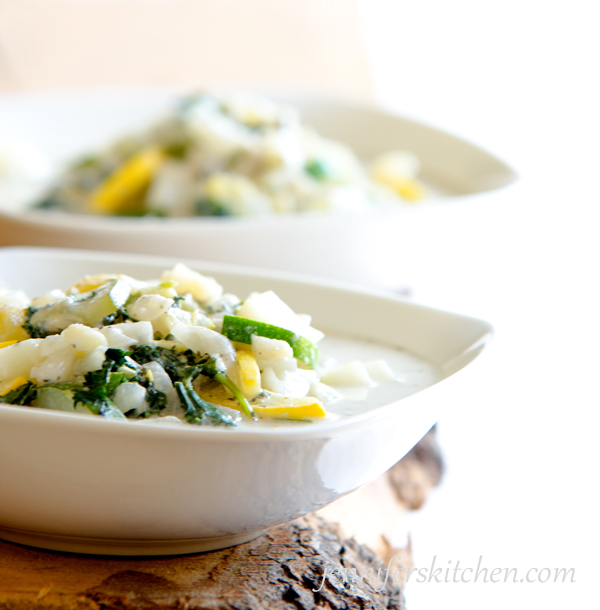 Oh, and these absolutely delicious Skinny Scalloped Potatoes!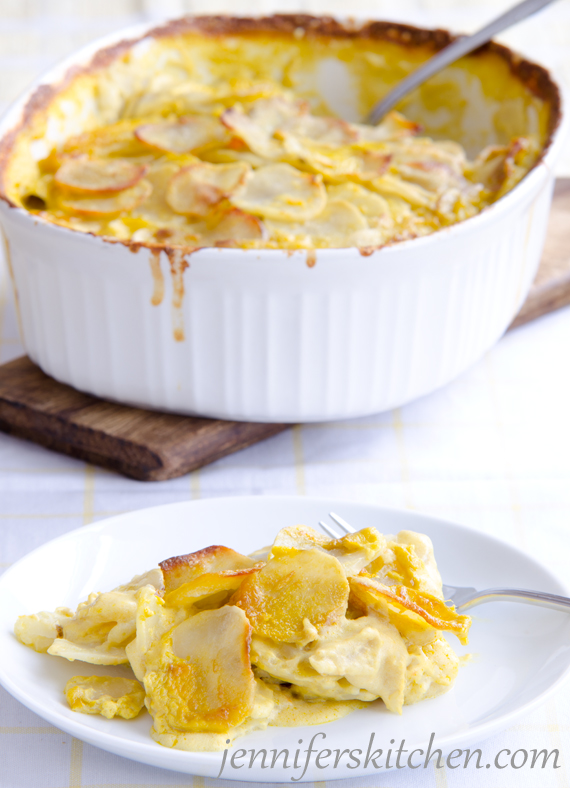 Regular scalloped potatoes are loaded with milk, butter, and cream; but this slimming version has none of that!  Instead, it uses a base of blended cashews for a rich and creamy taste and texture without the refined fat!  What's more, the cashews offer a bit of fiber, which is always good news for weight loss.
But even if you're not trying to lose weight, I think you'll like these Skinny Scalloped Potatoes even better than the fattening kind!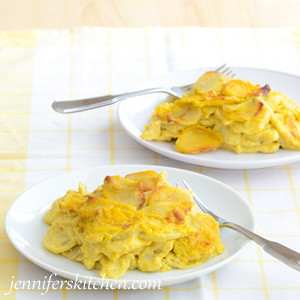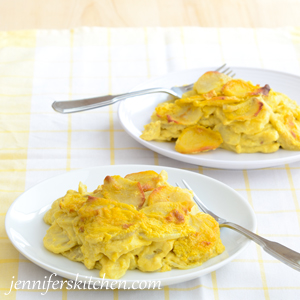 Print
Skinny Scalloped Potatoes
Yield 6 servings
Unlike the traditional version, these scalloped potatoes won't add pounds to your weight loss plan.
Ingredients
3/4 cup raw cashews
3/4 cup water
2 1/2 teaspoons salt
1 teaspoon granulated onion
1/2 teaspoon granulated garlic
2 tablespoons olive oil
4 cups water - divided
10 medium potatoes or 7 large potatoes
paprika and parsley for garnish
Instructions
Place cashews, 3/4 cup water, salt, granulated onion, and granulated garlic in blender and blend until very smooth. (A heavy-duty blender works best for this recipe; other blenders may not get the mixture smooth enough.)
Add oil and 2 cups of the water. Blend.
Scrub potatoes and peel if desired. Slice potatoes into thin slices. Place in an oiled 9" x 14" baking dish.
Pour half of blender mixture over top of potatoes.
Add remaining 2 cups of water to the blender and blend briefly. Pour over the potatoes.
Cover and bake at 350°F for 50 minutes.
Uncover and bake for an additional 40 minutes. Serve hot.
Notes
With a food processor to cut the potatoes, this dish can be prepared in as little as 15 minutes.
I added a carrot to the cashew sauce to give the potatoes in the picture an added nutrient boost and richer color.  If you want to do the same, just add a small carrot to the blender along with the cashews and water and blend.
Popular Posts