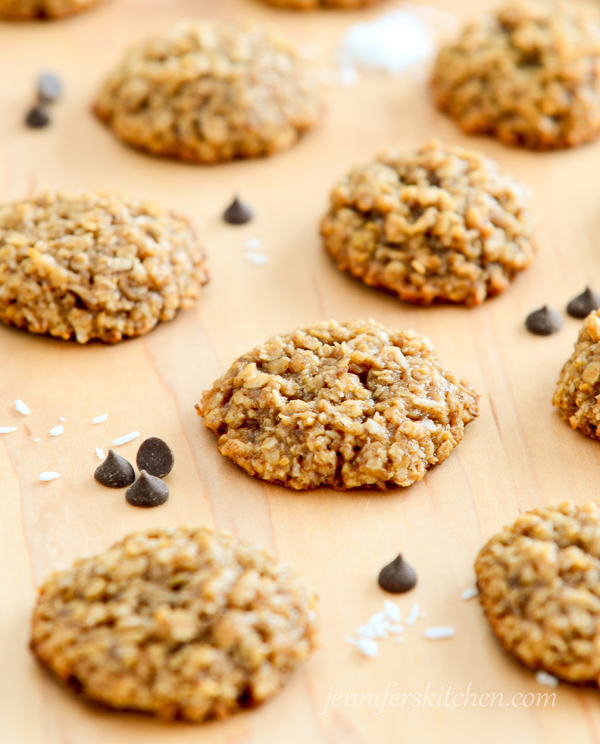 Apparently, the most popular recipe to date on this website is a recipe that I haven't even put on here yet. And I'm beginning to fear the consequences if I don't get it posted. ; -)
The minute I shared my recipe for Coconut Brazil Nut Milk with you, emails started coming in. But the emails had nothing to do with the lusciously rich and creamy Coconut Brazil Nut Milk.
Nope.  Everyone wanted the recipe for the cookies in the photo!
I get it. A healthy milk? Nah. A savory soup? Uh-uh. A dip for veggies? Noooo.
GIVE ME THE COOKIES!! ; )
Even my mom said to me the other day, "You need to post that cookie recipe."
Oooo-kay! I can take a hint. Here it is. : )
Cookie Tips:
Preheating Oven – These cookies will spread too much if the oven is not preheated (as will many other types of cookies), but I really like the chewiness that results when they spread a little.  If you like chewy cookies too, preheat your oven to only 250°F, and then when you put the cookies in to bake, increase the temperature to 325°F. The cookies will spread like the ones in the Coconut Brazil Nut milk photo.
Sweetness – We think this is a sweet treat. If you like your cookies not so sweet, you can reduce the sweetener amount to 1/3 cup.
Flax Meal – I used to use my Blendtec blender to grind my flax seed into flax meal. It did a superb job, but it seemed like every time I wanted to use my blender there were flax seed meal "crumbs" in it. (Good for smoothies, but not so great for Creamy Italian Salad Dressing.)
So I was thinking about purchasing a coffee grinder to make flax meal, but before I could buy one, a sweet friend gave me one and it PERFECTLY grinds flax seed into a very fine meal. I really like it!  Thank you sweet friend. : )
Almond butter – I usually make these cookies with homemade almond butter.  My local grocery store carries MaraNatha No Stir almond butter, but I don't like to use that kind because it has palm oil and sugar in it.
Amazon also offers almond butter.  This is my favorite brand.
In the comments section below someone mentioned that Costco carries almond butter (the good kind) for a reasonable price.  Good to know. 🙂
I've tested these cookies with different brands of almond butter and the varieties that are thin produce a thinner cookie and the thick ones result in a more "mound-shaped" cookie.  Your mileage will vary according to your almond butter consistency.  Whatever you do, don't add liquid to the cookie dough to thin down thick almond butter.  This will result in a cookie that has a flour-y taste and isn't as rich and chewy.
Why are These Cookies a Healthier Option if You're Trying to Lose Weight (and Even if You Aren't)?
So why are these cookies healthier than your average cookie? And how in the world do these yummy cookies fit in a weight loss plan?
1. Much of the fat that you would normally have in a cookie is replaced with healthy, high-fiber almond butter.  So you get a rich taste without the hip hugging fat.
2. There are no eggs in this cookie, which means no cholesterol and fewer calories.
3. These cookies are made without baking powder or baking soda – which contribute to bone loss and digestive disorders.
4. There are no refined flours in these cookies – only wholesome, high-fiber, whole-grain oats.  Refined foods contribute to weight gain independent of caloric intake, but increased fiber intake helps tremendously with weight loss.
Enjoy!
Coconut Oatmeal Cookies
A luscious cookie that won't ruin your diet!
Ingredients
2

teaspoons

flax seed meal

1/4

cup

non-dairy milk

1/3

cup

almond butter

3

tablespoons

soft coconut oil

1/2

cup

raw sugar, turbinado sugar, or evaporated cane juice - divided (see note on sweetness below)

1/4

teaspoon

salt

1

teaspoon

vanilla

1 1/4

cups

rolled oats -

gluten-free if desired

1/2

cup

unsweetened, shredded coconut
Instructions
Preheat oven to 325°F. (See preheating oven note below.)

In a small saucepan, whisk together flax and milk. Bring to boil, stirring occasionally. When mixture comes to boil, remove from heat. Set aside.

Place almond butter, coconut oil, and approximately 1/4 cup of the sugar in a large mixing bowl. Mix together very well with

an electric mixer

.

Add flax mixture, salt, and vanilla and mix.

Stir in oats, coconut, and remaining sugar by hand. Mix until very thoroughly combined. Dough will be very thick.

Using a cookie scoop, scoop dough onto prepared baking sheet about 2 inches apart.

Bake at 325°F for 17 to 19 minutes or until very lightly browned on the bottom. You don't want them to brown too much or they will be overdone.

Allow to set for about 1 minute before removing to rack to cool.
Notes
Be sure to use rolled oats not quick oats in this recipe.
See notes in post.
>> One quick request: if you like this recipe, please leave a rating and a comment. Ratings help more people find these healthy recipes!
Print Recipe
Popular Posts
You my also like:
Before you go . . .
Did you know that you can eat all this delicious food AND lose weight? You can!
No calorie counting. No portion sizes.
Join my online weight loss program today!