Cherry Coconut Tapioca Pudding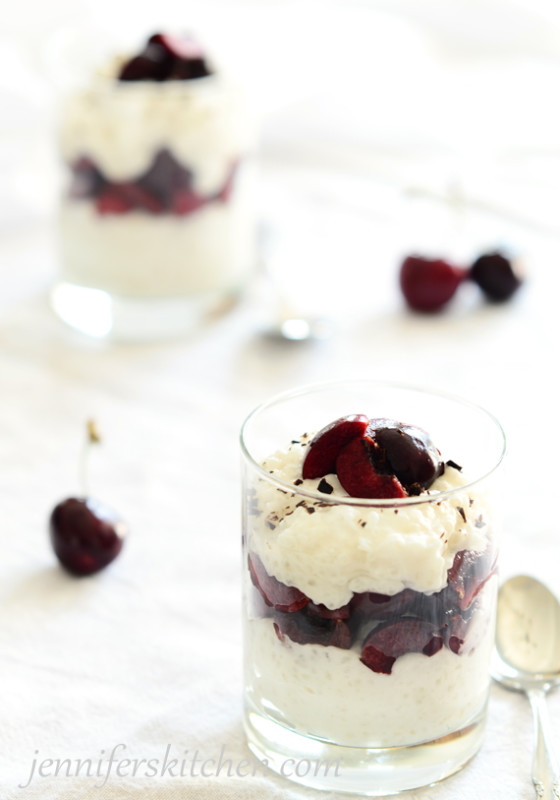 I could eat bowl after bowl of this. It is soooo good!
Like many of my recipes, this tapioca pudding isn't "real" tapioca pudding. It doesn't have eggs, heavy cream, or milk in it, and it isn't very sweet like the real deal. And tapioca pudding purists beware: this pudding uses minute tapioca rather than pearled, which according to the great chefs, "will not produce the same results".
But I really, really love these results!!
I also like that minute tapioca doesn't have to be soaked first.
And I like that this tapioca pudding is low in sugar, refined fat-free, and cholesterol-free – making it a fairly healthy dessert. So I can eat bowl after bowl of it.
How to Pit Cherries
I'm lovin' summertime with all the yummy summertime fruit. This dessert uses fresh cherries. You can cut the cherries in half with a knife and pry the pit out, or you can click here for a quicker way to pit a bunch of cherries.

Cherry Nutrition
Cherries contain flavonoid compounds called anthocyanin glycosides, which help fight inflammation. This can be a benefit for those with fibromyalgia, arthritis, insulin resistance, and other conditions associated with inflammation. Cherries have also been shown to reduce risk factors for heart disease, diabetes and some cancers.
Edit
I've received several emails with questions about this photo and recipe, so I thought I would answer them here in case others were wondering as well.
1. What are the little little brown flecks/specks/thingies sprinkled on top of the tapioca pudding?
I shaved a piece of homemade carob bar and sprinkled it over the pudding. What's carob? Carob is made from the carob bean and it's a healthier alternative to chocolate. Get my delicious carob recipes.
2. What is the coconut cream you mentioned at the end of the recipe?
Coconut cream is sort of like coconut milk, except it's thicker and richer. You can buy coconut cream. OR you can place a can of coconut milk in the refrigerator for a few hours (or overnight), which causes the milk to separate. When you open the can you'll discover a layer of thick "coconut cream" and a layer of watery "coconut water" in the can. Use the thick part for coconut cream.
The only problem with the latter method is some brands of coconut milk work for this and some don't. I'm in the process of testing as many different brands as I can get my hands on and will write a post on my results soon, so that you can know which brands of coconut milk are the best for making coconut cream (and coconut whipped cream) and which ones are duds.
3. Will this work with pearled tapioca?
Maybe sorta kind of. You'll have to soak the pearled tapioca first. And you may need to adjust liquid amounts. In other words, I developed and tested this with quick tapioca, so I would stick with that unless you enjoy experimenting.
4. Why do you add the coconut milk after you begin heating the other ingredients?
I've tried this recipe putting the coconut milk in with the other ingredients and it works ok, but 1.) it didn't come to a boil as fast, 2.) the tapioca didn't cook/soften as well, and 3.) it didn't taste quite the same (although this one may be attributed to my overactive imagination).
5. What a beautiful photo! Do you do all your own photography?
Nope. I'm not that talented. Or patient. Sarah (my daughter) does all my photography. You can read a bit about her here.
Thanks for the great questions! Hope this helps!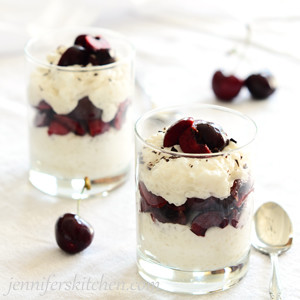 Cherry Coconut Tapioca Pudding
Low in sugar, refined fat-free, and cholesterol-free, this Cherry Tapioca Pudding is quite a healthy dessert. And it's gluten-free and vegan!
Ingredients
1 1/2

cups

almond milk

3

tablespoons

minute (instant) tapioca

1/4

cup

raw sugar

-

or evaporated cane juice crystals

1/8

teaspoon

salt

1/2

cup

full-fat, canned coconut milk

-

(do not use the low-fat variety)

1/4

teaspoon

vanilla

2 1/2

cups

pitted cherries
Instructions
Place tapioca, almond milk, sugar, and salt in a medium saucepan and begin heating over medium-high heat.

Stir in coconut milk. Bring to boil stirring constantly. Continue cooking, stirring constantly, for 1 minute or until mixture thickens. (I use a heat-proof spatula for this.) Remove from heat.

Stir in vanilla. Mixture will thicken more as it cools. Serve with fresh, pitted cherries.
Notes
For a richer, creamier pudding, sometimes I add a couple spoonfuls of coconut cream to the tapioca pudding when it's done.
Yield: 4 to 6 servings
>> One quick request: if you like this recipe, please leave a rating and a comment. Ratings help more people find these healthy recipes!
Print Recipe
Want More?
For more healthy and delicious recipes like this one that will simplify your journey to a healthier and thinner you, check out my
Healthy Weight Loss Program!
You my also like:
Before you go . . .
Did you know that you can eat all this delicious food AND lose weight? You can!
No calorie counting. No portion sizes.
Join my online weight loss program today!