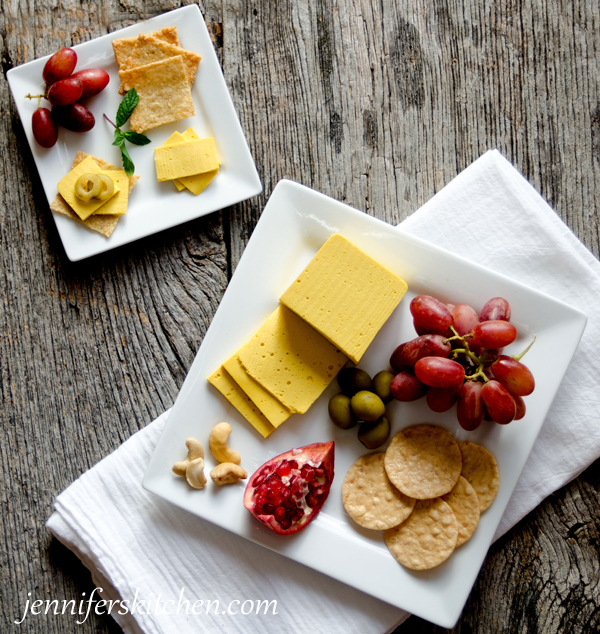 Cheese and Weight Gain
Despite what you hear in the media, there really isn't a cheese – low-fat or not – that will fit well into a healthy weight loss plan. Even most of the lower-fat cheeses are still high in saturated fat and cholesterol.
Cheese and Disease
What's more, studies have linked the consumption of cheese with a number of health problems, including breast cancer, childhood-onset diabetes, iron deficiency, obesity, heart disease, allergies, and digestive problems.
One recent study indicated that women who ate cheese every day were 50 percent more likely to die from breast cancer within 12 years than those who did not eat cheese. This may be due to the skatole and ammonia produced in cheese during the fermentation process of the milk protein.
The ripening process of cheese, which occurs due to the action of molds and bacteria on milk, also produces an alkaloid called roquefortine (a neurotoxin) and amines (which have been shown to cause migraines and high blood pressure).
What about all the health benefits of cheese?
Calcium and protein are the only bragging rights cheese has, but even here we find problems.
The calcium present in cheese cannot be used by the body as well as the calcium found in other foods such as kale, collards, almonds, and sesame seeds.
And the protein? There are many, many other much healthier and lower fat sources of protein than cheese.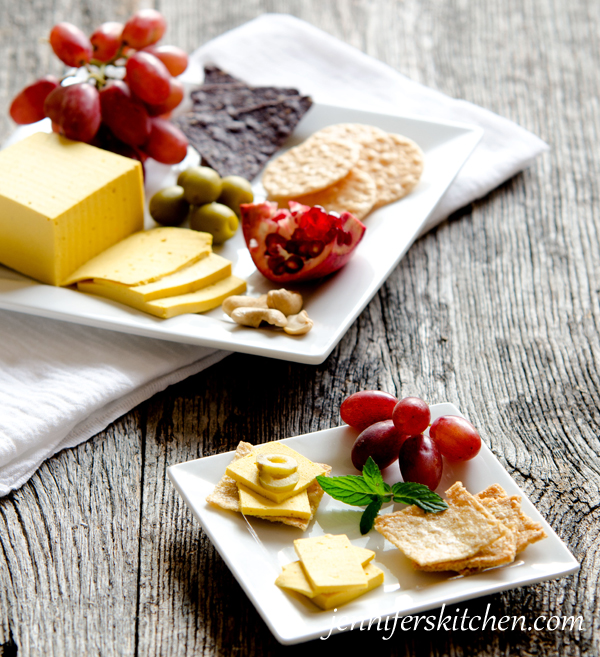 Plant-Based Cheese
There are several vegan cheeses on the market. While many vegan foods have created their own benchmarks and swagger that they don't have to be compared to their "non-plant-based" counterparts (think of the amazing veggie burgers out there that some of the most die-hard meat eaters happily admit to being enthralled with and the handful of non-dairy milks that taste waaay better than cow's milk), unfortunately vegan cheese has yet to be invited to the party.
Still commercial vegan cheese is an option (and some of them have made great strides in texture and taste), and they don't carry most of the health risks that dairy cheese has. However, they are all highly processed and high in refined ingredients.
Homemade Non-Dairy Cheese?
That's where homemade vegan cheese comes in. Made from healthful ingredients. Low in refined fats. And customizable when it comes to taste.
About this Recipe
This homemade vegan cheese is made from raw cashews and carrots, which offer you a healthy dose of fiber, vitamin K, thiamin, vitamin B6, magnesium, manganese, iron, and more.
Agar? What in the world is agar?  Don't let the strange ingredient deter you. Agar is a healthy ingredient that can be easily purchased from Amazon, health food stores, in Asian markets, and in some supermarkets.
More Vegan Cheese Recipes
After you enjoy this delicious recipe, check out all my vegan cheese recipes.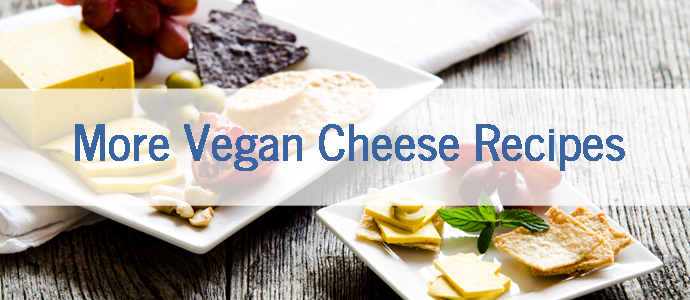 Sliceable Vegan Cheese
Don't attempt to make half a recipe; the smaller amount won't blend well in the blender jar.
Ingredients
1

cup

raw cashews

3/8

cup

lemon juice

- (6 tablespoons), (Edit: I received feedback from those who have tried this recipe and they said they liked it better with only 5 tablespoons of lemon.)

1/2

cup

water

2

tablespoon

mild-flavored olive oil

-

or mild-tasting coconut oil, see note #1, optional

1/4

cup

tahini -

scant

1

small

carrot, peeled

-

see note #2

1

tablespoon

granulated onion

2 1/2

teaspoons

salt

2

teaspoons

nutritional yeast flakes

-

optional, (I don't use this ingredient, but many like it better with it.)

1

teaspoon

granulated garlic

1

cup

water

2 1/2

teaspoons

agar powder
Instructions
Place all ingredients, except 1 cup water and agar, in blender and blend until smooth.

Scrape down sides of blender with a spatula and blend again on high speed until mixture is very, very smooth and creamy. (I recommend using a heavy-duty blender to get the mixture very smooth and creamy.) Set aside.

In a small saucepan, stir agar into 1 cup water. Cover, and heat over medium-high heat until boiling. Reduce heat and simmer for 60 seconds. Remove from heat.

Immediately pour agar mixture into ingredients in blender and blend until thoroughly combined. Scrape pan with a spatula to get all the agar mixture.

Promptly pour mixture into an oiled dish and refrigerate until chilled and set.
Notes
1. Mild-tasting coconut oil is coconut oil that does not smell like coconut or have a coconut flavor.
2. If using a heavy-duty blender, the carrot in this recipe can be placed in the blender jar whole. No need to slice it.
Yield: one 5-inch x 3-inch x 3-inch block of cheese
* * * This recipe for Sliceable Vegan Cheese is . . . gluten-free, plant based, soy-free, sugar-free, high in fiber, dairy free, egg-free, vegetarian, vegan, and made from real, whole foods.
>> One quick request: if you like this recipe, please leave a rating and a comment. Ratings help more people find these healthy recipes!
Print Recipe
You my also like:
Before you go . . .
Did you know that you can eat all this delicious food AND lose weight? You can!
No calorie counting. No portion sizes.
Join my online weight loss program today!