Creamy Butternut, White Bean, and Kale Soup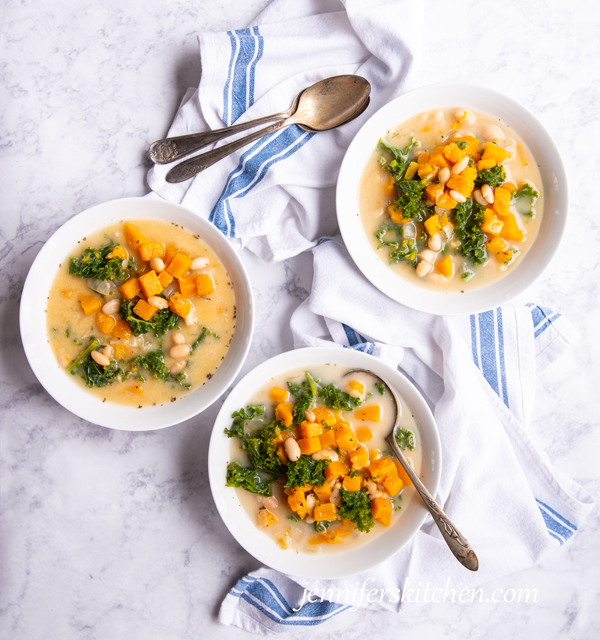 We grew some fine lookin' butternut squash and some crazy curly kale in our garden this past summer.
I'm quite envious of kale and its ability to tolerate cold! It's been in the 20's (Fahrenheit) several nights, and we are covered in snow, but that doesn't faze the kale one bit. It's just as content as can be to hang out in the garden until we need some for lunch. When we pick it, it is frozen and breaks off the stem like a little brittle green icecycle, but when we bring it inside it revives as if it never saw a snowflake in its life. Kale is amazing.
And the squash? They've been hanging tight in the food cellar just waiting for their opportunity to star in this delicious Creamy Butternut, White Bean, and Kale Soup.
This vegan and gluten-free soup recipe is lusciously comforting, creamy, and delicious, without a drop of cream. And it's really quick and easy to make.
And its packed with a bunch of super healthy ingredients. We've got:
Butternut squash – A great source of vitamin A and fiber, butternut squash is good for vision health, helps prevent cancer, and helps with weight loss. You'll need one small to medium size butternut squash for this recipe.
Onions and garlic – Both onions and garlic are rich in fiber and prebiotics, which are essential for gut health.
White beans – The humble white bean has nothing to be humble about. These little gems have been shown to be an extremely effective tool at keeping blood sugar levels stable, and they're also great for weight loss.
Kale – In addition to its amazing ability to live happily in cold climates, kale also has the amazing ability to fight disease. Kale is one of the best sources of antioxidants, fiber, vitamins, and minerals – all of which work together to fight heart disease, cancer, diabetes, high cholesterol, and obesity.
You can prepare your own squash and kale in this recipe or you can buy pre-cut squash and kale in the produce section of your grocery store.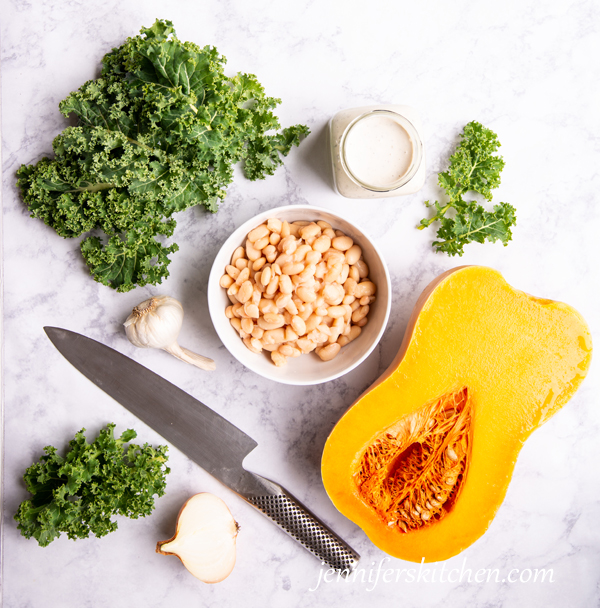 Serve this vegan, gluten-free, comforting soup with a thick slice of whole-grain bread and you have a healthy, nourishing, and slimming meal.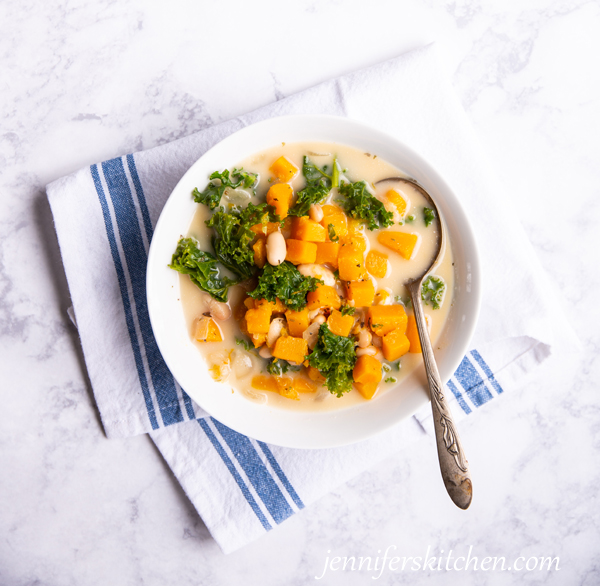 This website is brought to you without annoying ads because we can live healthier lives without the influence of marketing. But running a high-traffic site is expensive. How can you help? If you purchase anything through the affiliate links on my site, your cost is the same, but I receive a small commission. Thank you!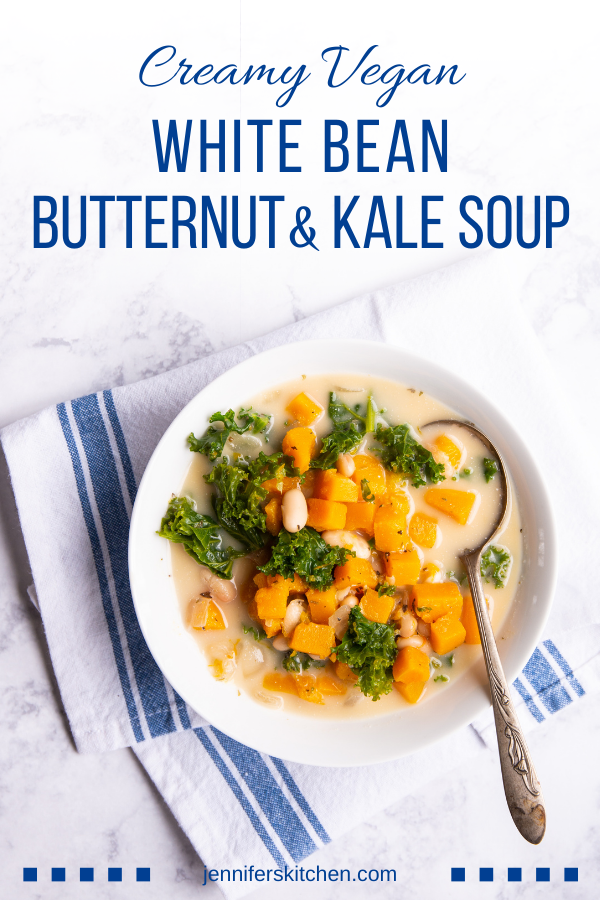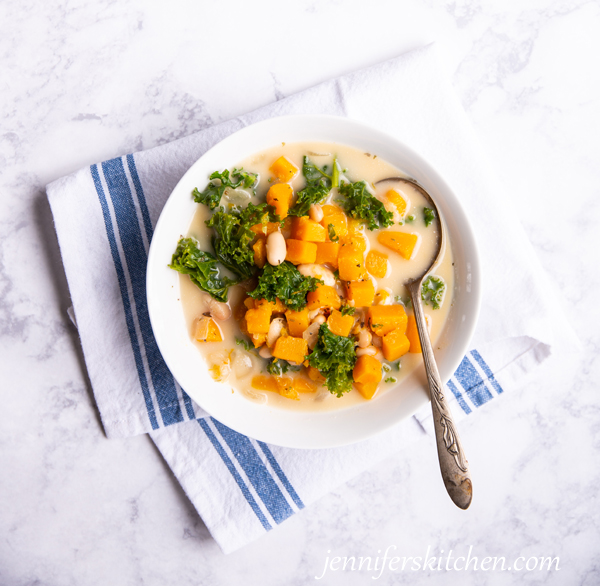 Creamy Butternut, White Bean, and Kale Soup
Creamy white beans, sweet butternut, and nutrient-packed kale in a light cream sauce – a warm and satisfying soup that is both comforting and slimming.
Instructions
Peel and dice squash. Set aside.

Sauté onions over medium heat for about 8 minutes or until they begin to turn translucent. (You can use a tablespoon of olive oil to sauté the squash or you can use this method to sauté without oil.)

When onions are translucent, add garlic and sauté for one minute.

Add water or broth. Turn heat to high. Stir in squash, beans, and seasonings. Cover and bring to boil.

When soup comes to a boil, reduce heat, and remove lid. Simmer, uncovered, for 10 to 12 minutes or until squash is tender.

Stir in kale. Increase heat to medium. Cook, uncovered, at a low boil until kale is just tender – about 5 minutes. Do not overcook kale. Stir occasionally to ensure even cooking. (See note.)

Stir in tahini. Cook until thoroughly heated.

Serve hot.
Notes
Be sure to cook uncovered after adding the kale as brassicas (like kale) taste better when cooked uncovered.
Time:
Hands on time: 25 minutes (or 17 minutes if using pre-cut squash and kale)
Total time: 35 minutes (or 27 minutes if using pre-cut squash and kale)
>> One quick request: if you like this recipe, please leave a rating and a comment. Ratings help more people find these healthy recipes!
Print Recipe
Want More?
For more healthy and delicious recipes like this one that will simplify your journey to a healthier and thinner you, check out my
Healthy Weight Loss Program!
You my also like:
Before you go . . .
Did you know that you can eat all this delicious food AND lose weight? You can!
No calorie counting. No portion sizes.
Join my online weight loss program today!