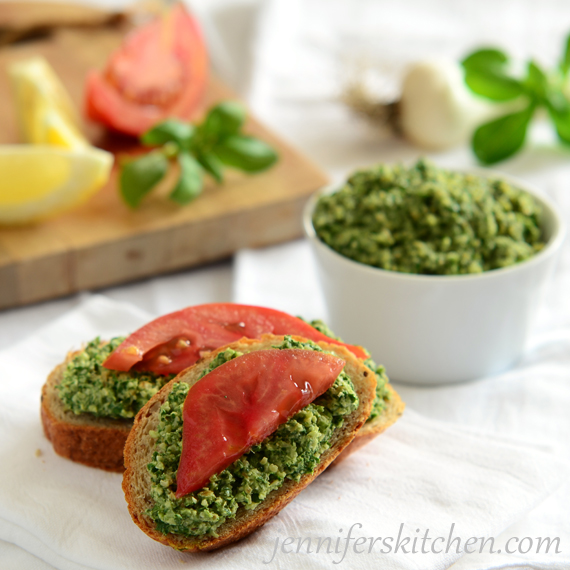 Slimmed-Down, Walnut Basil Pesto
A slimmed-down, vegan version of basil pesto.
:
All recipes on jenniferskitchen.com are property of Jennifer's Kitchen and cannot be included in any other recipes collection, online or offline, without prior written permission.
Ingredients
2 cups (lightly packed) fresh basil leaves
1/2 cup raw walnuts
1 to 2 cloves garlic, crushed
1/4 teaspoon salt – or to taste
1/4 cup olive oil
1 tablespoon lemon juice
Instructions
Place basil, walnuts, garlic, and salt in food processor and process until coarsely ground.
With motor running, add olive oil in a thin stream.
Add lemon juice and pulse to mix.

Serve immediately.
I've been working on two healthy summertime recipes for you: Slimmed-Down Pesto – otherwise known around here as Vegan Pesto (I'm fairly certain it answers to both names) and
Oil-Free Pesto
(which I will post in a few weeks).
This low-fat pesto (or maybe I should call it lower-fat pesto since it isn't low fat like an apple, but it is lower-fat like there's way less fat in it than traditional pesto) saves you an average of 60 calories and 5 grams of fat (per 1/4 cup serving).  And it is cholesterol-free!
If you want to make it even lower in fat, you can replace 2 tablespoons of the oil with 2 tablespoons broth.
Watch this video and see how easy it is to make pesto.

Pesto Nutrition
Basil is a rich source of orientin and vicenin – phytochemicals that help neutralize disease-causing free radicals in the body.
Garlic has been shown to boost the immune system and lower cholesterol.  Click here for more information about the benefits of garlic.
Walnuts are loaded with antioxidants, omega-3s, manganese, and many other essential nutrients that protect the heart, promote good brain function, and help with weight loss. Click here for more information about the slimming effects of walnuts.
A 1/4-cup serving of this healthy pesto gives you 15% of your daily needs for vitamin A and 10% vitamin C.
Because this pesto is high in many nutrients, including monounsaturated fats, replacing butter or cream sauce with this healthy pesto can help lower cholesterol levels and reduce your risk of heart disease.  And since pesto is a rich, full-of-flavor condiment, you can often use less and not sacrifice flavor.
How to Eat Pesto
Pesto is the perfect condiment for many types of sandwiches – especially tomato sandwiches.
Stir a teaspoon of pesto into your tomato soup.
Replace fattening pasta sauce with this rich and nutritious pesto.
Top steamed veggies with pesto to add flavor to otherwise boring vegetables.
How do you like to eat pesto?
Popular Posts