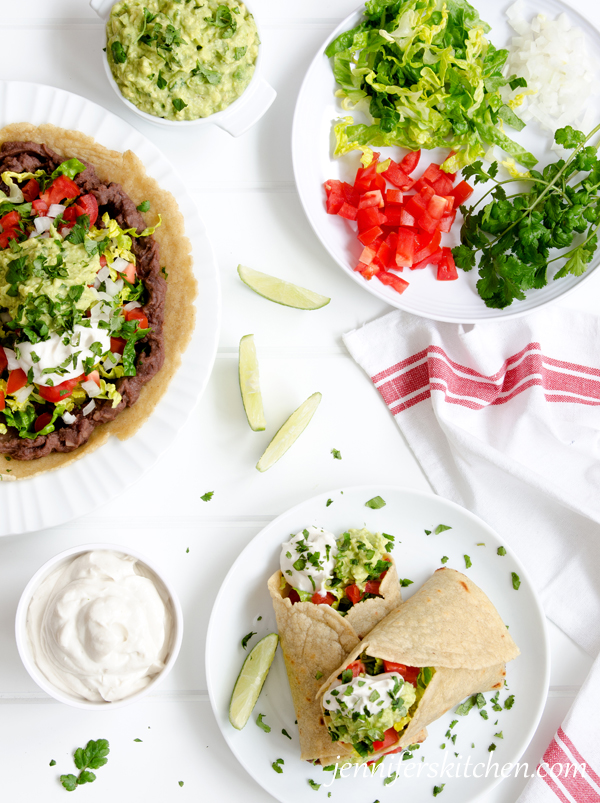 It has recently come to my attention that I post a lot of Mexican-style recipes here. My apologies if Mexican isn't your thing. I will try to do better and post more Italian dishes like pasta and soups … or Bulgarian dishes, like … ummmm….like … What do they eat in Bulgaria?
The Great Burrito
Burritos are one of my all-time favorite foods!
What's so great about burritos?
1. They include guacamole.
What more can you ask for?
2. They are fast to make.
I usually have some tortillas on hand in the freezer and a can or two of refried beans in the pantry so we can put together burritos at a moment's notice. (These are my favorite brand of refried beans because they have very simple, very healthy ingredients.)
3. They promote individuality.
You like your burritos with extra tomatoes? Load 'em on. You want more guac? Absolutely. No onions? No problem.
I love food that allows everyone to fix it how they like it.
4. They're easy.
Even a four-year-old can make them.
5. They are high in fiber. (At least this recipe is.)
6. They are portable!
So you can take one with you and drive right on by those arches.
7. They feature the amazing bean.

Go here if you want to learn what's so amazing about beans.
8. They love to accommodate!
Expecting some weird vegans for dinner? No prob. These bean burritos (recipe below) are vegan, BUT they're also flexible – which means the non-vegans can add cheese or dairy sour cream and everyone is happy, happy, happy!!
Got a gluten-free guest coming for dinner? Keep some gluten-free wraps on hand in your freezer (which, by the way, are often a favorite of those who don't need to eat gluten-free) and your gluten-free friend will be forever in love with you.
9. You can put guacamole on them.
Please. Thank you.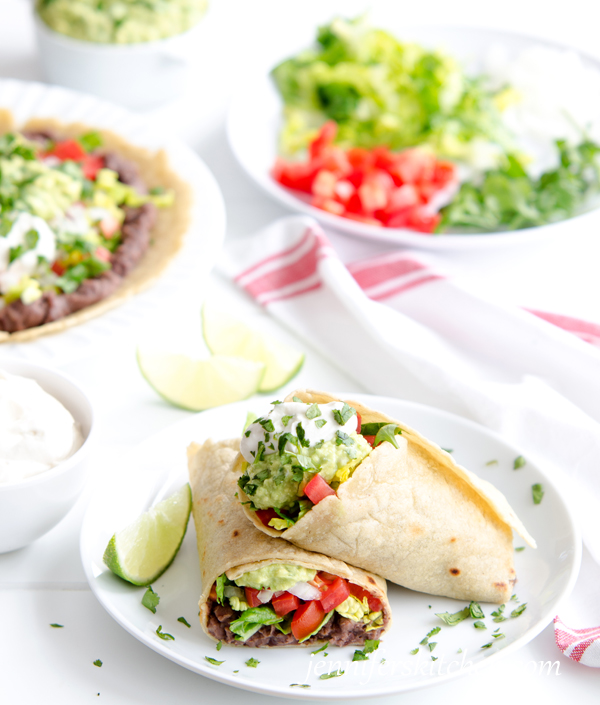 This website is brought to you without annoying ads because we can better live healthier lives without the influence of marketing. But running a high-traffic site is expensive. How can you help? If you purchase anything through the affiliate links on my site, your cost is the same, but I receive a small commission. Thank you!
The Great Burrito
A quick and easy meal that's high in fiber and other nutrients.
Ingredients
Wraps
4 10-

inch

whole-grain tortilla wraps
Beans (see note)
1

teaspoon

olive oil

2 – 3

cloves

garlic, minced

2 1/4

cups

refried beans

- (I use these healthy refried beans.)

1

teaspoon

granulated onion -

optional, see note

1/4

teaspoon

dried basil

-

optional, see note

1/4

teaspoon

cumin -

optional, see note
Vegetables
3/4

medium

sweet onion, diced small

1

medium to large

tomato, diced small

1/3

cup

minced fresh cilantro

3

cups

shredded Romaine lettuce
Instructions
Wrap tortillas in foil or parchment paper and heat in oven at 350°F for 5 to 7 minutes or until heated through. Watch closely as different brands of wraps will take varying amounts of time to reheat.

Meanwhile, sauté garlic in olive oil over medium heat for 1 minute. Add beans. Add seasonings and heat over medium heat until hot.

Spoon a generous 1/2 cup bean mixture down center of a warmed tortilla.

Top with diced onion, tomato, cilantro, lettuce, sour cream, and guacamole.

Roll up tortilla and serve immediately.
Notes
I recommend checking ingredients when buying refried beans, avoiding those with added oil and spices, and adding your own herbs when heating beans. This way you have more control over what goes in your food. If you buy beans already seasoned, you can skip the seasonings I have in the recipe.
>> One quick request: if you like this recipe, please leave a rating and a comment. Ratings help more people find these healthy recipes!
Print Recipe
You my also like:
Before you go . . .
Did you know that you can eat all this delicious food AND lose weight? You can!
No calorie counting. No portion sizes.
Join my online weight loss program today!