The Healthy Broccoli Bowl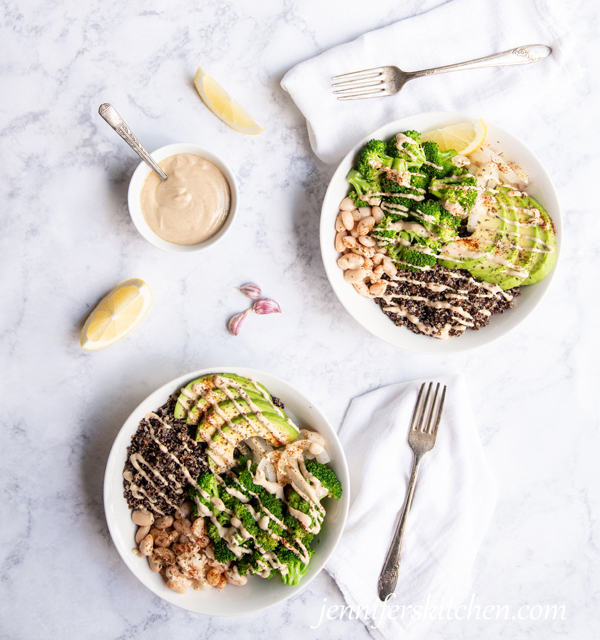 This pretty broccoli bowl may be simple, but it has a lot going for it. Here's what I like about this little beauty.
1. TIMING
No fussy, high-maintenance meal here. Just sauté the onions, steam the broccoli, heat remaining ingredients, and assemble. The Broccoli Bowl can be prepared in 20 minutes or less.
2. EASY PEASY
The Broccoli Bowl is a cinch to make. No advanced cooking skills needed. No grating, basting, braising, flambéing, or filleting. Just simple cooking. Child's play. (Oh, wait! Now there's an idea! Convince your kids to make it for you. A delicious, healthy, home-cooked meal and you didn't have to lift a finger.)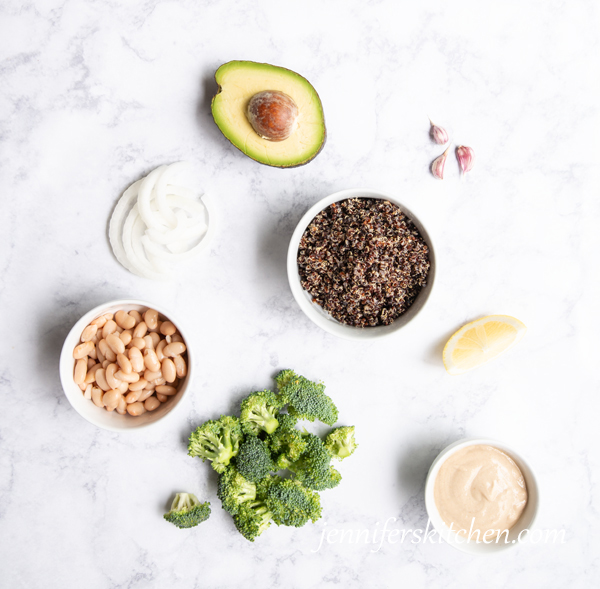 3. FEWER DISHES TO WASH
You may notice that in this recipe you sauté the onions and steam the broccoli in the same pan, and you heat the quinoa/rice and heat the beans in the same pan. Why? Because I like to eat, but I do not like to spend hours in the kitchen washing dishes.
4. THE SAUCE
The sauce. Oh, the sauce. Creamy. Rich. Tangy. This sauce makes the dish. (Pay no mind to the fancy drizzle of sauce in the picture below. I dollop the sauce all over my grains and veggies.)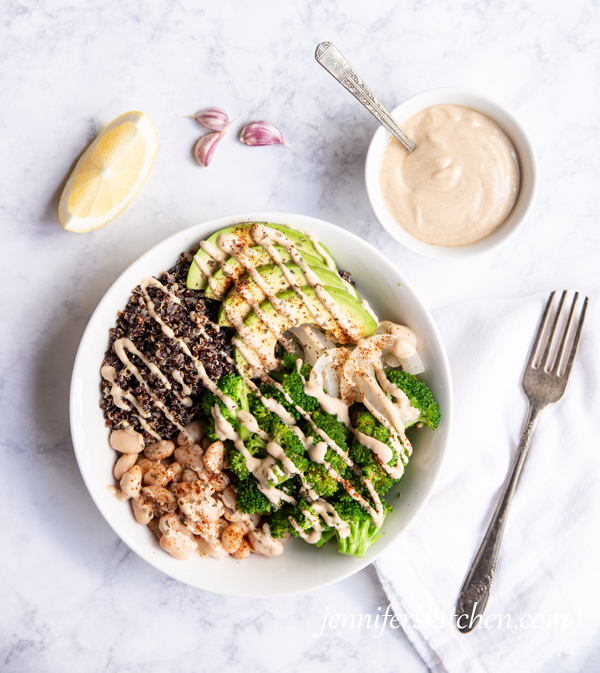 This website is brought to you without annoying ads because we can live healthier lives without the influence of marketing. But running a high-traffic site is expensive. How can you help? If you purchase anything through the affiliate links on my site, your cost is the same, but I receive a small commission. Thank you!
5. PLANT POWER
High in calcium, protein, iron, and antioxidants, this healthy bowl is straightforward, delicious, plant-based goodness.
6. HELPFUL FOR WEIGHT LOSS
Fiber is a key ingredient for healthy weight loss. And coming in at 39 grams of fiber per serving, this broccoli bowl makes it easy to meet surpass your fiber goals for the day!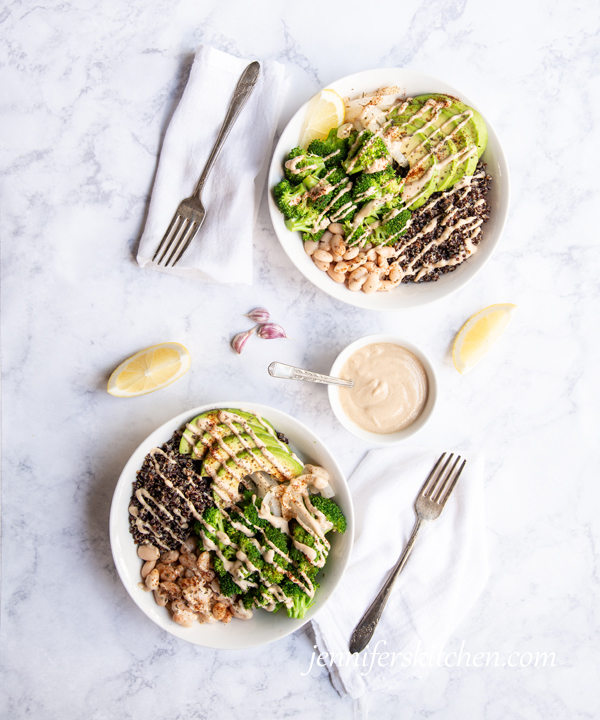 7. GLUTEN-FREE
This dish is not only fast, easy, delicious, vegan, and slimming, it's also gluten-free.
8. FLEXIBILITY
Prefer rice over quinoa? No problem. Want to sauté some bell pepper in with your onions? Go for it! A little cauli with your broccoli? By all means. Up the seasonings? Yep, you can do that. Embrace the flexibility here! Add, subtract, multiply, and adjust. Be your own broccoli bowl self.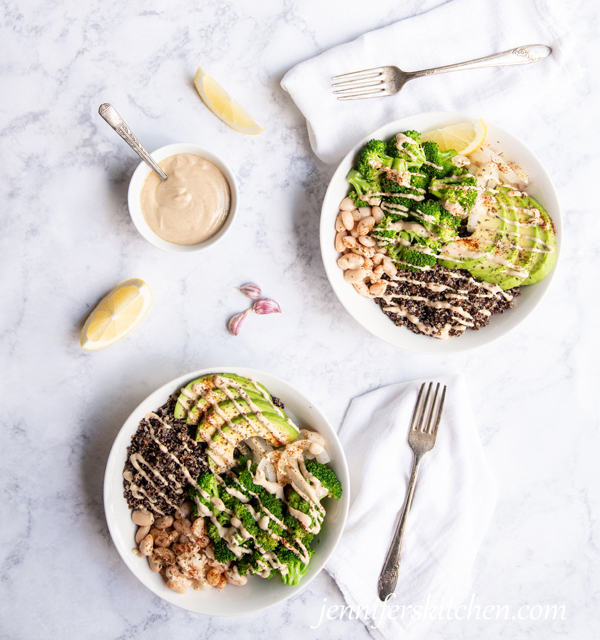 The Broccoli Bowl
The Broccoli Bowl is a simple, one-bowl meal packed with plant-based protein, a good dose of calcium and antioxidants, and loads of flavor – all topped with a deliciously creamy sauce.
Ingredients
The Sauce
1/4

cup

tahini

1/4

cup

lemon juice

1-2

tablespoons

water

2

cloves

garlic, crushed

1/2

teaspoon

granulated onion

1/4

teaspoon

salt
Optional Topping
Instructions
Prepare Bowl Ingredients
In a medium saucepan, saute onions over medium/low heat for 6 to 8 minutes. (You can use a tablespoon or so of olive oil to sauté the onions or you can use this method to saute without oil.) Onions should be nicely browned. If they start to brown too much, reduce heat to low.

Meanwhile prepare broccoli.

When onions are done, transfer to a separate container. Set aside.

Place broccoli into onion pan. Add 1/2 cup water and immediately cover. Cook over medium/low heat for about 8 minutes or until broccoli is tender, but not mushy.

While broccoli is cooking, heat cooked quinoa or rice, and stir in seasonings. Transfer to bowls.

Heat beans over high heat.
Prepare Tahini Sauce
Place all sauce ingredients into a bowl or large measuring cup.

Stir very well with a fork or small whisk.
Assemble Broccoli Bowl
Top grains with broccoli, beans, and avocado.

Drizzle with Tahini Sauce (and Creamy Italian, if desired).
>> One quick request: if you like this recipe, please leave a rating and a comment. Ratings help more people find these healthy recipes!
Print Recipe
Want More?
For more healthy and delicious recipes like this one that will simplify your journey to a healthier and thinner you, check out my
Healthy Weight Loss Program!
You my also like:
Before you go . . .
Did you know that you can eat all this delicious food AND lose weight? You can!
No calorie counting. No portion sizes.
Join my online weight loss program today!