How to Make Overnight Hot Cereal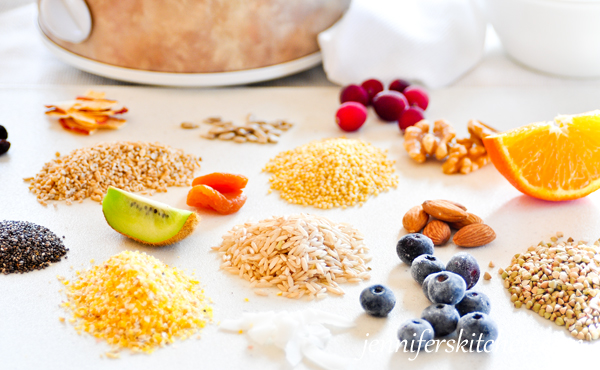 Did you know you can cook your breakfast while you're sleeping? A slow cooker (crock-pot) is my secret weapon against the morning rush and helps avoid the temptation of sugar cereal or bars that are no more than cookies marketed as breakfast.
I simply add ingredients to my slow cooker the evening before, turn it on, and in the morning we wake up to a wonderful, warm meal!
The Ultimate in Convenience
If everyone in your family eats breakfast at different times, crock-pot breakfasts can make life easy, because those who need breakfast early can just help themselves, and those who sleep late can still have a warm, nourishing bowl whenever it's convenient for them.
Fast Food …
Because you don't have to do any cooking in the morning, – you don't even have to open a box of cereal! – a crock-pot breakfast is the ultimate in fast food. It's a great way to be sure you have a hearty breakfast and still get out the door quickly.
… but Not Fat Food
Research clearly shows that eating breakfast every day is a key behavior among people who are able to lose weight and keep it off. A crock-pot breakfast can be a delicious way to enjoy a high fiber, super nutritious, unprocessed, whole-food morning meal.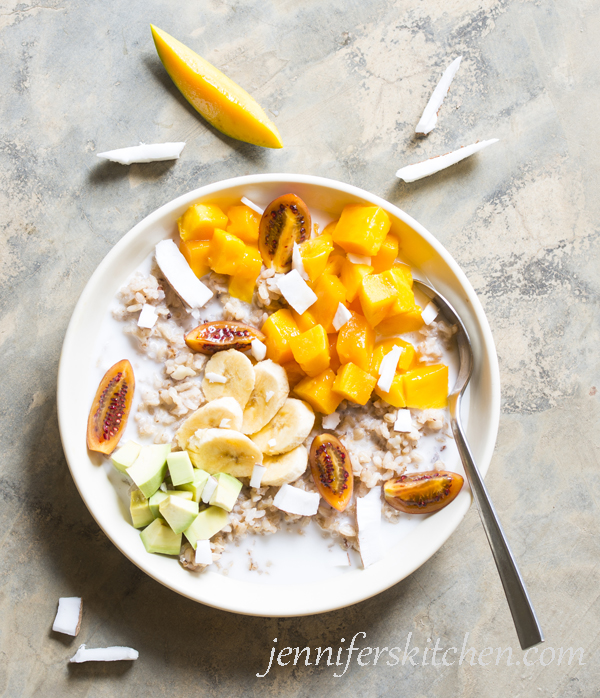 Incredibly Inexpensive …
Overnight hot cereal is also a great option for those on a gluten-free diet. Gluten-free boxed cereals are not only expensive ($6.49 a box! Seriously??), but they're sometimes (almost always!) full of sugar and other less desirable ingredients.
I like preparing hot cereal in the slow cooker because I can control what goes in it … and because it saves so much money. A bowl of ready-to-eat cereal from the box with milk can cost around 90 cents a bowl. But hot cereal cooked in a crock pot can cost as little as 10 cents a bowl.
… and Veritably Versatile
There is a wide variety of gluten-free grains that can be cooked in a crock pot. Check out some of the delicious options below.
Overnight hot cereal works well with just about any grain or combination of grains … so you can have a different cereal every day of the week.
To add to the variety, we like to vary our toppings from one morning to the next. Frozen blueberries, diced apples, walnut pieces, maple syrup, raisins, flax meal, chopped almonds, dates, coconut, sesame seeds … the combinations are just about endless.
Here are some of our favorite overnight hot cereals.
Crockpot Whole-Grain Breakfast Cereals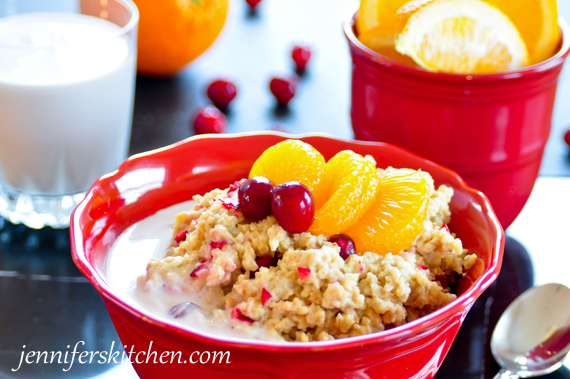 Oats
Steel-cut oats are the best type of oats to use when it comes to the slow cooker. They produce a hot cereal that is richer, chewier, and heartier than that made with regular rolled oats.  (More about steel-cut oats below.)
Overnight Orange Cranberry Oatmeal is one of our favorite crock pot oat recipes.
Long-Grain Brown Rice
Most people are familiar with brown rice served as a side dish at dinner or prepared as rice pudding, but rice also makes a creamy and nourishing breakfast cereal as well. We like frozen strawberries, sliced bananas, and chopped almonds over hot creamy rice. Raisins are also delicious with rice.
Short-Grain Brown Rice
Short-grain brown rice is creamier, stickier, and chewier than long-grain rice. Some feel it has a slightly sweeter taste too.
Millet
Millet is a tiny, round grain that cooks into a creamy cereal in the crock pot. We like millet with coconut milk, shredded coconut, and crushed pineapple, but it's also great with chopped dates!
Buckwheat
Buckwheat makes a strong tasting breakfast cereal, but my kids really like the flavor! It took a little bit of doctoring for me to enjoy it, but loaded with a heap of flax meal and an abundance of frozen blueberries, it's now one of my favorites.
Learn more about whole-grains and you very own Whole-Grain Guide.
Create Your Own
To create your own overnight cereal recipes, use 3 1/2 to 4 cups of water or other liquid to 1 cup of grains and add whatever additions you'd like. This may seem like a lot of liquid, but the extra water is what produces a creamy cereal (except for wheat berries, which don't get super creamy) and prevents it from burning with such a long cooking time.
What Size of Crock Pot Do I Need?
I use a small (2-quart) slow cooker for cooking breakfast cereal so we don't have leftovers.  A  2-quart slow cooker will feed 3 to 5 people (depending on serving size).
If you use larger slow cooker, be sure to fill it at least half-way or the cereal won't cook correctly.
Crock Pot Cereal FAQ and Troubleshooting Tips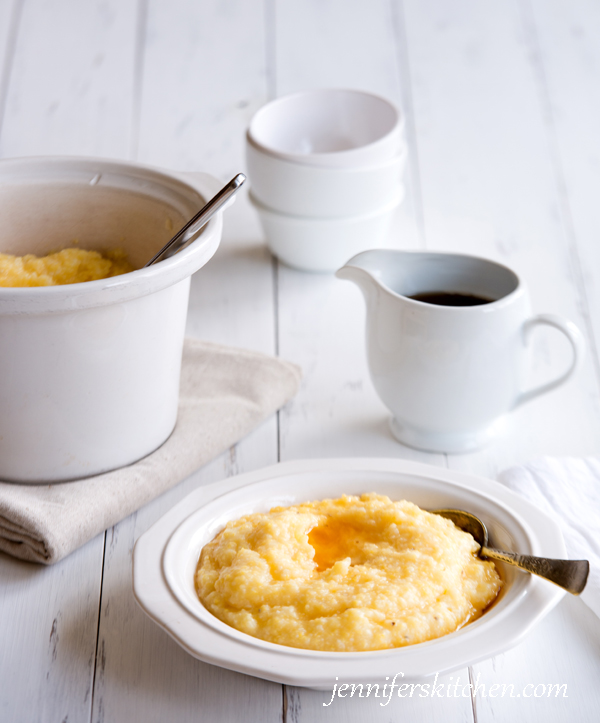 1. Cereal too thin? Cereal not done?
All slow cookers cook differently. With a little experience you may find that you need to adjust cooking time and liquid amounts to your individual appliance.
If your cereal is just slightly too thin, remove the lid and stir it for a few minutes. The cereal will thicken as you stir it.
2. Cereal too done? Cereal burned?
Be sure to add enough liquid before cooking. If the mixture is too thick it will burn.
Add sweeteners in the morning, as too much sweetener in the cooking process may cause the cereal to burn on the edges.
If you still find that your crock pot cooks too hot and your cereal gets overdone, you can plug your slow cooker into an appliance timer. (That's the method I use.) That way you can set it to begin cooking later (after you go to bed) so it doesn't cook as long.
Note: Be sure to choose a heavy-duty timer (like the ones I've linked to above) to use with a slow cooker. For safety reasons, it's important that the wattage of the timer be greater than the wattage of the slow cooker.
Also, if family members eat breakfast at different times, be sure the first eaters turn the slow cooker to the "keep warm" setting so those who have breakfast later can have their cereal warm without it being burned.
3. Food sticking to crock pot?
To prevent food from sticking to the sides of the cooker and make clean-up easier, spray the inside of the liner (stoneware crock) with non-stick cooking spray before adding the food.
If you find that the food is still sticking to the stoneware, the next time you prepare the dish, turn the heat off when it is done and allow it to stand with the lid on for 10 to 20 minutes before serving. The heat and moisture of the food will help the stuck food release from the edges.
For even faster clean-up, line the crock with a cooking liners made for this purpose.
4. How full to fill crock pot?
For proper cooking, fill a slow cooker between two thirds and three quarters full. Filling it more will cause the food to not cook evenly; filling it less will cause the food to cook too quickly and possibly scorch on the sides.
5. When to add dried fruit to cereal?
We usually add raisins and other dried fruit right before serving. Cooking them all night in the cereal causes them to lose their flavor and sweetness. The one exception to this are dates.
6. Oatmeal comes out a mushy, slimy mess?
When cooking oatmeal overnight in a slow cooker, be sure to use steel-cut oats instead of regular rolled oats or quick oats. Old-fashioned rolled oats cook down too much in a slow cooker and end up quite mushy.
Steel-cut oats are oat grains that have been cut into pieces (to resemble small, coarse grains of rice) rather than rolled like old-fashioned oats or quick oats. This method leaves steel-cut oats with a texture that's chewier and heartier than rolled oats.
Steel-cut oats also have a richer flavor than do regular rolled oats. In fact, most people, once they've tried steel-cut oats (also known as oat groats, Scottish oats, or Irish oats), say they'll never go back to regular rolled oats again.
More Crock Pot Recipes
Want more recipes for cooking in a slow cooker?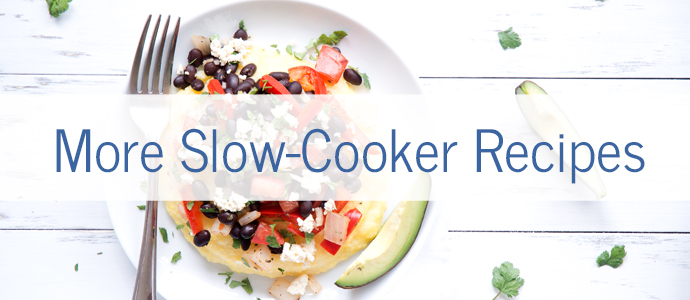 Crock Pot Beans
Take the stress out of dinner. Hop over to a post I wrote about cooking beans in a slow cooker.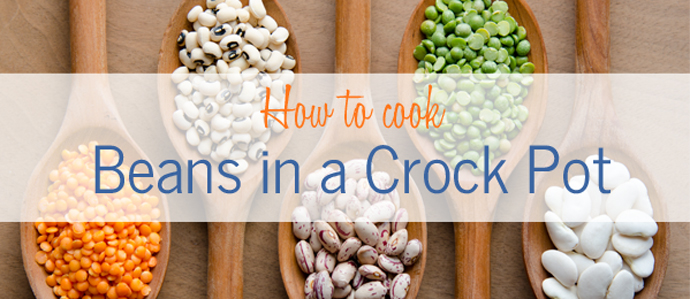 You my also like:
Before you go . . .
Did you know that you can eat all this delicious food AND lose weight? You can!
No calorie counting. No portion sizes.
Join my online weight loss program today!