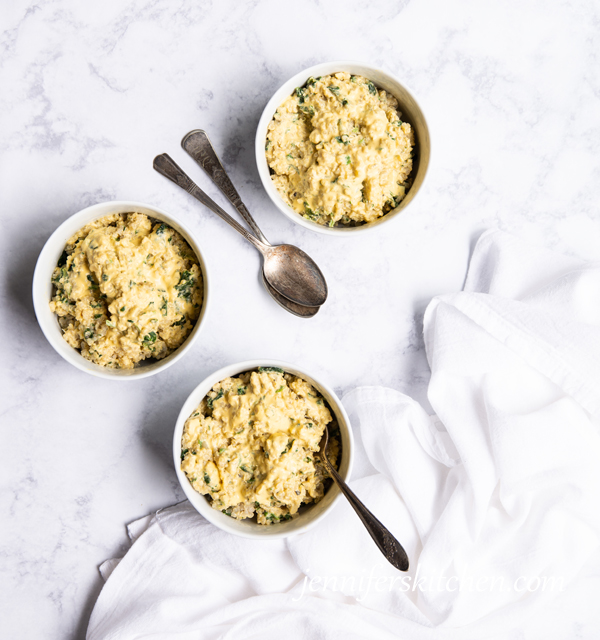 This warm, creamy, cheesy, satisfying, comfort food is really a healthy, nutrient-packed meal in disguise.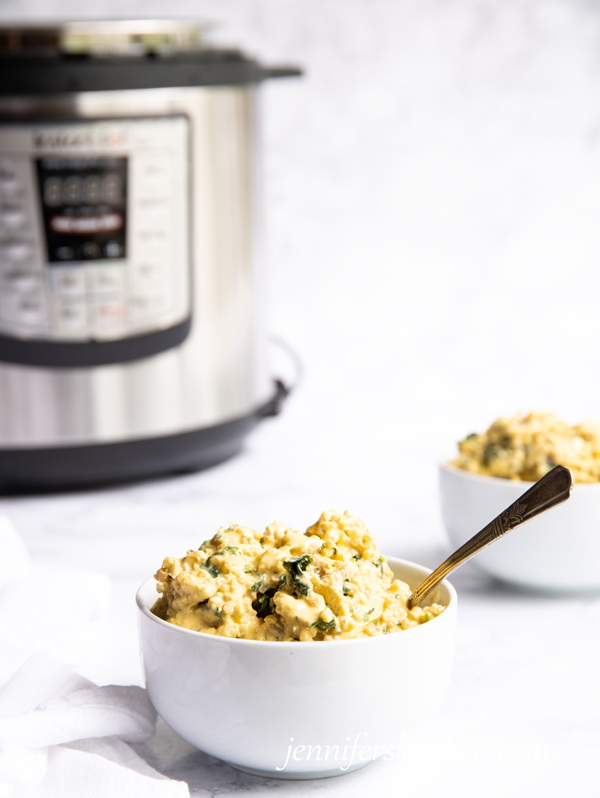 One Pot Wonder
And the beauty of this recipe (besides the creamy, cheesy, yumminess) is that the whole thing can be made in an Instant Pot.
One pot bringing you a burst of delicious lunchtime happiness.*
* If happiness, for you, is defined as "fewer dishes to wash".
Cheesy Quinoa is an easy delicious side that's easy to prepare, dairy-free, vegan, and gluten-free.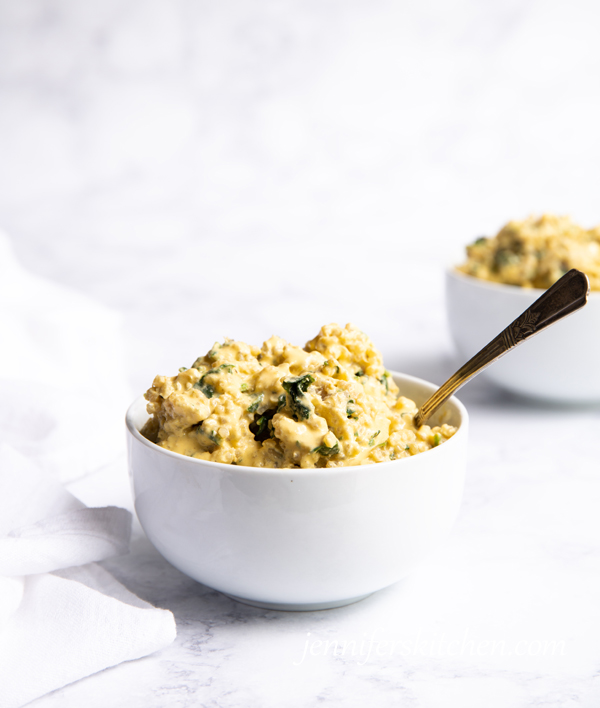 Is Quinoa Good for You?
You bet!
Quinoa is a whole-grain source of fiber and fiber is one of the most important nutrients for weight loss.
Quinoa is an excellent source of protein.
Quinoa is also a good source of minerals.
Eating grains like quinoa boosts your metabolism, which helps with weight loss.

And quinoa is naturally gluten-free.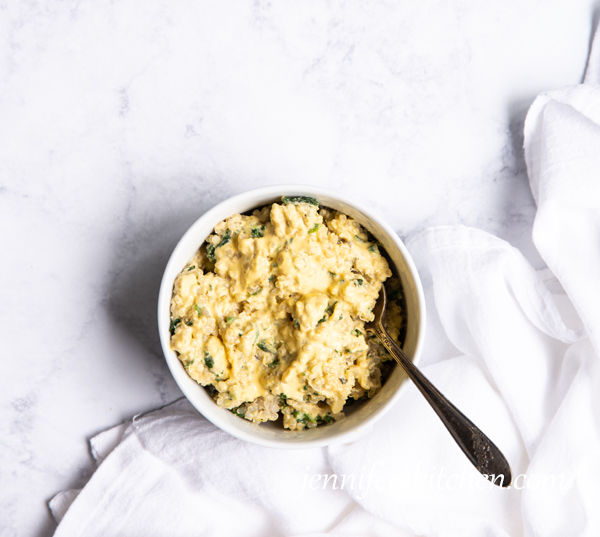 How to Prepare Quinoa
Most quinoa comes pre-rinsed. If yours doesn't, be sure to rinse it or it will have a bitter flavor.
Here's how:
Place quinoa in a bowl of cold water and swish with hands.
Pour into a fine mesh strainer.
Repeat a few times until water is clear.
Drain well.
Cook as directed.

How Should You Serve Cheesy Spinach Quinoa?
Cheesy Spinach Quinoa is typically served as a side dish (try it with a salad and these Brazilian beans OR with steamed carrots and black beans), but it's so filling, we often find that is works great as a main dish.

A Note about this Cheesy Spinach Quinoa:
I tried making this dish ahead of time and keeping it warm in a crock pot or using the slow cooker mode of an Instant Pot, but for some reason keeping it warm gave it an off flavor.
This dish tastes best freshly made. If you do want to make it ahead of time, just reheat it briefly on the stove top.
P.S.
Did you know that Instant Pot just came out with a 3-Quart Duo Nova 7-in-1 Electric Pressure Cooker, Slow Cooker, Rice Cooker, Steamer, Saute, Yogurt Maker?!?  I cannot wait to try this cute, little dude!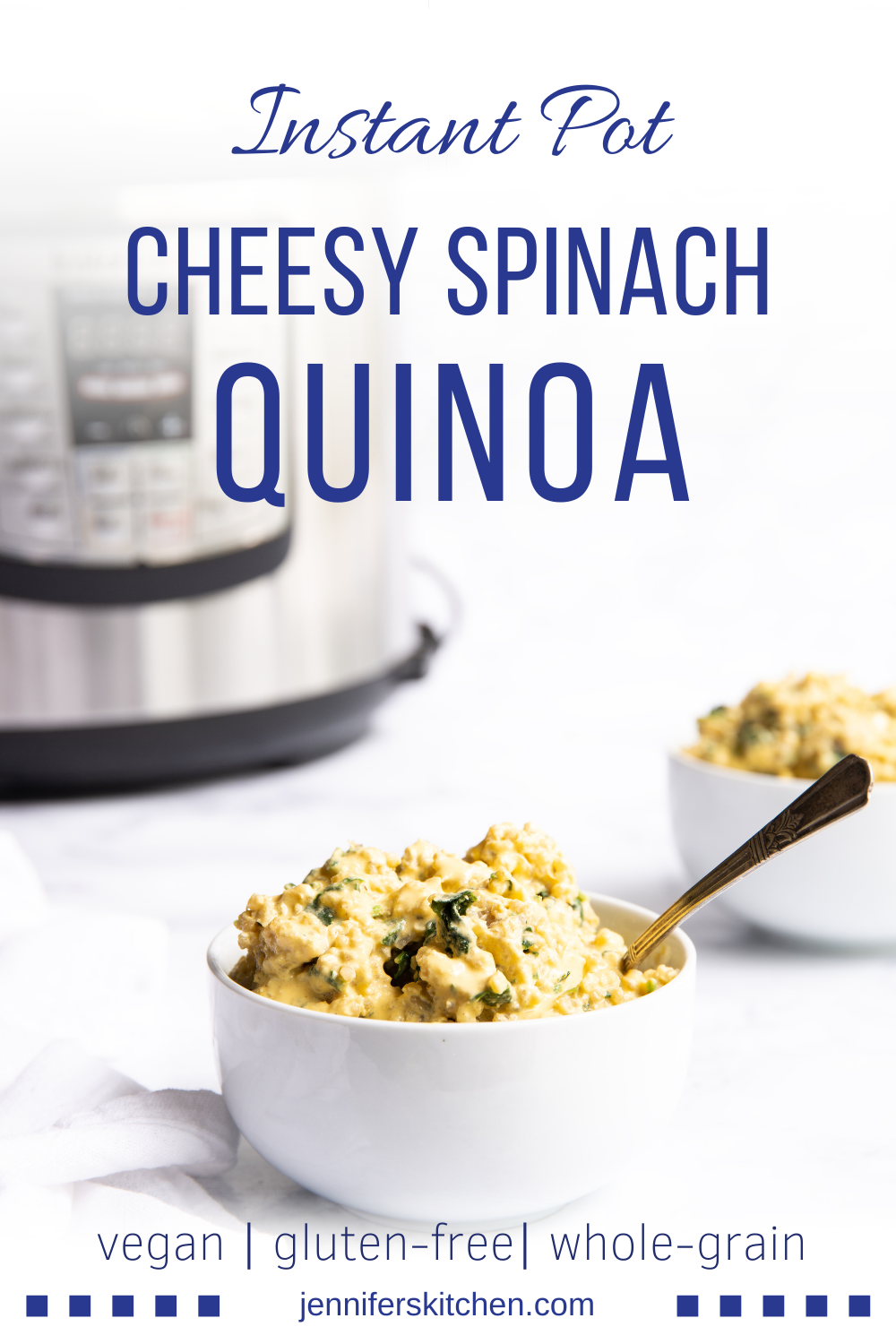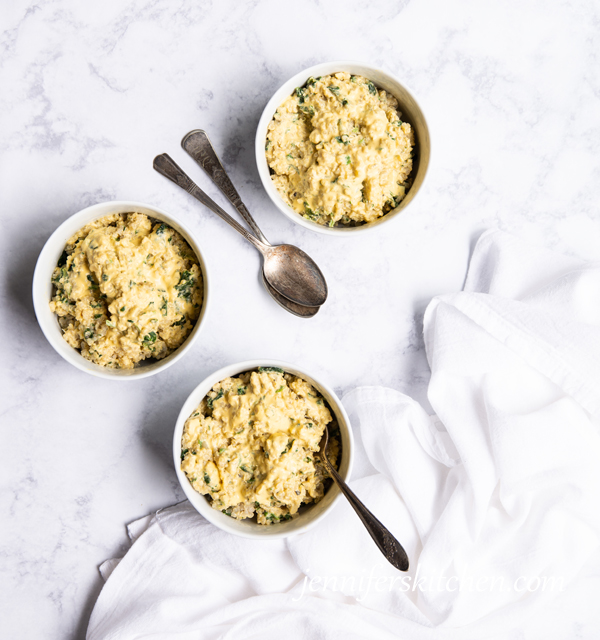 Print
Instant Pot Cheesy Spinach Quinoa (Vegan and Gluten-Free)
Yield 5 cups
This warm, creamy, cheesy, satisfying comfort food is really a healthy, nutrient-packed meal in disguise.
Instructions
Using a 6-quart Instant Pot, sauté onion on sauté setting on "less" heat for 5 minutes or until onion begins to turn translucent.

Add garlic to onions and saute for an additional minute. Cancel Instant Pot.

Set Instant Pot to saute "more" setting.

Add water to onions and garlic.

Add seasonings to water in pot. Bring water to boil.

Add quinoa to pot and bring to a boil again.

When quinoa has come to a full boil, cover, and then cancel Instant Pot.

Set Instant Pot to "slow cook" "more" setting. Cook with the lid on for 20 minutes.

Stir in spinach and cheese sauce.

Serve hot.
One quick request: if you like this recipe, please leave a rating and a comment. Ratings help more people find these healthy recipes!
Notes
See notes in post.
* * * This recipe for Instant Pot Cheesy Spinach Quinoa is … gluten-free, plant based, oil-free, sugar-free, high in fiber, dairy free, egg-free, vegetarian, vegan, and made from real, whole foods.
Popular Posts