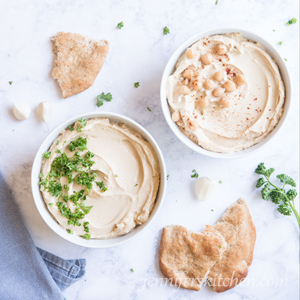 Oil-Free Hummus
The best hummus for weight loss is homemade, because you can control the ingredients that go into the dip.
Ingredients
3 cups crock-pot-cooked garbanzo beans
3 - 6 cloves garlic
3/4 cup (approximately) liquid from garbanzos
3 tablespoons roasted tahini – more or less to taste
1/4 cup + 2 teaspoons lemon juice
1/2 teaspoon granulated onion
1/4 teaspoon cumin
1 teaspoon salt
OPTIONAL GARNISHES
chopped parsley, minced garlic, and/or paprika
Instructions
Drain garbanzo beans, reserving liquid.
Place all ingredients in blender and blend until smooth, using as much garbanzo liquid as needed to achieve desired consistency.  Note: I find this blends best if blended on low speed.
Garnish if desired.
Notes
I cook 4 cups dry garbanzos in my large crock pot and that yields about 10 cups cooked garbanzos. 
This makes:
  - enough garbanzos to prepare 3 recipes of hummus (1 for eating fresh and 2 for the freezer)
  - or enough to make one recipe of hummus and one recipe of Greek Garbanzo Salad and one recipe of Cream of Chickpea Soup
  - or you can simply put the extra cooked garbanzos in the freezer for another day
  - or if you want to only make one recipe of hummus, cook 1 to 1 1/2 cups dry garbanzos.
Recipe by JennifersKitchen at https://jenniferskitchen.com/2018/07/all-about-hummus-and-a-recipe-for-healthy-oil-free-hummus.html