This wonderfully delicious, lusciously creamy, gluten-free and vegan Cream of Chickpea Soup is just as delicious as any chicken soup you've ever had. It has a rich, hearty flavor and yet is light and healthy.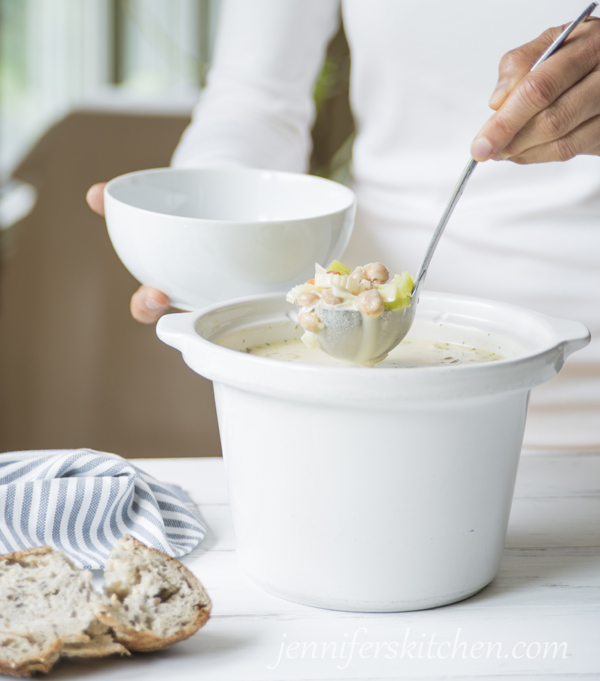 This website is brought to you without annoying ads because we can live healthier lives without the influence of marketing. But running a high-traffic site is expensive. How can you help? If you purchase anything through the affiliate links on my site, your cost is the same, but I receive a small commission. Thank you!
With protein-packed chickpeas, just the right amount of veggies, and a light vegan cream, this soup is a meal in a bowl.
Tender Chickpeas
I like to make this soup with crock pot-cooked chickpeas.  They taste better and have a nicer texture.  Cooking your own chickpeas (garbanzos) in a crock pot is as easy as can be, and it only takes about 5 minutes of your time. Check out my post about cooking beans in a crock pot (slow cooker).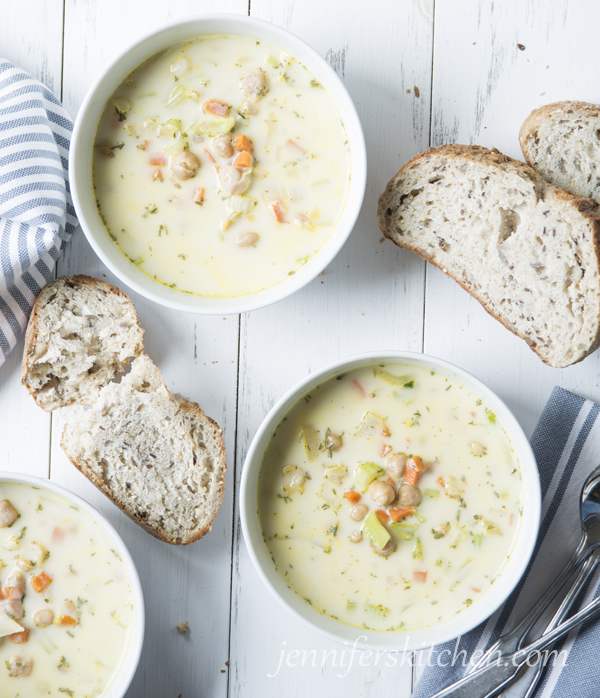 Simple to make and loved by all, this one is sure to become a favorite you'll make over and over again!
Healthy Soup
Not only is this Cream of Chickpea Soup absolutely luscious, but it is super healthy as well.  It offers you a good dose of iron (which helps keep your immune system functioning well), manganese (which improves bone health and reduces inflammation), and folate (which is associated with lower risk of depression and better heart health).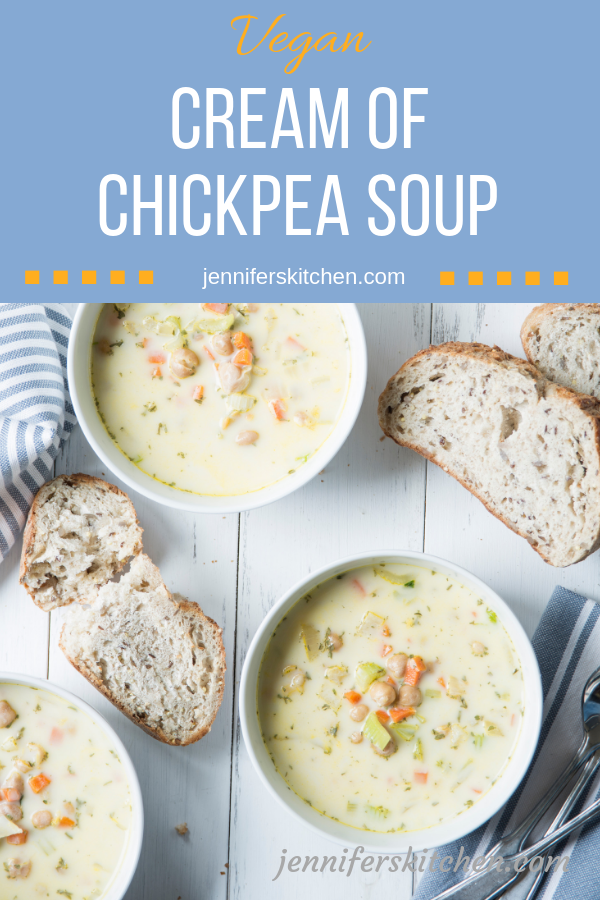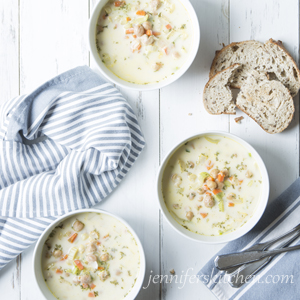 Print
Cream of Chickpea Soup
Yield 6 cups
If at all possible, try to use crock-pot-cooked garbanzos for this soup. It takes a little planning ahead, but the added flavor and tender texture is so worth it!
Ingredients
VEGETABLES
4 ribs celery, diced
3 medium carrots, peeled and diced or sliced thin
1 medium onion, diced
1 tablespoons olive oil (optional)
CREAM BASE
1/2 cup raw cashews
1 cup water
1 teaspoon salt - scant
1 clove garlic
1 tablespoon lemon juice
1 teaspoon tahini
SEASONINGS
3 cups water
1 tablespoon + 1 teaspoon dried parsley
2 teaspoons granulated onion
2 teaspoons dried chopped or minced onion
1 teaspoon celery salt
1 teaspoon granulated garlic
1/4 teaspoon dried sage
1/4 teaspoon dried basil
3  cups cooked garbanzo beans (chick peas), drained but not rinsed
Instructions
In a large soup pan, sauté celery, carrots, and onions in olive oil over medium heat until onions begin to soften – about 5 minutes. (Or, if you prefer to avoid oil, saute without.)
Meanwhile, make cream base. Place cashews, 1 cup water, salt, garlic clove, lemon juice, and tahini in blender and blend until very smooth. (This works best with a heavy-duty blender.) Set aside.
When onions are beginning to soften, turn heat to high and add 3 cups water and seasonings to pan. Cover and bring to boil.
Reduce heat and cook over low heat until vegetables are tender but not mushy (about 6 to 8 minutes). Cooking time will vary depending on the size of the vegetable pieces.
When vegetables are tender, stir in beans.
Stir in blender mixture and cook just until hot, but do not boil.
Notes
Crock-pot-cooked beans work best in this recipe. If using canned beans, add them along with the water and seasonings.
Popular Posts