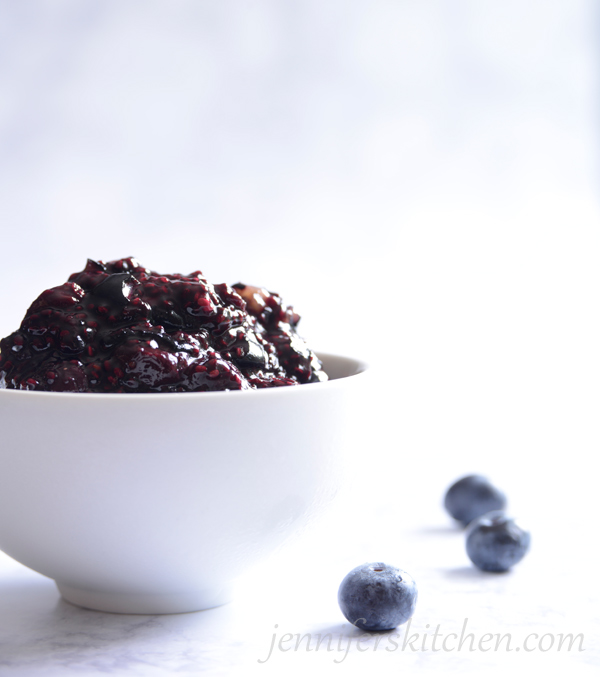 No need to get out your canning jars. And you can even put the sugar back in the cabinet.
This luscious jam is not only sugar-free, but it takes less than 10 minutes to make, and since it can be made with frozen fruit, you can have it any time of the year – no canning needed.
Why chia jam?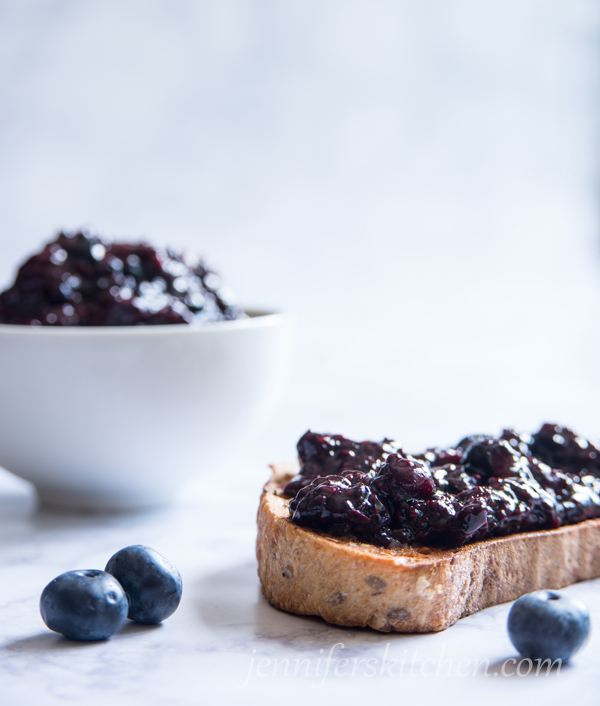 This website is brought to you without annoying ads because we can live healthier lives without the influence of marketing. But running a high-traffic site is expensive. How can you help? If you purchase anything through the affiliate links on my site, your cost is the same, but I receive a small commission. Thank you!
Using chia to thicken jam isn't my original idea, but it is a brilliant idea. Who came up with this idea? Please email me if you are that person. I'll make some chia cookies for you.
Why is it brilliant?
Because chia has the unique ability to absorb liquid and thicken foods in a gelatinous-jammy-kind-of-way, so you can use it to make, well, jam. And sure, other ingredients, like pectin and sugar, can do this; but thickening with chia also offers a lovely dose of fiber (great for weight loss!), protein, omega-3s, calcium, and antioxidants.
In other words, it's really good for you.
What in the world is chia?
Chia is a tiny seed that is super nutritious and naturally gluten-free. Read more about chia in my Chia Pudding post.
Where do you get chia?
You could pick some up next time you go grocery shopping in Mexico (where it is grown), or if your Spanish is rusty, you can order a bag online and get it shipped straight to your door in two days. I've seen it in some of the major grocery stores as well.
What else you can make with chia seed?
Once you get your bag of chia, you can make this Berry Chia Breakfast Bowl.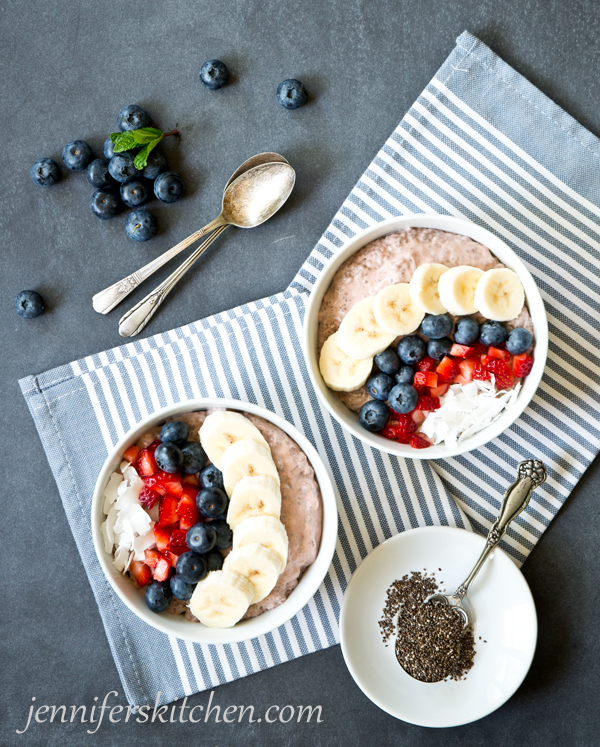 Or you can enjoy this Carob Chia Pudding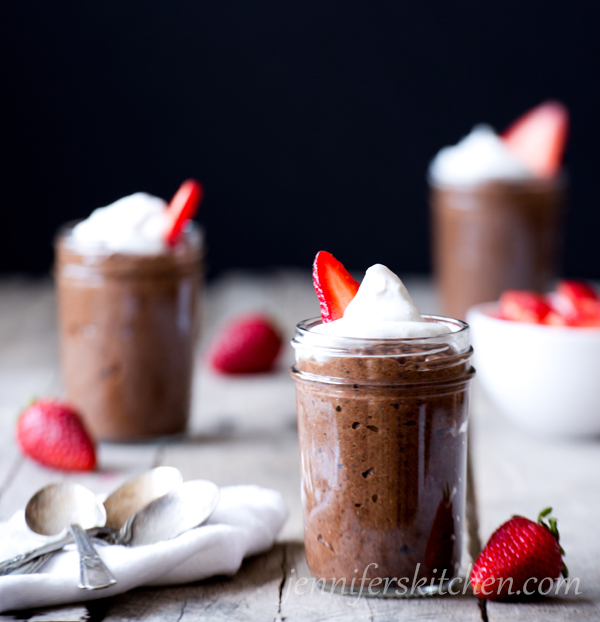 and, of course, this Berry Chia Jam.
How we eat our sugar-free chia jam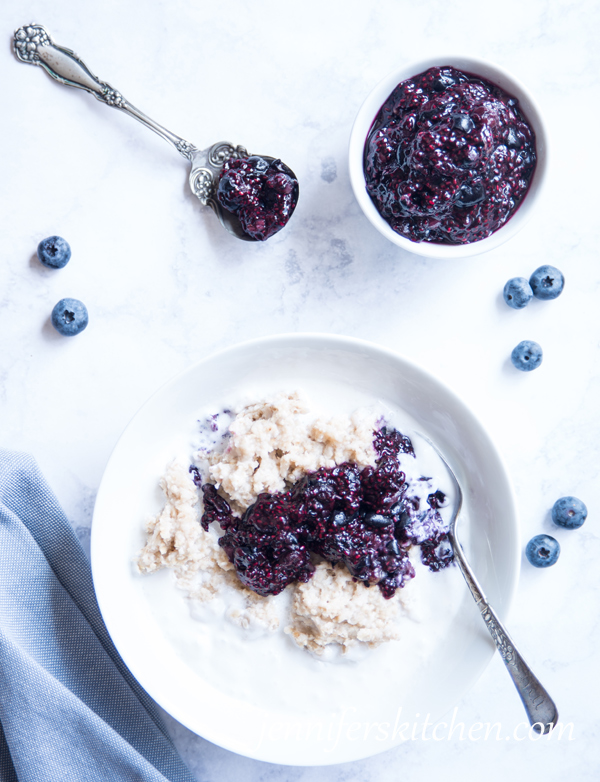 We like to spread our chia jam on a warm piece toast, and it tastes great on waffles. And it's perfect in an almond butter jam sandwich. It can also transform plain oatmeal into a sweet and flavorful breakfast treat. Or you can use it as a topping for ice cream.
I have even been known to eat it straight from the jar.
More Sugar-Free Recipes
Looking for easy ways to eat healthier? Check out my other delicious sugar-free recipes.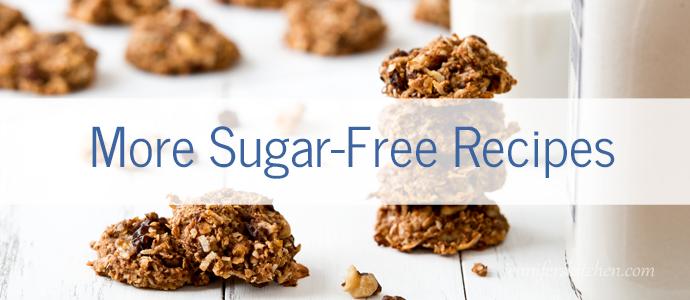 How-To Make Sugar-Free Chia Jam
Here's how to make this yummy Blueberry Chia Jam.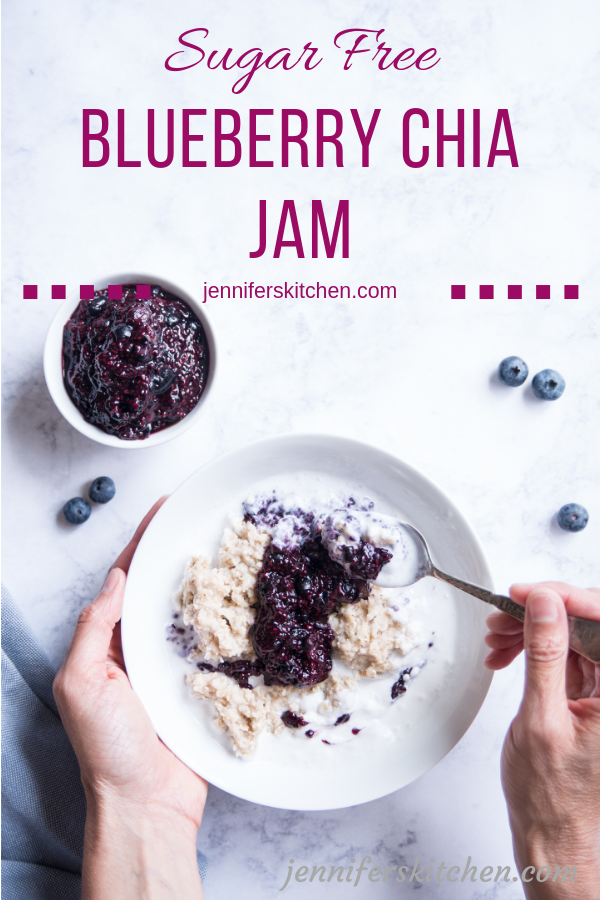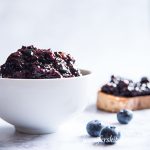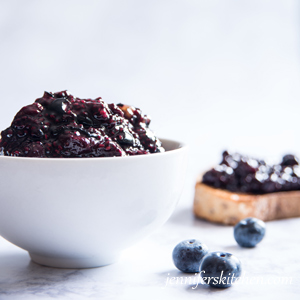 Blueberry Chia Jam
This 10-Minute Chia Jam recipe is easy to make and super good for you since it's is sugar-free and thickened with healthy chia.
Ingredients
2

cups

frozen blueberries

1/4

cup

frozen grape juice concentrate

-

see note #1

3

tablespoons

chia seed

1/2

teaspoon

vanilla

pure maple syrup -

see note #2
Instructions
Coarsely chop blueberries. I do this by placing the frozen blueberries in my food processor and pushing the pulse button approximately 10 to 12 times.

In a small saucepan, stir together grape juice concentrate and chia seed. Bring to boil over high heat, stirring often.

Stir in chopped blueberries, return to boil, then continue to cook for approximately 2 minutes or until chia is soft.

Remove from heat and stir in vanilla and maple syrup to taste. Allow to cool. Chill before serving.
Notes
1. This amount of grape juice concentrate results in a thick jam. If you'd like a thinner jam (for example, to use for a sauce), use 1/3 to 1/2 cup grape juice concentrate.
2. I like this jam without any maple syrup, but if you prefer a sweeter jam, I suggest adding 2 to 3 tablespoons of pure maple syrup.
3. This jam will keep for about 6 days in the refrigerator or up to 6 months in the freezer.
* * * This recipe for Sugar-Free Blueberry Chia Jam is . . . gluten-free, plant based, oil-free, sugar-free, high in fiber, dairy free, egg-free, vegetarian, vegan, and made from real, whole foods.
>> One quick request: if you like this recipe, please leave a rating and a comment. Ratings help more people find these healthy recipes!
Print Recipe
You my also like:
Before you go . . .
Did you know that you can eat all this delicious food AND lose weight? You can!
No calorie counting. No portion sizes.
Join my online weight loss program today!