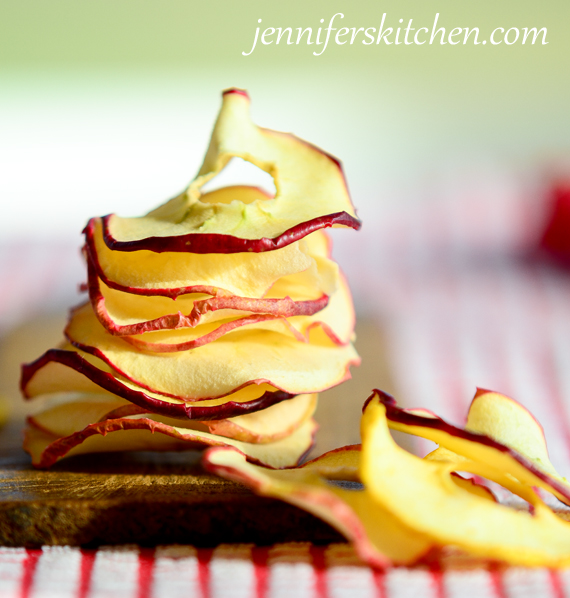 This website is brought to you without annoying ads because we can live healthier lives without the influence of marketing. But running a high-traffic site is expensive. How can you help? If you purchase anything through the affiliate links on my site, your cost is the same, but I receive a small commission. Thank you!
Dried apples are a very healthy treat. And, if you are trying to lose weight, they're a great substitute for unhealthy, sugary, snacks.
We think drying apples is a fun fall activity!
How to Make Dried Apples
1. Wash apples.
No need to peel them. Leaving on the peel adds a little flavor to the dried apples AND increases the fiber content making them good for weight loss.
2. Remove core and slice.
Remove the core and cut into thin slices.
We cored and cut our apples using our apple peeler/slicer (without the peeling blade engaged). It's super fast and very easy to use. You can make a bunch of apple rings in just minutes!
If you don't have an apple slicer, you can slice them with a knife.
3. Dip in solution to prevent browning.
Dip apples in a solution to prevent them from turning brown.
We dip ours in a mixture of lemon juice, pineapple juice, and water. (1 tablespoon of lemon juice per 1 cup of pineapple juice and then dilute with about 1 tablespoon water.)
I like how the pineapple juice adds a bit of sweetness to counteract the sour taste of the lemon juice.
You can also use orange juice or a solution made from 2 tablespoons of ascorbic acid (or Fruit Fresh) and 1 cup water.
4. Distribute them single layer.
Place them single layer on whatever you are going to use to dry them on.
We use a screen from a retired food dehydrator. You can use a new, clean window screen or an oven rack covered with cheesecloth. Or if you're drying your apples in a food dehydrator, place them on the racks of the dehydrator.
Read on for drying methods …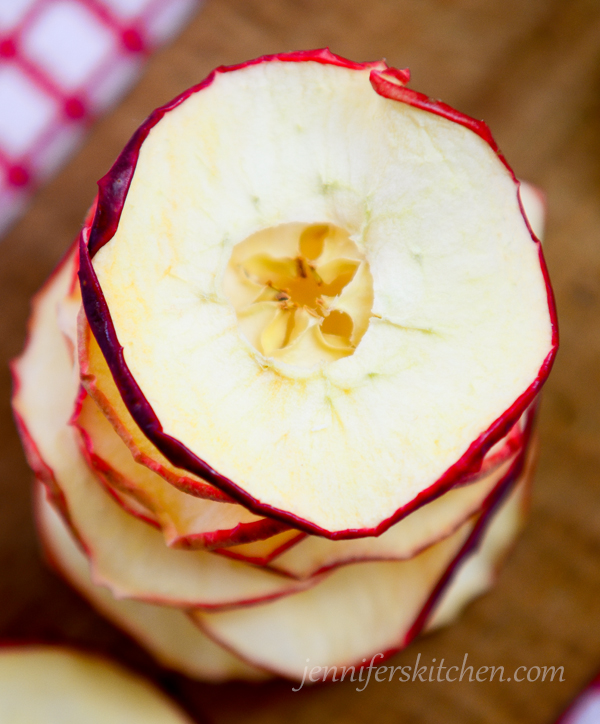 Different Drying Methods
There are different ways to actually dry the apples –
1. in a food dehydrator
2. in an oven
3. in the sun
4. over a wood stove
1. Drying Apples in a Food Dehydrator
This is probably the most common method for dehydrating food. An electric food dehydrator is simple to use and energy efficient.
2. Drying Apples in an Oven
You can also dry apples in your oven if your oven can get the temperature down to 145 degrees Fahrenheit. (Some ovens will only go as low as 200 degrees.) You'll need to keep the oven door open slightly to allow the moist air to escape.
Positioning a fan by the door to keep air circulating is helpful too.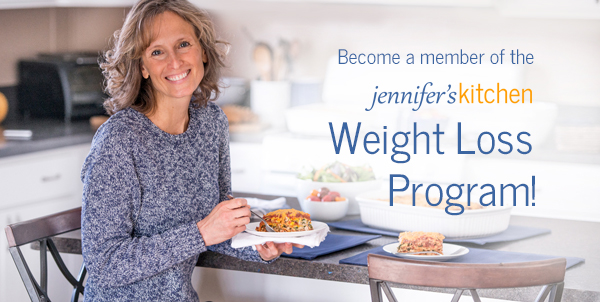 3. Drying Apples in the Sun
This is rather difficult because you need low humidity, lots of sun, and plenty of heat – something that rarely happens here in Michigan.
Besides drying blueberries in the back window of my car once – which actually worked great! – I have no experience with this, so if you are thinking about sun drying you may want to do a little research first.
4. Drying Apples over a Wood Stove
Our favorite method for drying apples is over our wood stove, because we love how the apples turn out crispier and whiter than apples dried in a food dehydrator. They also dry more quickly.
There are many ways to suspend the drying rack (I use the rack from my oven) over the stove.
You can place four tin cups (or other objects that won't be damaged by heat) on the four corners of the stove and place your drying rack on top of them.
Or you can hang four strands of wire from four ceiling hooks and attach the wire to the drying rack.
Or, you can place the racks very close to your wood stove and rotate them often.
We suspend a rack from the ceiling and then place our dehydrator screen on top of the rack.
If your wood stove has hot spots, be sure to rotate the rack or screen occasionally for even drying.

How Long Does It Take to Dry Apples?
The drying time will vary depending on which method you use, the moisture content of the apples, and how thick the apple slices are.
Drying apples in a food dehydrator takes between 12 and 24 hours.
Drying apples in the oven takes between 10 and 20 hours. The higher the heat, the quicker they will dry; but you'll need to watch them closely and turn the slices often if your heat is higher than 145 degrees Fahrenheit.
Drying apples over a wood stove takes about 8 to 14 hours.
Time will vary depending on heat level and air flow.
NOTE: You want to dry the apples, not bake them! The temperature should be between 130 and 145 degrees Fahrenheit with plenty of air flow.
How to Know When Dried Apples are Done
Your apples are sufficiently dried when they feel leathery and very dry … almost crisp, but not quite. If you like your dried apples to be crispy, you can dry them a little longer.
How to Store Your Dried Apples
Allow apples to cool completely. Place your dried apple slices in a storage container or plastic Ziploc bag, seal well, and store in a cool, dry place.
Or you can put them in this delicious Maple Nut Granola. Or add some flavor and sweetness to Overnight Hot Cereal.
How Long Will Dried Apples Keep?
If sealed well and stored in a cool, dry place, dried apples should keep for about 6 months. For longer storage, keep in the freezer.
How Many Dried Apples Will I Get From Fresh Apples?
The yield varies considerably depending upon the moisture content of the apples. Different varieties of apples have different moisture levels. That said, you should get somewhere around 2 cups of dried apples for every 5 pounds of fresh.
Which Apple Varieties Work Best for Drying?
Gala apples work great for dehydrating, as do Fujis. I also like dried Golden Delicious apples. Have you tried a variety that you especially like dried? Let me know in the comments.
Enjoy!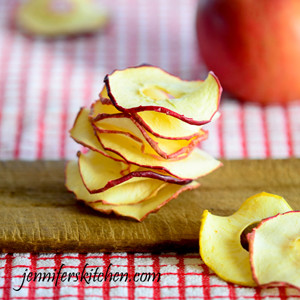 How to Dry Apples
Ingredients
apples

solution to prevent browning

-

(I use a mixture of lemon juice and pineapple juice)
Instructions
Cut apples into thin slices.

Dip in solution.

Distribute single layer on drying rack.

Dry until apples are leathery, very dry, and almost crispy.
>> One quick request: if you like this recipe, please leave a rating and a comment. Ratings help more people find these healthy recipes!
Print Recipe
Want some more yummy apple recipes?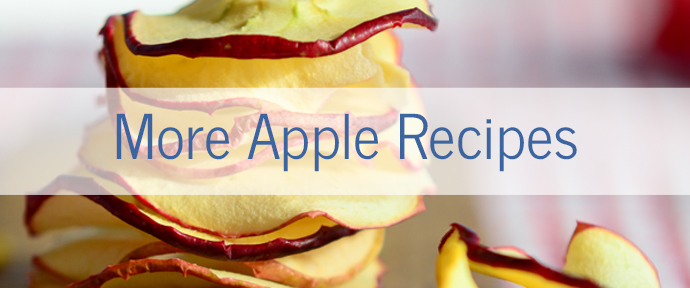 You my also like:
Before you go . . .
Did you know that you can eat all this delicious food AND lose weight? You can!
No calorie counting. No portion sizes.
Join my online weight loss program today!