Summer is almost over (sniff), so I find myself squeezing in as many fresh tomato and basil recipes as possible before the chilly winter winds whirl in and whisk all the tender garden produce away.
This mayo-free salad is rich in fiber and protein and is super easy to make.
You can use canned garbanzo beans if you like (which would sort of make this a no-cook recipe), but I love the taste and texture, not to mention the money saving factor, of beans cooked in a crock-pot or slow cooker. If you need a little refresher course on this, check out the post I wrote on how to cook beans in slow cooker.
This Greek Garbanzo Salad is very filling, low in calories, high in fiber, and loaded with nutrients making it a great recipe for weight loss.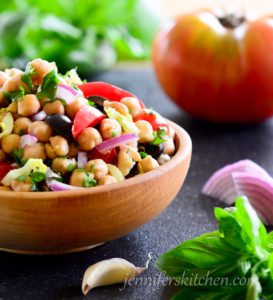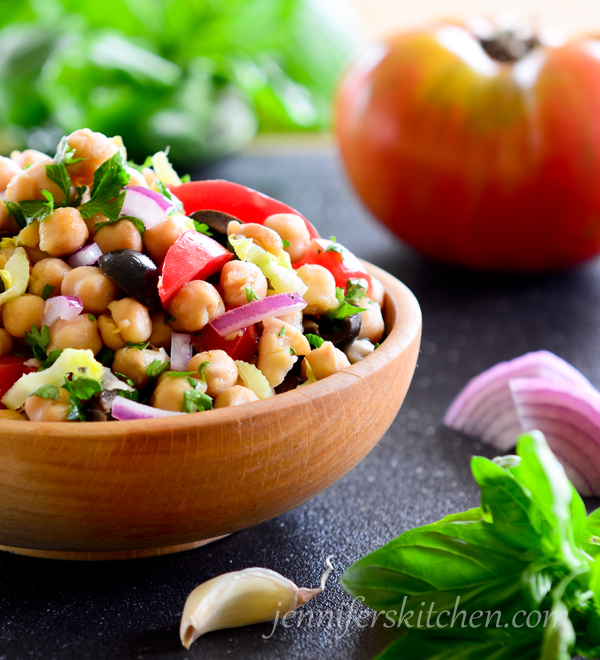 Print
Greek Garbanzo Salad
Ingredients
3 cups (two 15-ounce can) garbanzo beans, drained
1/2 medium red onion, diced
1 stalk celery, diced small
1/2 cup chopped olives
3 tablespoons lemon juice
1/4 cup chopped fresh parsley leaves
1 tablespoon minced fresh oregano
1 clove garlic, minced
1 tablespoon olive oil
1 teaspoon salt - see note
1/2 teaspoon granulated onion
1 medium tomato, diced
2 tablespoons chopped fresh basil leaves
Instructions
Mix together garbanzos, diced onion, diced celery, olives, and lemon juice in a large mixing bowl.
Finely chop parsley and oregano and mince garlic. (A food processor works well for this.) Stir into garbanzos.
Stir in oil and salt.
Immediately before serving, stir in tomato and fresh basil.
Serve at room temperature or chilled.
Notes
The amount of salt needed will depend on the amount already in beans.
Popular Posts