Chickpea Loaf – Vegan and Gluten-Free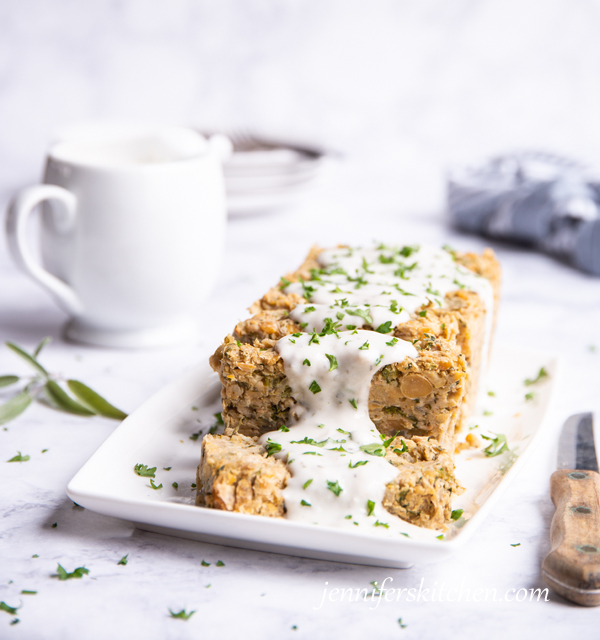 Do you have a vegan or vegetarian coming for Thanksgiving dinner!?! Don't panic.
You don't have to sit them in the corner with a dish of green beans and a dinner roll. Here's a delicious savory loaf you can serve to your vegan dinner guest. Keep an eye on it though … you may just find all the turkey-eaters sneaking seconds of this loaf too.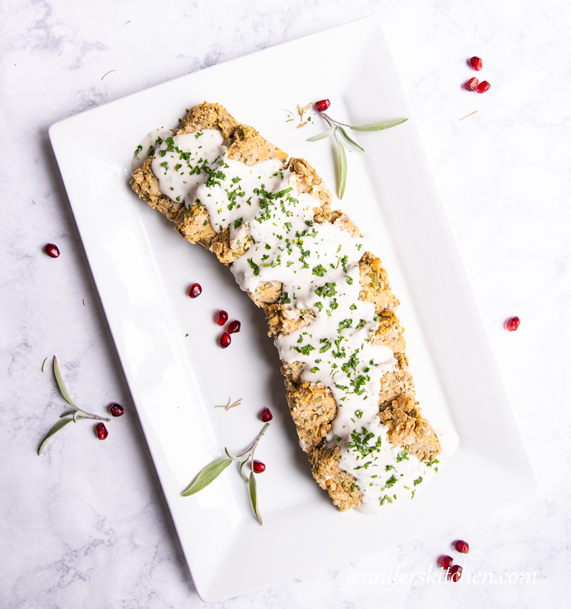 One Recipe – Three Ways
This recipe also can be made into a "hash". In fact, we like it even more that way! We simply mixed all the ingredients together and instead of packing into a loaf pan, we cooked it in a skillet over medium heat until it started to lightly brown (about 10 minutes). Yum!
Leftovers?
If you have any leftovers, mix in some of this low-fat Creamy Italian Dressing and you have a great sandwich filling.
Healthy Thanksgiving
Thanksgiving is typically a time of gratitude, good-will and . . . well, unhealthy eating. The average American consumes about 4,500 calories and 229 grams of fat throughout Thanksgiving Day, and the results of this indulgence may surprise you.
Processing all that unhealthy food causes your body to experience a spike in blood sugar, increased cholesterol, increased blood pressure, general stress and irritation on the entire digestive system, and decreased blood flow to the brain.
Why treat your body that way when you can replace some of those high-fat and/or high-sugar options with some healthier ones (like this Vegan and Gluten-Free Chickpea Loaf with Healthy Herb Gravy)? The Thanksgiving meal will be just as tasty and you will feel so much better!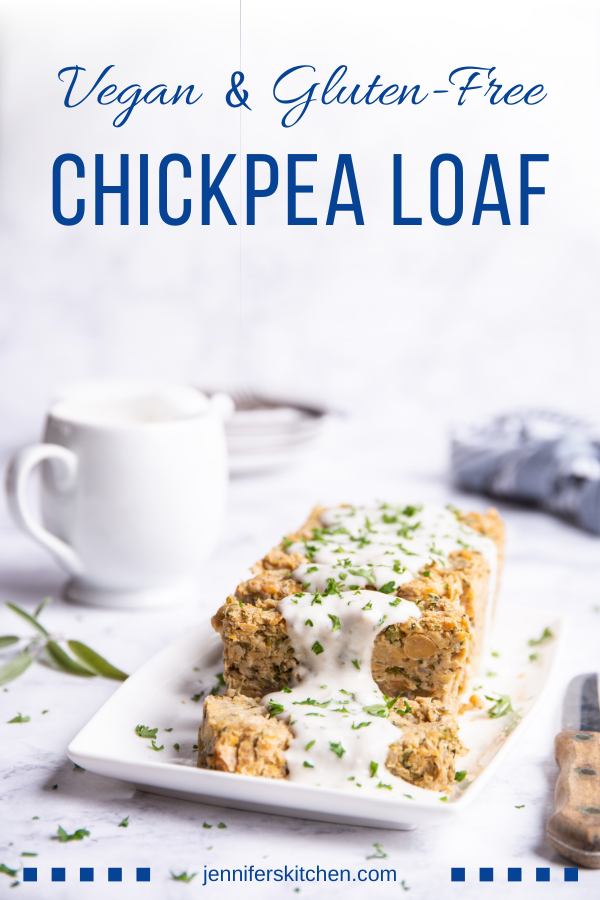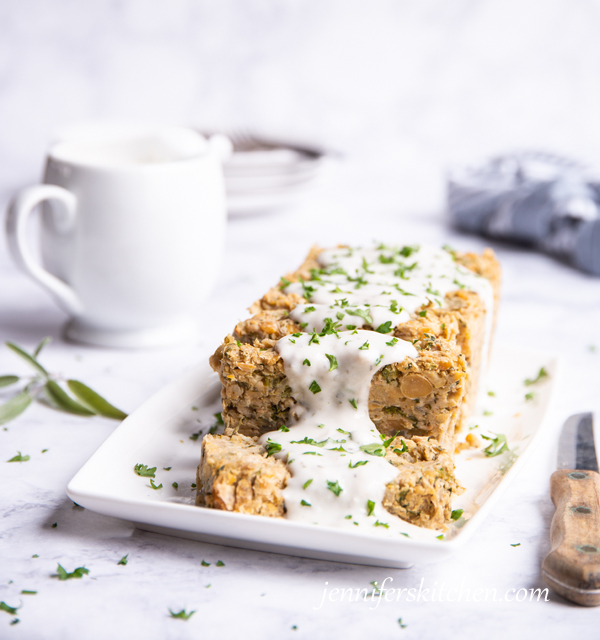 Chickpea Loaf
This flavorful vegan loaf is super high in fiber and other essential nutrients. It presents itself beautifully as a Thanksgiving main dish served alongside mashed potatoes, Brussels sprouts, and pumpkin pie.
Ingredients
1 1/2

cups

finely diced onions

2

ribs

celery, finely diced

2

tablespoons

olive oil

- (Or use this method to make this dish oil-free)

4

cloves

garlic, minced

1/2

cup

minced fresh parsley

6 1/2

teaspoons

granulated onion -

2 tablespoons + 1/2 teaspoon

3/4

teaspoon

salt

-

(See note.)

3/4

teaspoon

dried rubbed sage

1/2

teaspoon

dried ground savory

1/2

teaspoon

dried oregano

1/2

teaspoon

sweet paprika

1/2

teaspoon

celery salt

1/4

teaspoon

dried ground rosemary

3

cups

canned chickpeas (garbanzo beans)

-

well-drained, but not rinsed

1/4

cup

Jennifer's Kitchen Creamy Italian Salad Dressing -

or 2 tablespoons tahini

1/2

cup

quick oats -

or breadcrumbs (gluten-free if desired)

2

tablespoons

water

-

or vegetable broth
Instructions
Preheat oven to 350°F.

Finely dice onions and celery. I use my veggie chopper to get this done quickly.

In a large pan, sauté celery and onion in oil over medium-high heat for 2 to 3 minutes.

Add garlic and sauté for 1 additional minute.

Mince parsley. (I mince mine in my food processor.) Stir minced parsley into garlic and onions and remove from heat.

Stir in seasonings.

Chop chickpeas in a food processor. (If you don't have a food processor, you can do this by hand using a pastry cutter). Stir chickpeas into sautéed vegetables.

Stir in salad dressing or tahini.

Add oats or breadcrumbs, and mix well. Mix with hands for a few seconds. (This prevents loaf from being crumbly.)

Line an 7-inch x 3-inch loaf pan with parchment paper. Spray with non-stick cooking spray and pack mixture firmly into pan. (Or see note below about making this into hash.)

Bake uncovered at 350°F for 55 to 60 minutes.
Notes
The amount of salt needed will depend on the amount in your chickpeas.
If you use regular, canned chickpeas, you may want to reduce the salt to 3/4 teaspoon. If you use low-salt canned chickpeas, I suggest a scant teaspoon. If you use salt-free chickpeas, I suggest using one teaspoon of salt.
Be sure to use quick oats not rolled oats in this recipe.
>> One quick request: if you like this recipe, please leave a rating and a comment. Ratings help more people find these healthy recipes!
Print Recipe
Want More?
For more healthy and delicious recipes like this one that will simplify your journey to a healthier and thinner you, check out my
Healthy Weight Loss Program!
You my also like:
Before you go . . .
Did you know that you can eat all this delicious food AND lose weight? You can!
No calorie counting. No portion sizes.
Join my online weight loss program today!