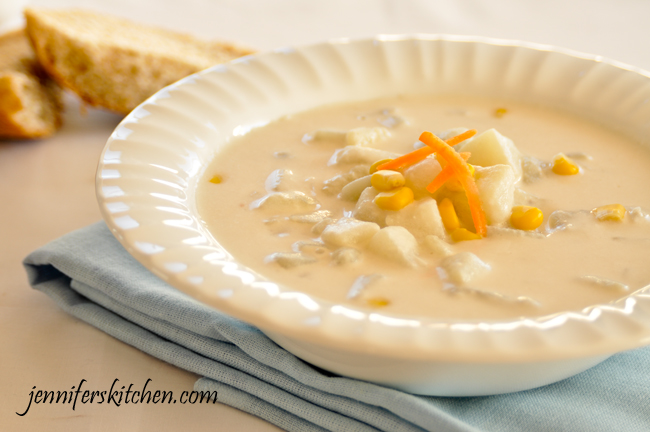 After several very warm days, 50 degrees this morning felt quite brisk. Some creamy potato soup sounded really good, so I whipped some up for lunch and am sharing the recipe with you. Hope you enjoy!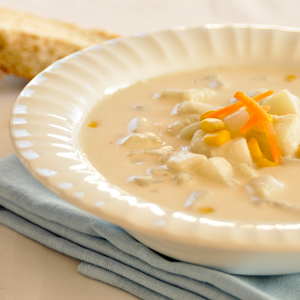 Cream of Potato Soup
A creamy soup without the fattening cream. Serve with a salad and bread for a very satisfying meal.
Ingredients
2

ribs

celery, diced

1

medium

yellow onion, diced

1

tablespoon

olive oil

8

medium

potatoes

4

cups

water

2

tablespoons

dried parsley

1

tablespoon

granulated onion

1/4

teaspoon

granulated garlic

1/4

teaspoon

dried basil

pinch

dried rubbed sage

3/4

cup

raw cashews

1

cup

water

-

scant

2

teaspoons

salt
Instructions
In a large soup pot, sauté diced onions and celery in oil over medium-low heat until onions begin to look translucent.

Wash and peel potatoes. Dice into bite-size pieces and place in soup pan along with 4 cups of water. Turn heat to high.

Add seasonings, cover, and bring to boil. Reduce heat and simmer until potatoes are tender, but not mushy (about 10 to 15 minutes, depending on the size of the potato dices).

Meanwhile, place cashews, 1 cup of water, and salt in

blender

and blend until very smooth.

When potatoes are tender, stir in blender mixture, and cook until hot.Serve hot.
Notes
Potato Leek Soup: Sauté 1 sliced leek along with celery and onion. Potato Garlic Soup: Add an additional three cloves of minced garlic to the sauté mixture in the last minute of sautéing.
>> One quick request: if you like this recipe, please leave a rating and a comment. Ratings help more people find these healthy recipes!
Print Recipe
Want More?
For more healthy and delicious recipes like this one that will simplify your journey to a healthier and thinner you, check out my
Healthy Weight Loss Program!
"Do you have a kinder, more adaptable friend in the food world than soup? Who soothes you when you are ill? Who refuses to leave you when you are impoverished and stretches its resources to give a hearty sustenance and cheer? Who warms you in the winter and cools you in the summer? Yet who also is capable of doing honor to your richest table and impressing your most demanding guests? Soup does its loyal best, no matter what undignified conditions are imposed upon it. You don't catch steak hanging around when you're poor and sick, do you?" Judith Martin
You my also like:
Before you go . . .
Did you know that you can eat all this delicious food AND lose weight? You can!
No calorie counting. No portion sizes.
Join my online weight loss program today!