Un-fried Potato Kale Cakes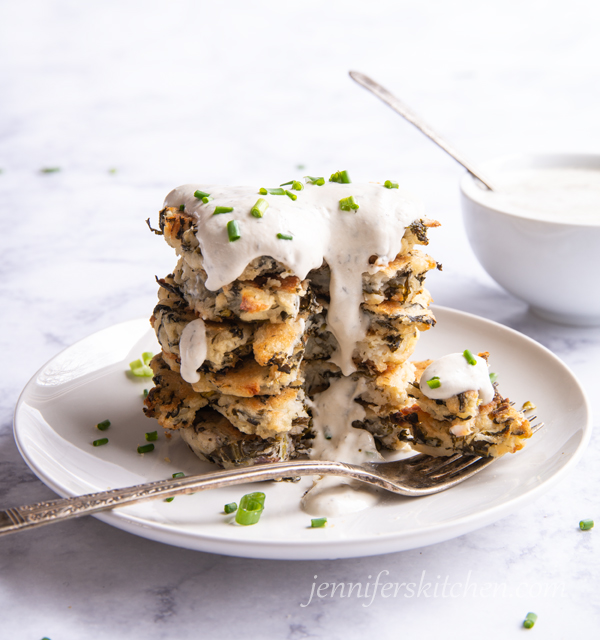 So, you feel best when you eat healthy, whole foods? But you also love yummy, comfort food?
These Potato Kale Cakes are just what you need.
These oven-baked Potato Kale Cakes taste every bit as good as their deep-fried brethren – but without the load of calories and refined fat, which means you can enjoy platefuls of these and still stick to your weight loss plan. They just may be the healthiest and most delicious comfort food on the planet.
These are so good, I can put a pile of them on my plate, drizzle some of this Dill Dressing over them and call it a meal – a delicious, healthy, satisfying meal.
If that's not good enough for you, you can serve these with salad for a double-dose of healthy greens.
Why Avoid Oil and Frying?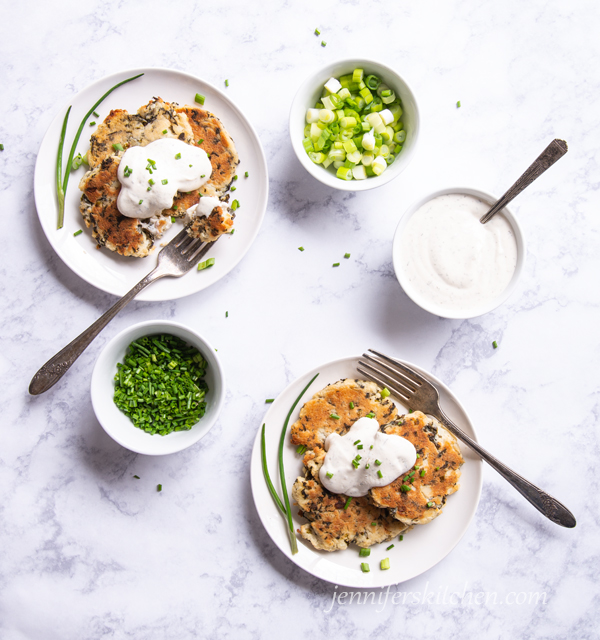 Because research shows that the consumption of oil lead to diabetes, heart disease, high blood pressure, cancer, and obesity, the less oil we eat the better.
What Type Of Potatoes to Use
The variety of potatoes that I used to make these potato cakes were Katahdin potatoes that we grew in our garden, but any regular white potato should work. Russets are a little drier than Katahdin, so you may need to add a tablespoon or two of water to the mixture. You want it to be slightly moist, not dry, but not mushy/sloppy.
Get 'Em While They're Hot
Sad story: these scrumptious Potato Kale Cakes are not scrumptious cold. They're just not. You could not believe me and try to eat them cold anyway, but you can't say I didn't warn you.
So, make these scrumptious Potato Kale Cakes and eat them nice and hot, fresh from the oven.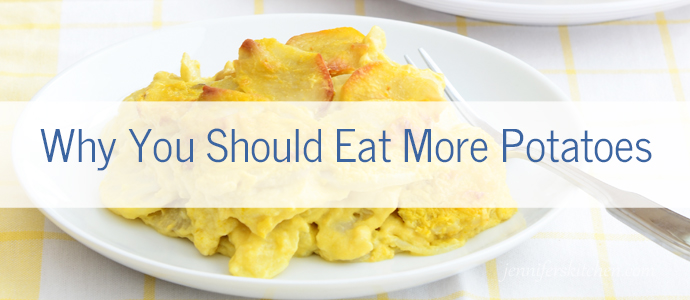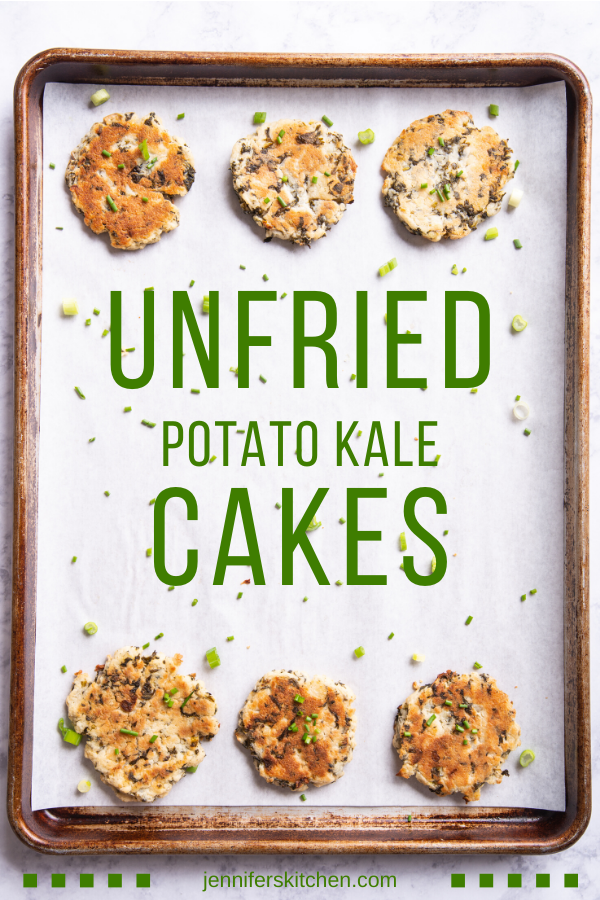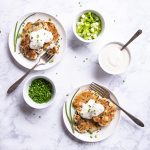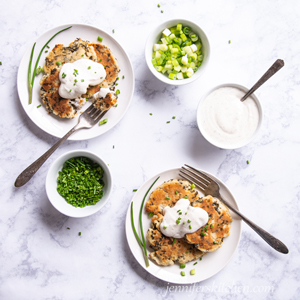 Un-Fried Potato Kale Cakes
Gluten-free, vegan, and oil-free, we think these healthy, oven-baked, potato cakes are the most delicious comfort food ever.
Ingredients
4

medium

russet potatoes

-

(about 1 1/2 pounds)

4

cloves

garlic crushed or minced

2 1/2

cups packed

finely chopped kale

1/2 to 2/3

cup

Jennifer's Kitchen Creamy Dill Dressing

1/2

teaspoon

salt

3

green onions sliced
Instructions
Place 1 1/3  cups water into a large pan and place over high heat.

Peel potatoes and cut into large (approximately 2-inch) pieces. Add to pan. Cover and bring to boil. When water comes to a boil, reduce heat to a low boil. Cook for 12 minutes or until potatoes are almost tender.

Add kale and garlic and cook until potatoes are tender (about 6 to 7 minutes).

Drain and return to heat (uncovered) stirring and shaking pan occasionally until dry about 2 minutes.

Sprinkle salt over all. Add ½ cup dressing. Using a potato masher, mash potatoes until a few small chunks remain. Mixture should hold together well when shaped into a patty, but not be too sticky and wet. If mixture is too dry, add a tablespoon or two more dressing.

Shape into 15 cakes about 2 ½ to 3 inches in diameter each. Place onto oiled baking sheet.

Bake at 425 for 25 minutes, until golden brown on the bottom. Flip over and bake for an additional 10 minutes or until bottoms are lightly browned.
Notes
If making the Dill Dressing especially for these potato cakes, use a little bit less lemon than the recipe calls for.
* * * This recipe for Un-Fried Potato Kale Cakes is … gluten-free, plant based, oil-free, sugar-free, high in fiber, dairy free, egg-free, vegetarian, vegan, and made from real, whole foods.
>> One quick request: if you like this recipe, please leave a rating and a comment. Ratings help more people find these healthy recipes!
Print Recipe
Want More?
For more healthy and delicious recipes like this one that will simplify your journey to a healthier and thinner you, check out my
Healthy Weight Loss Program!
You my also like:
Before you go . . .
Did you know that you can eat all this delicious food AND lose weight? You can!
No calorie counting. No portion sizes.
Join my online weight loss program today!