Cheery Cherries and The Easiest Way to Pit Them (Video)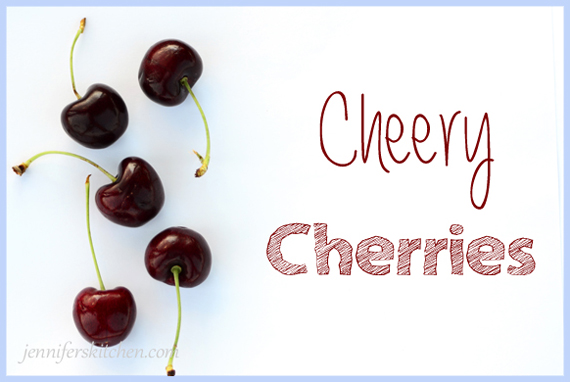 It's cherry season! My favorite time of the year – besides sweet potato season, blueberry season, and fig season. I hope you're enjoying fresh cherries as much as I am.
Cherry Nutrition
The benefits of cherries go far beyond their luscious taste. Here are 6 great reasons to take advantage of cherry season before it slips away.
1. Great for Weight Loss
A cup of cherries contains only 90 calories but offers 3 grams of fiber – which will help you feel full longer and store less fat. Cherries also offer B-vitamins, which help improve metabolism. So they fit beautifully in a weight loss program.
2. High in Antioxidants
Sweet cherries are among the top 20 foods with the highest concentration of antioxidants.
3. Help Prevent Insomnia
Tart cherries are rich in melatonin, a hormone that can help you sleep. Eating about 30 tart cherries a day can increase melatonin levels in the blood and reduce insomnia.
4. Reduce Inflammation
Cherries contain anthocyanin, a compound that helps reduce inflammation.
5. Fight Cancer
Cherries are a good source of vitamin C, anthocyanins, beta carotene, and quercetin, which all work together to fight cancer.
6. Help with Gout
Studies have shown that a daily consumption of 1 1/2 cups fresh sweet Bing cherries lowers uric acid levels by 15%.
How to Pit Cherries
Cherries are great eaten fresh out of the hand, but if you want to include them in a recipe – like Cherry Vanilla Ice Cream or Cherry Tapioca Pudding – you probably want to pit them first.
There are several ways to pit fresh cherries, but the easiest way, in my opinion, is to use a tool made for the job — a cherry pitter. I can pit hundreds of cherries an hour with my cherry pitter, making it simple and efficient to freeze lots of these luscious jewels so we can enjoy them in the winter months too.
(This video is an example of what can happen when you give my two children a camera and some video editing tools. Not the greatest video, but I heard lots of laughs coming from the other room when they were editing it.)
The cherry pitter I have used to be my grandma's and you can see it here. It's at least 30 years old and works great. But this video was recorded at my parents' house, so I was using my mom's pitter, which is this Norpro cherry pitter. It worked well. (The cherries usually roll down the chute a little better but, of course, not at the particular moment they were being recorded.)
Warning: You probably don't want to be wearing your new white shirt when playing with a cherry pitter.
How to Freeze Cherries
Frozen cherries on top of my hot Harvest Oats or Pineapple Coconut Rice or Maple Coconut Multi-Grain Cereal are reasons enough to freeze this delicious summertime fruit.
Here's how to freeze cherries:
1. Use freshly-picked cherries in good condition. Wash fruit and pat dry.
2. Pit cherries.
3. Place cherries in a ziplock bag. (Some like to freeze them on a baking sheet before putting them in plastic bags because this ensures that they don't freeze together, but I have found they separate easily so I never bother with this step.)
4. Squeeze excess air out of bag, seal, and place in freezer.
Frozen cherries will keep in the freezer for about 10 months.
You my also like:
Before you go . . .
Did you know that you can eat all this delicious food AND lose weight? You can!
No calorie counting. No portion sizes.
Join my online weight loss program today!