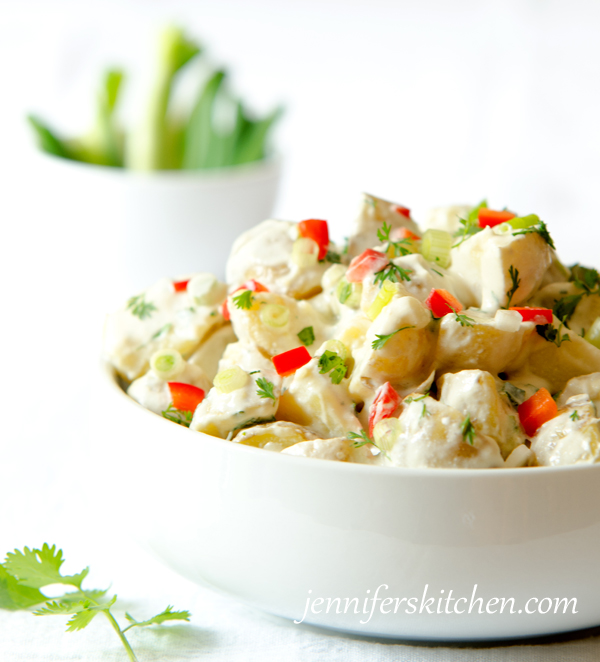 It's that time of year.
The time of year when we are blessed with an abundance of little, green peas-in-the-pods that taste like dessert.
The time of year when we can get fresh green onions from the garden instead of sorting through the yellow, slimy ones in the frig.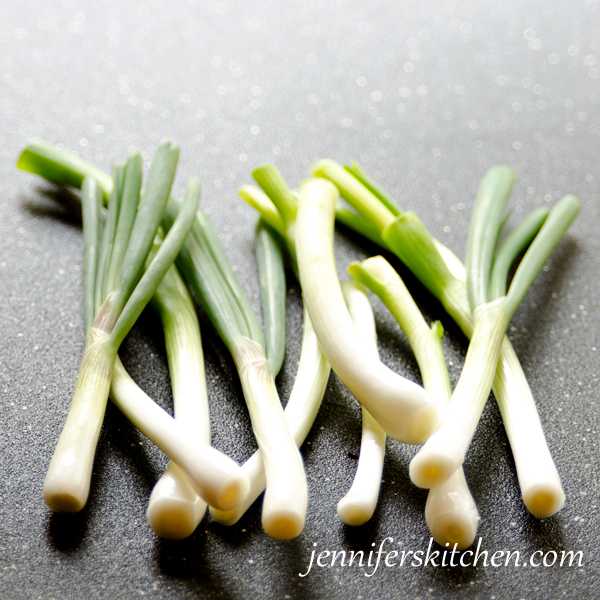 And the time of year when we get to sneak out leeetle, baby potatoes from the garden before the real harvest comes.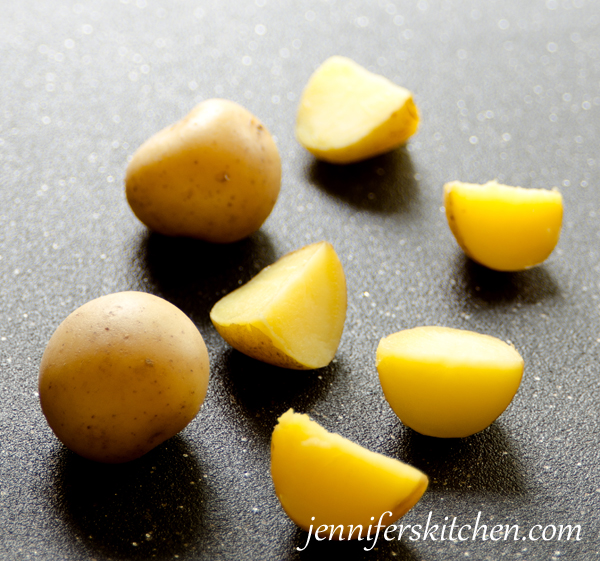 I love this time of year.
Speakin' of taters. This Mexican Potato Salad is amazing! Yummers! And it's the perfect way to use those delicious leeetle, new, yellow potatoes.
So what's so amazing about this potato salad?
1. The flavor is luscious! A lot more zip than yer average potato salad.
2. You don't have to peel the potatoes (!) which saves a lot time.
3. No peeling means increased fiber and vitamins and minerals in your potato salad.
4. This potato salad is mayo-free. Regular and even so-called "light" mayonnaise can easily derail your diet. The ingredients in "light" mayo (and Vegenaise) typically include lots of refined fats, some kind of refined sugar, vinegar (an ingredient we try to avoid), and some of them have refined starches in them – all of which are detrimental for a weight loss plan.
5. This potato salad is gluten-free.
6. Aaaand this delicious, clean-eating potato salad is very high in fiber and has no refined fat (no oil), thus making it perfect for your weight loss plan.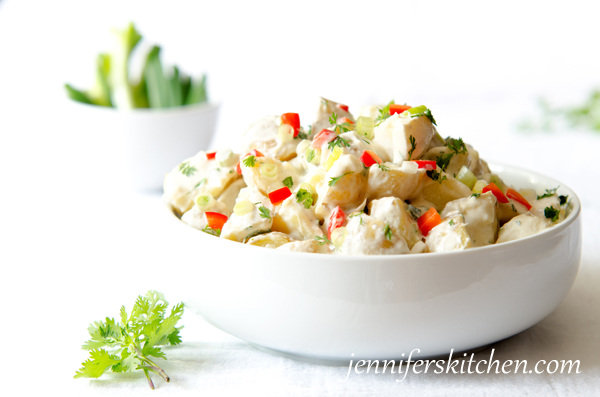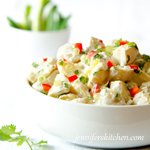 Mexican Potato Salad
This mayo-free, south-of-the-border version of regular potato salad has a fresh, zesty flavor and makes a great picnic food or delicious addition to any cook-out.
Ingredients
18

small

new yellow potatoes

-

or other small, waxy potatoes (about 1 1/2 lbs.)

water for cooking potatoes

1/4

cup

lime juice

2

tablespoons

lemon juice

1/2

cup

raw cashews

1/2

cup

water

4 – 6

cloves

garlic

2

teaspoons

granulated onion

1/4

teaspoon

dried oregano

3/4

teaspoon

salt

12

green onions, sliced

1/2 – 3/4

cup

chopped fresh cilantro

-

(or more if you really like cilantro)

2

tablespoons

diced red bell pepper
Instructions
Wash potatoes and place (whole) in saucepan with approximately 3/4 cup water. Bring to boil, reduce heat and cook on a low boil until potatoes are tender. (This should take about 15 to 20 minutes, but the time will depend on the type of potato used.)

When potatoes are done, remove them from pan, and place on plate or rack to cool.

Meanwhile, place lime juice, lemon juice, cashews, 1/2 cup water, garlic, granulated onion, oregano, and salt in blender and blend until very smooth and creamy. (A heavy-duty blender works best for this recipe; other blenders may not get the mixture smooth enough.)

When potatoes are cool enough to handle, cut them into quarters and place in a large bowl.

Add blender mixture to potatoes.

Chop cilantro and diced pepper and add to potatoes. Gently mix.

Chill for at least one hour before serving. Dressing will thicken slightly when chilled.
>> One quick request: if you like this recipe, please leave a rating and a comment. Ratings help more people find these healthy recipes!
Print Recipe
Want More?
For more healthy and delicious recipes like this one that will simplify your journey to a healthier and thinner you, check out my
Healthy Weight Loss Program!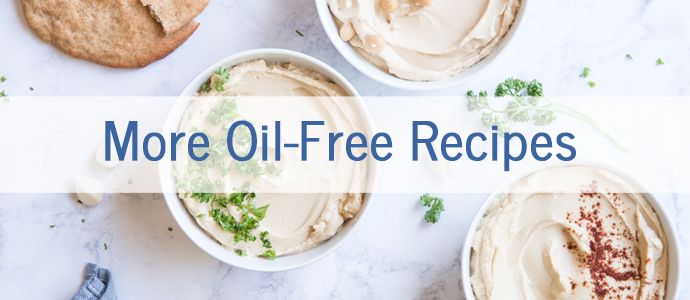 You my also like:
Before you go . . .
Did you know that you can eat all this delicious food AND lose weight? You can!
No calorie counting. No portion sizes.
Join my online weight loss program today!