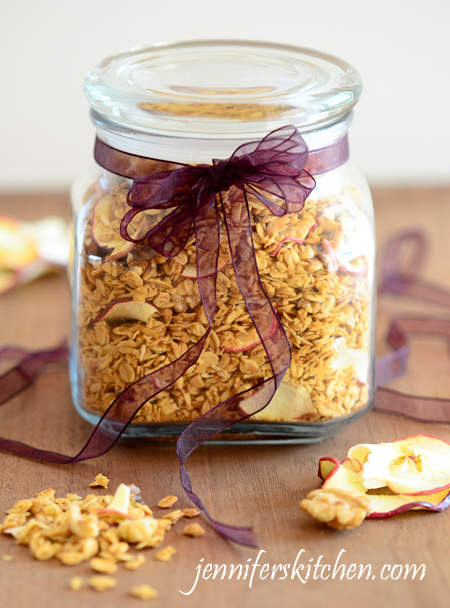 I really enjoy inventing recipes … although, I have had plenty of flops come out of the kitchen – just ask my family about the sweet potato burgers.
Or maybe not.
But for the most part, I love the challenge of coming up with new dishes and, based on the empty plates, I think everyone else loves eating the creations.
One of my favorite foods to experiment with is granola.  I have so many ideas for different flavors of granola.  And homemade granola is much healthier than store-bought granola.  Most varieties in the store are so loaded with sweeteners that they really should be called cookie crumbs.
A Healthier Granola Recipe
To reduce your morning sugar load, this granola uses apple juice concentrate, applesauce, and pure maple syrup to help sweeten.  Just be sure to use pure maple syrup, not that stuff that they pretend is made in a little log cabin in Vermont by your chubby aunt from the south. (Am I getting two different brands confused?  Anyway …) The first ingredient there is corn syrup.
The applesauce in this recipe also replaces some of the oil normally needed to make light, crispy granola.  So this granola is much lower in sugar and fat than most store-bought varieties.
And it costs less than half as much!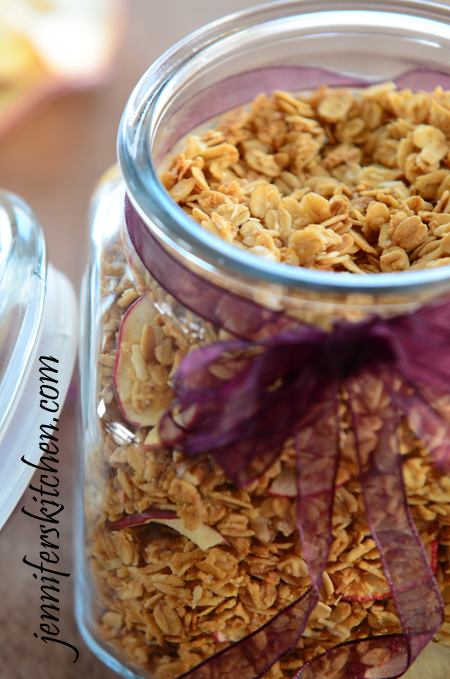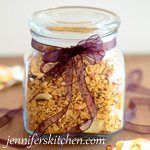 Print
Apple Walnut Granola
Fruit, nuts, and whole grains - a healthy, hearty way to start the day!
Instructions
In a large mixing bowl, stir together juice concentrate, applesauce, maple syrup, oil, and vanilla.
In a separate bowl, mix together oats, walnuts, sugar, and salt.
Stir oat mixture into liquid ingredients.
Spread mixture about 1/2 inch thick on baking sheet. Bake at 250°F for 35 minutes. Remove from oven and stir. Return to oven and bake for an addition 30 minutes or until granola is golden brown.
Baking time will vary depending on oven, type of baking sheet used, and how thick the granola is on the baking sheet.
When granola is golden brown, turn oven off and leave granola in oven until completely dry.
When granola is done, it should be lightly browned and completely dry.
Remove from oven to cool.
When granola is cool, stir in dried apples.

Store in a cool place in an airtight container.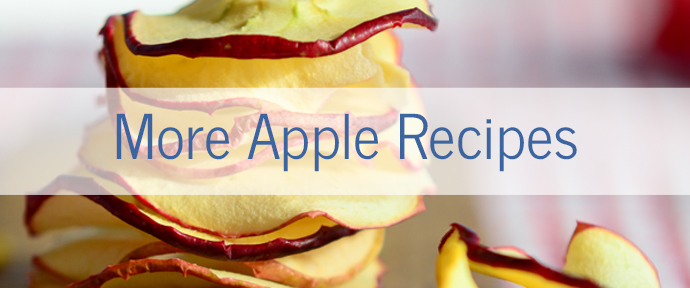 Popular Posts