All About Hummus – and a Recipe for Healthy, Oil-Free Hummus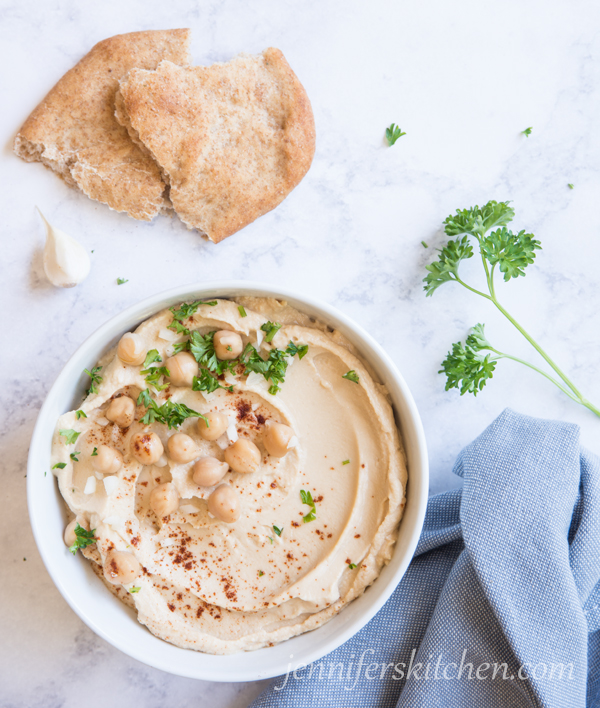 This website is brought to you without annoying ads because we can better live healthier lives without the influence of marketing. But running a high-traffic site is expensive. How can you help? If you purchase anything through the affiliate links on my site, your cost is the same, but I receive a small commission. Thank you!
Hummus is a healthy, gluten-free, vegan dip that is amazingly versatile and wonderfully delicious.
Here are 10 reasons to eat hummus + 5 reasons to make your own (instead of buying it) + 6 tips for making the best hummus + 3 ways to blend it + 3 reasons why oil-free hummus is a better option + 1 fabulous recipe for oil-free hummus!
10 Reasons to Eat Hummus
1. It's healthy.
Hummus is super high in fiber as well as vitamin B6, folate, and manganese.
2. It's gluten-free.
Gluten-free packed lunches can be a challenge. Hummus provides a solution. Replace the lunchbox sandwich with some hummus, veggies, and gluten-free crackers, and you have a delicious gluten-free lunch.
3. It's vegan.
Naturally vegan (and gluten-free) hummus can please just about all dietary preferences.
4. It freezes nicely –
– which means you can have a healthy stash in the freezer to pull out on busy days or for last-minute get-togethers.
5. It's a great lunchbox food.
Lunch doesn't have to be boring or complicated. Pack some hummus to dip your favorite veggies in, or put some hummus in a wrap, or make a hummus sandwich.
6. It's an easy picnic food.
Hummus packs well and is a great crowd pleaser.
7. It makes a perfect dip.
Most dips are quite fattening, but not only is hummus low in fat, but it also is high in fiber.
8. It makes a lovely sandwich spread
While hummus is best known as a dip, it also makes a great sandwich. Spread hummus on your bread, add cucumber and tomato slices, some lettuce and onion, and you have a delicious sandwich.
9. It makes a luscious filling for wraps.
Spread some hummus on your favorite wrap, add some veggies and voila! You have a yummy – and healthy – wrap.
10. It makes veggies taste better.
I once watched a 6-year-old who "didn't like carrots" devour a snack-bag full of hummus-dipped carrots, all the while telling me that he didn't like carrots.
5 Reasons to Make Your Own Hummus (Instead of Buying It)
1. You can eat more!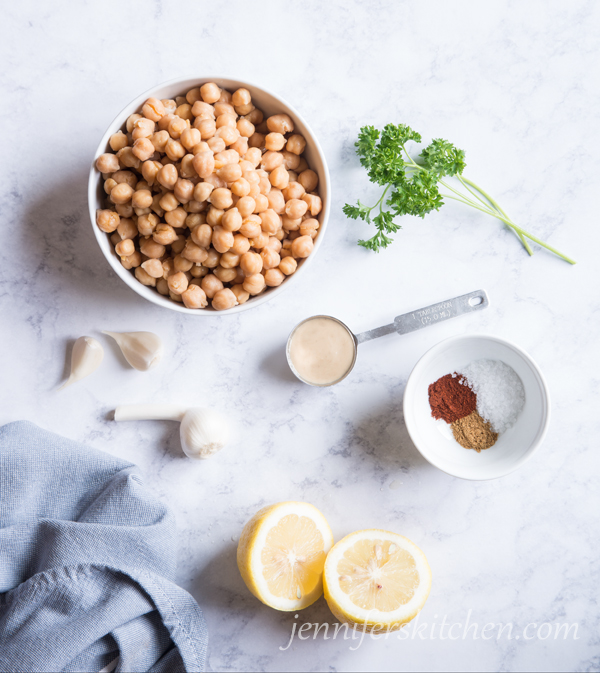 I don't count calories, and I tell my clients to not count calories, (since there are many more significant factors when it comes to weight loss), but when oil-free hummus has 38 calories and store-bought hummus has 70 or 80 calories, you can enjoy twice as much oil-free hummus for the same number of calories.
2. It takes about 5 minutes to make.
Less time than it takes you to go through the drive-through.
3. It's easy peasy.
Dump. Blend. Done.
4. It's cheap.
At my local grocery store, hummus runs about $4.00 for 8 ounces. I can make the same amount at home for only 53 cents. (That's only 6 cents per serving!)
5. It tastes better!
Since you can adjust ingredients to fine-tune the taste exactly to your preference, you're more likely to like it better than your favorite store-bought brand.
6 Tips for Making Good Hummus
It's really easy to make your own hummus. Here are a few tips: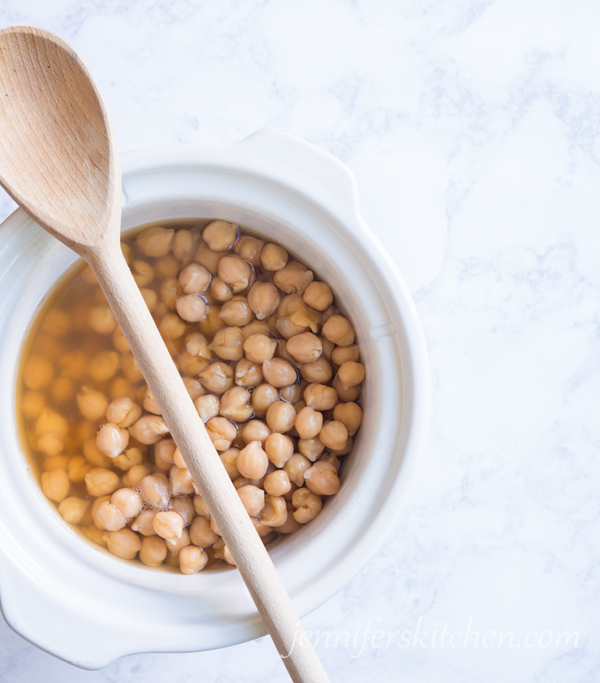 1. Cook your own chickpeas.
Yes, you can use canned (tinned) chickpeas, but cooking your own chickpeas make a more flavorful, richer, and creamier purée. And since it is so easy to cook chickpeas in the crock pot or in an Instant Pot I think it is absolutely, without-a-doubt, worth the extra few minutes of time.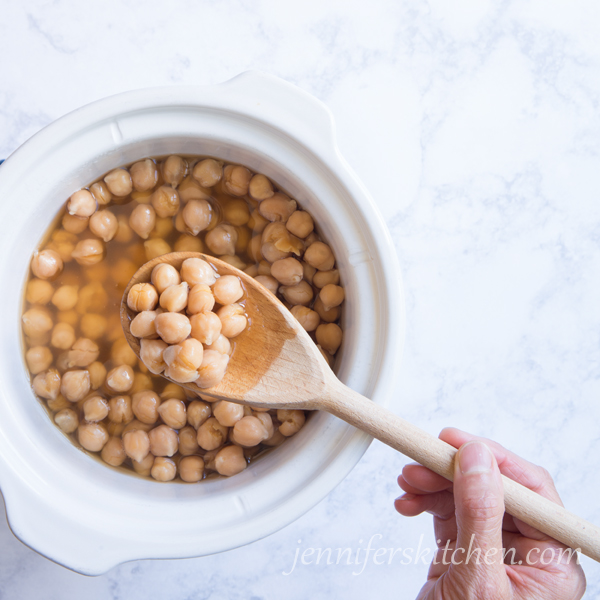 Dry chickpeas (garbanzos) are available at most grocery stores, but the ABSOLUTE BEST garbanzo beans (chickpeas) I have ever tasted! came from Azure Standard. Their chickpeas are super fresh and flavorful and always cook up tender and buttery. Once you try them, you'll never want garbanzo beans from anywhere else..
Bonus: Most people find crock pot and Instant Pot beans easier to digest than canned beans.
2. Blend chickpeas while they are still hot.
Blending freshly-cooked beans results in a creamier hummus.
3. Use a good tahini to taste.
While tahini is pretty much one of the very basic ingredients for hummus, but if you don't like tahini, you can reduce the amount significantly and still make a good hummus.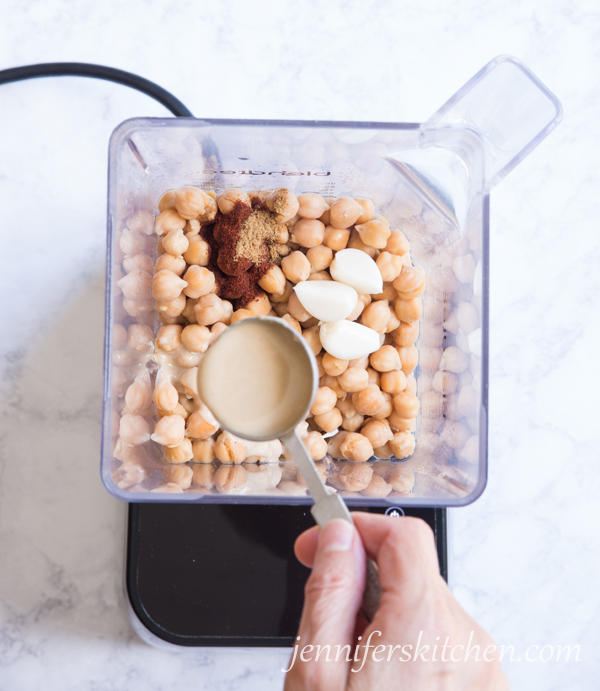 Be sure to use good-tasting tahini in your hummus. Here are my favorite brands of tahini.
4. Don't add too much liquid.
Hummus is supposed to be thick and creamy, so you don't want to add too much liquid or you will have a sloppy, bland-tasting soup.
5. Use fresh lemon or frozen lemon.
Fresh tastes best, but if you don't want to take the time to squeeze lemons, you can use frozen lemon juice. Avoid bottled/canned lemon juice here.
6. Use fresh garlic.
No garlic powder.
3 Ways to Puree Hummus
1. Blender
Most people like to use a blender to blend hummus as this makes the creamiest hummus.
2. Food processor
Hummus can also be made in a food processor. This results in a dip that isn't as smooth and has a bit more texture – which some people prefer.
3. Mortar and pestle
I have also heard that some like to mash the chickpeas with a mortar and pestle. They claim this process gives hummus a more complex texture. I've never tried this, but it sounds like it would be really good. Have you tried this method?
Why Oil-Free Hummus?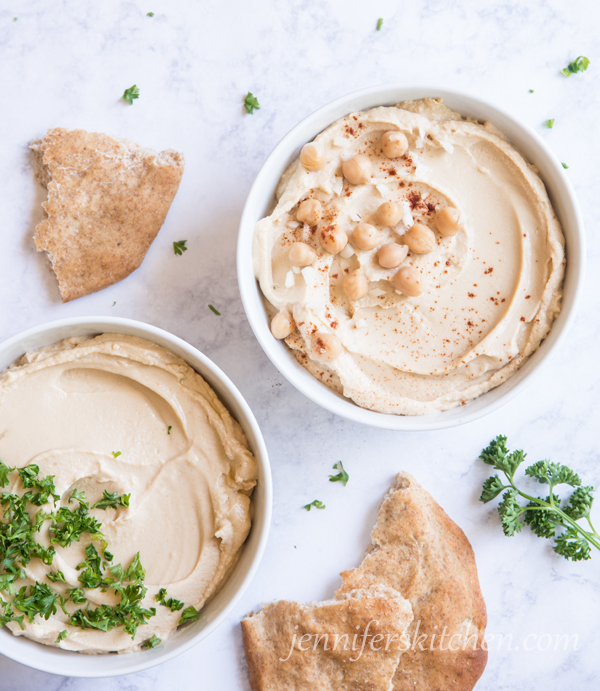 1. Oil is a processed (refined) food. It is not a whole food. The less processed (refined) food we eat, the healthier we will be.
2. Oil is a major contributor to diabetes and heart disease.
3. Oil contains no fiber and fiber is very helpful for weight loss, so the less oil, the easier the weight loss.
The Amazing Versatile Hummus
Hummus is one of those great foods that can be adapted to everyone's individual tastes.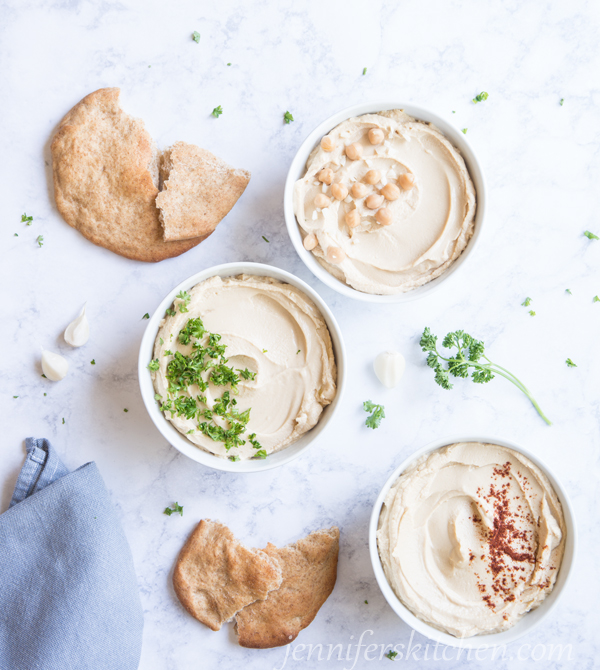 Add more garlic if you like your hummus garlicky.
Reduce tahini amount if tahini isn't your favorite.
Add fresh, chopped parsley for a lighter, fresh-tasting hummus.
Add a splash more lemon if you like yours a bit on the tart side.
Other delicious additions:
sun-dried tomato
beet
red pepper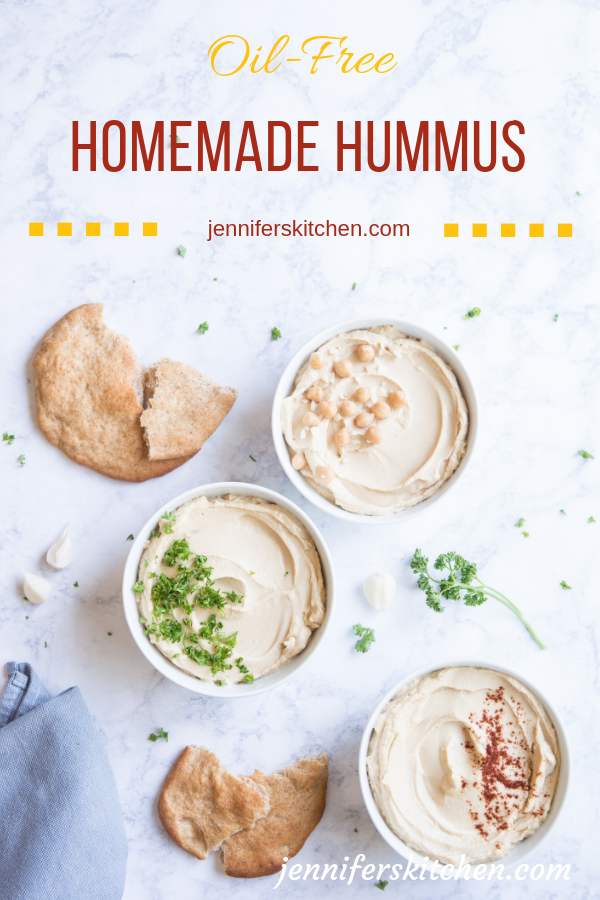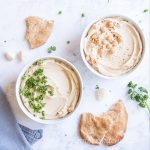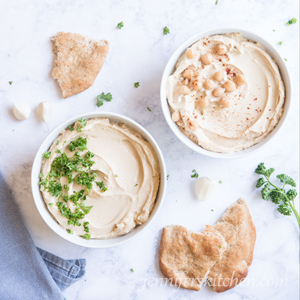 Oil-Free Hummus
The best hummus for weight loss is homemade, because you can control the ingredients that go into the dip.
Ingredients
Optional Garnishes
chopped fresh parsley, minced garlic, and/or paprika
Instructions
Drain chickpeas, reserving liquid.

Place all ingredients in blender and blend until smooth, using as much chickpea liquid as needed to achieve desired consistency.  Note: I find this blends best if blended on low speed.

Garnish if desired.
Notes
I cook 4 cups dry garbanzos in my large crock pot and that yields about 10 cups cooked garbanzos. 
This makes:
  – enough garbanzos to prepare 3 recipes of hummus (1 for eating fresh and 2 for the freezer)
  – or enough to make one recipe of hummus and one recipe of Greek Garbanzo Salad and one recipe of Cream of Chickpea Soup
  – or you can simply put the extra cooked garbanzos in the freezer for another day
  – or if you want to only make one recipe of hummus, cook 1 to 1 1/2 cups dry garbanzos.
>> One quick request: if you like this recipe, please leave a rating and a comment. Ratings help more people find these healthy recipes!
Print Recipe
Want More?
For more healthy and delicious recipes like this one that will simplify your journey to a healthier and thinner you, check out my
Healthy Weight Loss Program!
More Oil-Free Recipes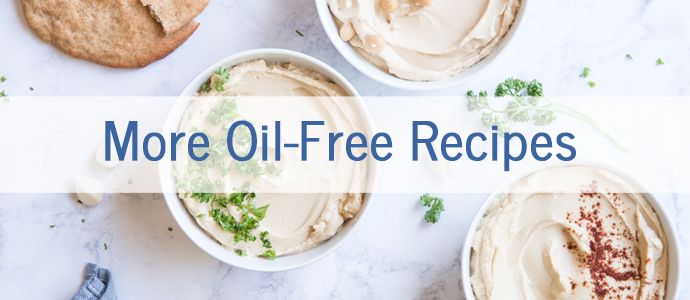 You my also like:
Before you go . . .
Did you know that you can eat all this delicious food AND lose weight? You can!
No calorie counting. No portion sizes.
Join my online weight loss program today!