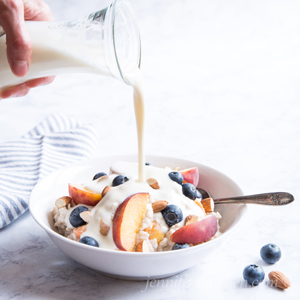 Coconut Pineapple Milk
Bright. Luscious. Creamy. The best cereal sauce ever!
Ingredients
1 15-ounce can (1 ½ cups) canned coconut milk
1 20-ounce can (2 cups) pineapple chunks or tidbits, packed in juice (do not drain juice)
2/3 cup raw cashews
1 tablespoon frozen orange juice concentrate
1/2 teaspoon salt
1/2 teaspoon vanilla
Instructions
Place all ingredients (including pineapple juice) in blender and blend until very smooth and creamy.
This may take several minutes if you do not have a powerful blender.
Chill.
Recipe by JennifersKitchen at https://jenniferskitchen.com/2019/07/coconut-pineapple-milk.html