In the 1800's, the amount of refined sugar consumed by the average American was just under 1 1/2 teaspoons a day.  But now, the average American eats over 22 teaspoons of sugar per day.
Interestingly, nobody thinks they are eating that much.
Hidden Sugar
One reason for this is that refined sugar is hidden in over 70% of packaged foods. And that added sugar can add up pretty fast!
For example, most brands of yogurt contain 6 teaspoons of sugar in one tiny serving. That's more sugar than we should be eating in an entire day! And some brands of yogurt are loaded with up to 10 teaspoons of sugar.
Another example, a bowl of granola has just as much sugar per serving as a couple of cookies.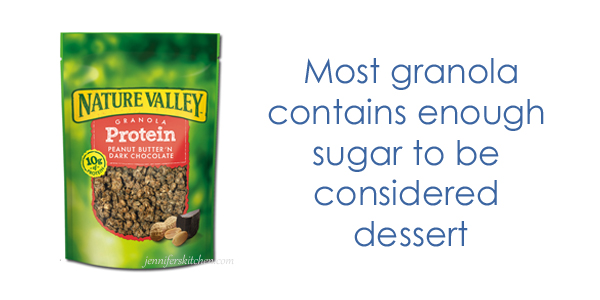 We find this sweet stuff in everything from pasta sauce to salad dressings to peanut butter.
So that's part of the problem. The other part …
We Just Eat Too Much Sugar
We eat too many sweets. Cookies, ice cream, doughnuts, soft drinks, etc. We just eat too much of them.
So, Why Is This Bad?
Well, eating too many of these empty calories has numerous negative effects on our health, the most obvious being weight gain.  In addition to the empty calories, research shows that sugar could very possibly be the on-switch that activates compulsive eating.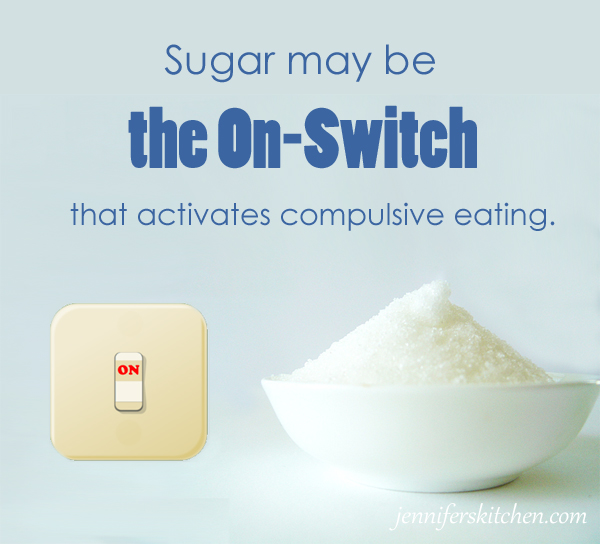 Sugar also contributes strongly to insulin resistance, a stepping stone towards metabolic syndrome and diabetes.
In addition, research shows that added refined sugars can also raise blood pressure.
And sugar can worsen varicose veins.
Sugar affects cholesterol levels. People who consume too much added sugar are more likely to have lower levels of HDL, the good cholesterol, and higher levels of LDL, the bad cholesterol, and higher triglyceride levels than those who restrict sugar intake.
Multiple studies show that people who eat a lot of sugar are at a much higher risk of getting cancer.
Sugar can cause hormonal imbalance.
Sugar plays a role in the development of acne.
Sugar contributes to the formation of gallstones and kidney stones.
Sugar interferes with the body's absorption of calcium and magnesium.
Sugar increases the risk of ulcerative colitis.
Sugar aggravates gout.
Sugar contributes to irritable bowel syndrome.
And studies have shown those who consume 30 teaspoons of sugar a day – which is about as much as the average teenage male consumes – are twice as likely to die of heart disease compared to those who limit sugar to 10 teaspoons or less a day.
Sugar and Your Brain
Research also shows that eating too much sugar can cause impaired cognitive function and reduce proteins that are necessary for memory and responsiveness.
The consumption of sugar is also linked to depression.
Is All  Sugar Bad?
Sometimes the sugar conversation can get confusing because we use the word "sugar" to describe the granulated, white (or tan-colored) stuff that we get from sugar cane or sugar beets, and we also use the word "sugar" to describe the naturally-occurring sweetness we find in whole foods, like fruit.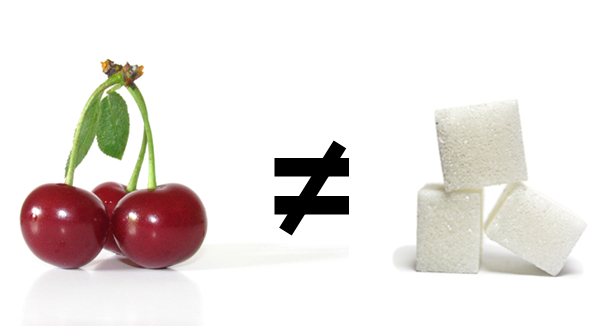 Fruits, whole grains, beans, nuts, and even vegetables all contain natural sugars that are very beneficial for our health. Because they come naturally-packaged with an abundance of fiber, phytochemicals, vitamins, and minerals our body uses that sugar to nourish us.
Sugar naturally occurring in whole foods is good sugar.
Sugar that is extracted from whole foods, like sugar cane or sugar beets, is the sugar that causes health problems. Because it is removed from the whole food it originally came from, it causes a spike in blood sugar and contributes to all the health issues mentioned above.
What About Unrefined Sugar?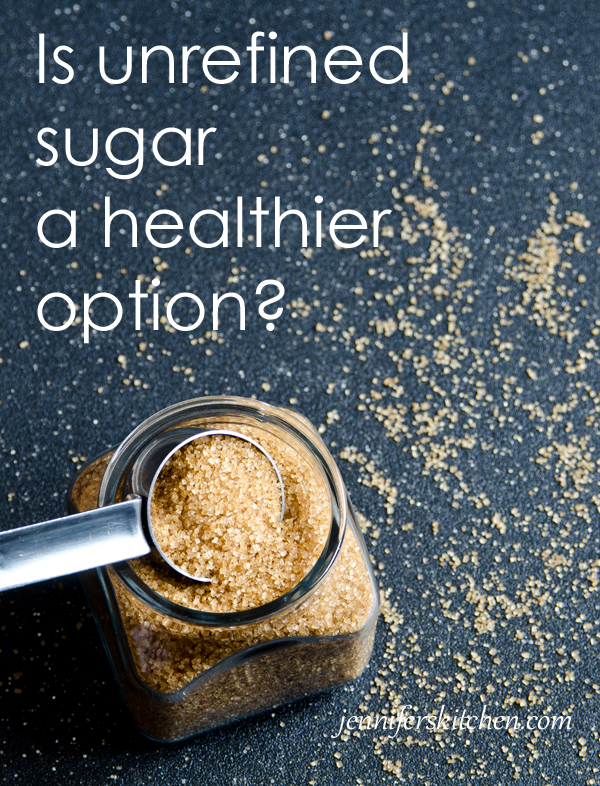 I get this question quite often, which shows us what an incredible job the media and advertisers have done at deceiving us.
Myth:
Unrefined sugar is healthy.
Fact:
There is no such thing as unrefined sugar.
If you've ever eaten sugar cane, you know it is nothing like that sweet, granulated stuff your stir into your cookie dough. How do you take sugar cane and make it into sweet granules? It has to be processed – or refined.
How is Sugar Made?
All sugar is refined to some degree. Here's a very quick synopsis of how so-called unrefined sugar is made:
1. The sugar cane stalks are harvested.
2. Then they are cleaned.
3. Then they are milled to extract juice.
4. The juice is then filtered. The result is a clear, sugar-filled juice.
5. The juice goes through a vacuum evaporation process to remove most of the water.
6. The resulting syrupy solution is vacuum-crystallized and centrifuged and dried and the result is sugar.
This process removes the fiber and many other nutrients from sugar cane. So it is clearly refined. And yet some companies call this sugar "unrefined".
While some types of sugar (such as sucanat and turbinado sugar) may be a bit less refined, no matter how brown-colored that sugar is, it is still taken out of its natural package of nutrients and your body deals with it like it is refined – because it is.
What about sugar-free products?
Many of the products that boast "sugar-free" are probably worse than their sugar-containing counterparts because they contain sugar-substitutes that come with a long list of negative side effects.
You can find out more about sugar-substitutes here.
4 Ways to Eat Less Sugar
Here are 4 key to avoiding these added, refined sugars:
1. Minimize the use of packaged food.
Manufacturers sneak sugar into their foods in a number of ways.
2. Know the names.
Ingredient labels can be deceptive if you don't know what to look for. You may not see the word "sugar" at all in a list of ingredients, and yet the food may be loaded with sugar. This is because there are over 50 different names for sugar.
3. Cook more. Cooking your own food means you know what is in it. And you can incorporate more whole foods, like fruits, vegetables, whole grains, legumes, nuts, and seeds.
Check out my delicious sugar-free recipes here.
4. Make healthy switches
It's helpful to know which foods contain way too much added sugar. But what's really helpful is to know what to eat instead!
The infographic below exposes how much sugar is in some common foods. The amount of sugar given is an average and varies from brand to brand and flavor. Some flavors and brands will have more and some will have less.
The infographic also gives ways to replace sugary foods in your diet!  Yaay!

If you have a sugar-packed food you'd like a substitute for that isn't included here, leave a note in the comments and I'll be happy to help!
More resources:
Popular Posts