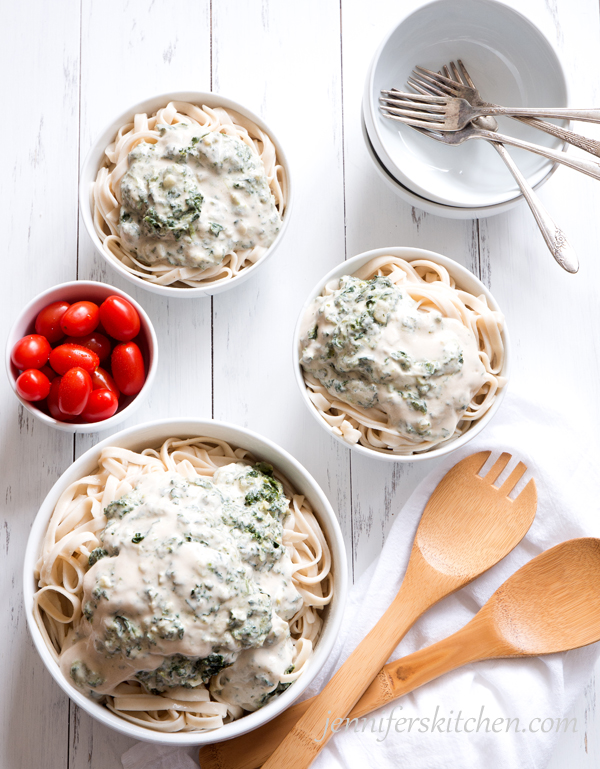 I really like Vegan Macaroni and Cheese (it's one of the top 10 in our house), but when I'm looking for something hardy and satisfying, I turn to this Creamy Cannellini and Spinach pasta.
With this amazingly light, gluten-free whole grain pasta, the protein and slimming fiber in the beans, and the mega doses of vitamin K and vitamin A in the spinach, it's an entire meal on a plate – all ready in less than 20 minutes.
And it's not only gluten-free, but it's also vegan, soy-free, and nut-free, so it's sure to please everyone.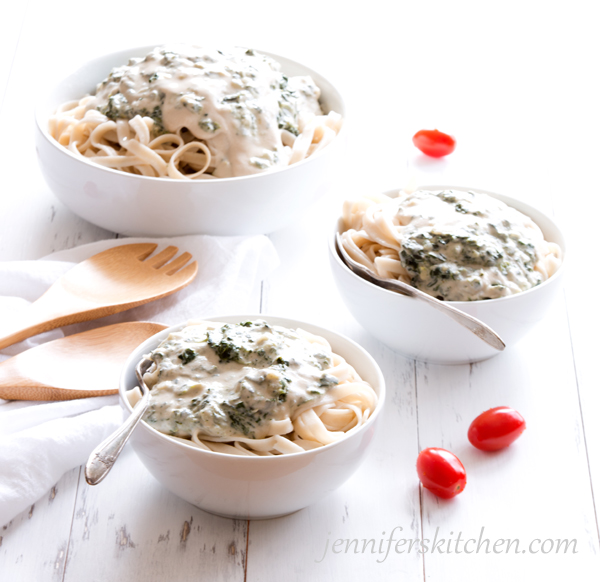 Gluten-Free Pasta?
If you are trying to find a good gluten-free pasta brand, I gotcha covered. We tested 21 varieties and rated them from the worst gluten-free pasta to the best gluten-free pasta. Check it out!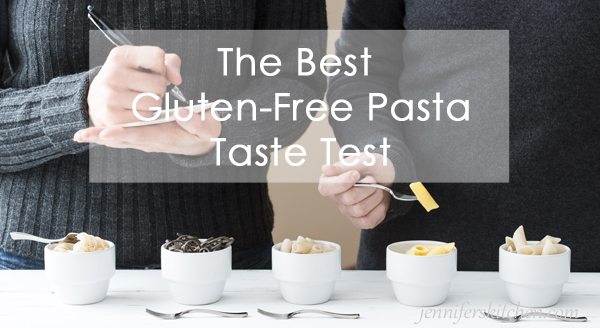 Four Simple Tips for Making Exceptionally Healthy Pasta
1. Choose whole-grain pasta. Thankfully, that doesn't necessarily mean cardboard-tasting pasta. We love Tinkyada pasta. It's not heavy like other whole-grain pasta, it's gluten-free, and it doesn't turn mushy like other gluten-free pastas.
2. Top with a healthy sauce.
3. Sneak in some veggies.
Enjoy!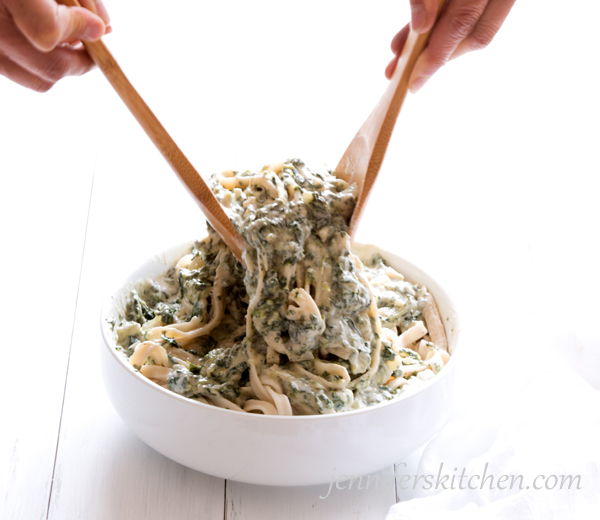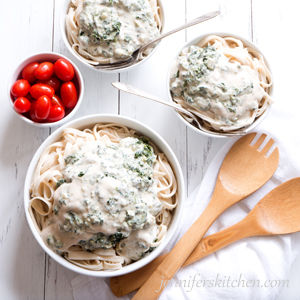 Print
Creamy Cannellini Spinach Pasta
Yield 4 servings
Deliciously creamy vegan pasta that is gluten-free, soy-free, and nut-free.
Ingredients
7 - 8 ounces uncooked Tinkyada spaghetti or fettuccine
1 - 2 tablespoons oil
1 small onion, diced small
8 ounces (about 2 1/2 cups) frozen, chopped spinach
4 - 5 cloves garlic, minced
1 1/2 cups (one 15-ounce can) cannellini beans, drained but not rinsed (Do not use the no-salt variety.)
1 tablespoon + 1/2 teaspoon granulated onion
1 teaspoon salt
1/4 teaspoon dried basil
3 tablespoons tahini
3 tablespoons lemon juice
1 1/4 cups pasta water from cooking pasta
Instructions
Place beans, seasonings, tahini, and lemon juice in blender. (A heavy-duty blender works best for this recipe; other blenders may not get the mixture smooth enough.) Set aside.
Cook pasta according to package directions. Reserve 1 1/4 cups of pasta water when draining pasta. (The pasta water will be added to the blender.)
While pasta is cooking, sauté onions in oil over medium heat for 2 minutes. Add spinach, cover pan, and cook over medium heat until spinach is tender (about 4 minutes), stirring occasionally.
Add minced garlic and cook for 1 minute. Remove from heat and set aside.
When pasta is done, drain pasta reserving 1 1/4 cups of pasta water. Add pasta water to ingredients in blender and blend well until mixture is smooth. This may take several minutes if you don't have a heavy-duty blender.
Season to taste.
Stir blender mixture into spinach mixture. Heat over low heat until hot. Serve over pasta.
One quick request: if you like this recipe, please leave a rating and a comment. Ratings help more people find these healthy recipes!
Notes
* * * This recipe for Creamy Cannellini Spinach Pasta  is . . . … gluten-free, plant based, oil-free, sugar-free, high in fiber, dairy free, egg-free, vegetarian, vegan, and made from real, whole foods.
Popular Posts