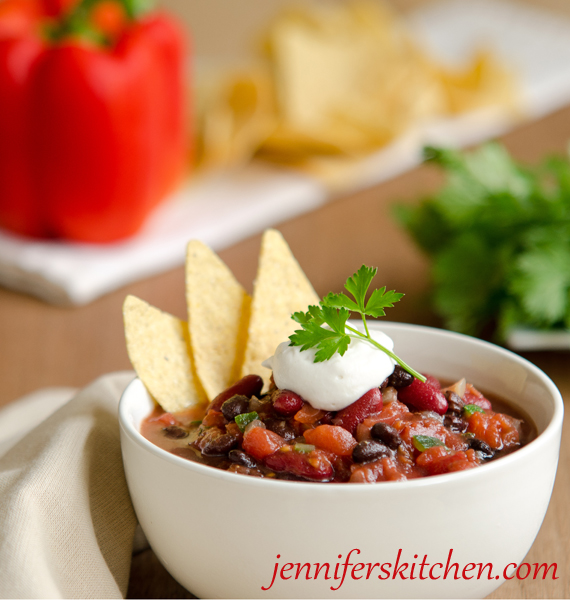 Last week, some friends and I made a bunch of food for a big crowd. We had lots of yummy stuff, but interestingly (at least to me), the most-requested recipe was the chili. I was a little surprised because this wasn't the "fry in lotsa fat, spike with weird ingredients like chocolate and coffee, stock with enough hot peppers to burn your insides, and cook for 96-hours" kind of chili.
In fact, my chili recipe is a simple one that calls for basic ingredients, uses very little refined ingredients (like oil), and employs herbs rather than spices for superb flavor (and gentleness to your stomach lining). And even though your tongue with not be on fire when you're done with a bowl of this chili, it doesn't lack in deliciousness.
Besides being gentle to your stomach, some of the other advantages of a mild chili recipe are:
1.) You don't have to wear rubber gloves while cooking it.
2.) Your kids will like it.
3.) You'll still be able to actually taste the scrumptious chili when you take your last bite.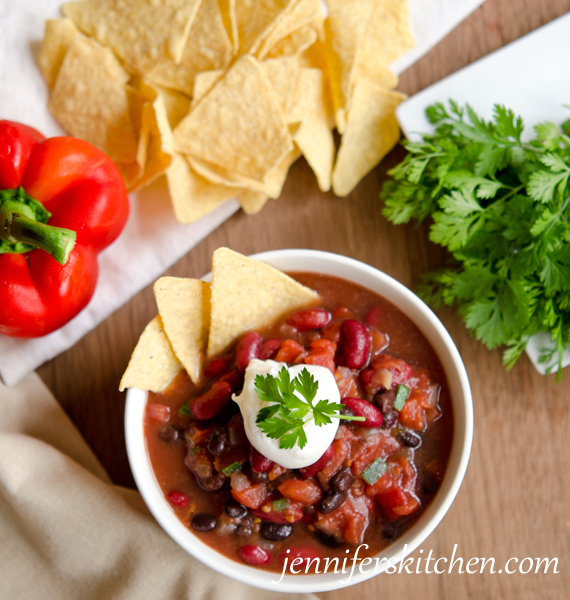 Slimming Chili
What's more, this very satisfying winter warmer offers a whopping 14 grams of fiber per bowl – more than twice as much as your average bowl of chili! Beans are such an amazing fat-fighter and are a great addition for a healthy weight loss program.
Canned Beans vs Home-cooked Beans
I rarely use canned beans because beans in a slow cooker or an Instant Pot are just too easy. However, I usually do use canned beans in this recipe for two reasons. The first is that canned beans hold their shape better in this luscious dish. The second is that I like two or three kinds of beans in my chili, and using canned beans simplifies this. Feel free to use your homemade slow cooked beans if you'd like.
No-Alarm Chili
One more thing. If you're one of those people who are vehemently opinionated about how to make the perfect chili and can't believe I would even think of posting a chili recipe without chili peppers … relax. Take a deep breath. It'll be ok. 😉
Have a bowl of chili.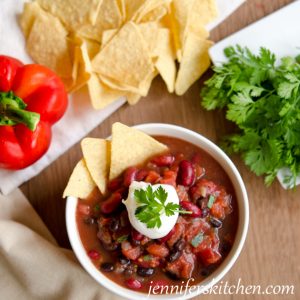 Vegan No-Alarm Chili
This mild chili recipe employs healthful herbs instead of spices for the chili flavor. The seasoning measurements in this recipe may seem like a lot, but they're not a typo. You will be pleasantly surprised at the rich flavor.
Ingredients
1

medium

yellow onion, diced

1

tablespoon

olive oil

1

medium

bell pepper, diced

3 – 4

cloves

garlic, minced

-

see note #2

3

cups (one 28-ounce can)

canned crushed tomatoes

1 1/2

cups (one 15-ounce can)

canned diced tomatoes

-

see note #2

1 1/2

cups (one 15-ounce can)

cooked kidney beans -

drained

1 1/2

cups (one 15-ounce can)

cooked pinto beans or kidney beans -

drained

1 1/2

cups (one 15-ounce can)

cooked black beans -

drained

1

tablespoon

dried basil

1

tablespoon

dried oregano

1

tablespoon

dried parsley

2

teaspoons

cumin

1

teaspoon

sweet paprika

1

teaspoon

granulated onion

1

teaspoon

granulated garlic

1

tablespoon

honey

-

(or another sweetener to make this vegan)

1

tablespoon

lemon juice

salt to taste
Instructions
In a soup pan, sauté onion and pepper in oil over medium heat until onions begin to look translucent.

Add garlic and sauté for 1 additional minute.

Add remaining ingredients and bring to boil. Reduce heat and simmer for 20 minutes or up to 2 hours.

Remove bay leaves. Season with salt to taste.
Notes
1. If you like a garlicky chili, add another clove or two of garlic.
2. This chili has a thick consistency. If you like a juicier chili, add another can of diced tomatoes.
3. This chili is delicious served with my Soy-Free Vegan Sour Cream.
>> One quick request: if you like this recipe, please leave a rating and a comment. Ratings help more people find these healthy recipes!
Print Recipe
Want More?
For more healthy and delicious recipes like this one that will simplify your journey to a healthier and thinner you, check out my
Healthy Weight Loss Program!
You my also like:
Before you go . . .
Did you know that you can eat all this delicious food AND lose weight? You can!
No calorie counting. No portion sizes.
Join my online weight loss program today!