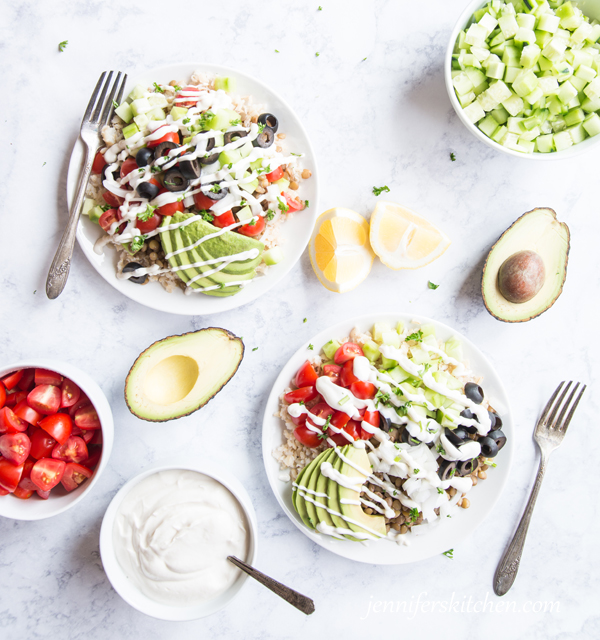 Salad and I did not get off to a good start. In fact, we still have our issues. No offense, but a pile of lettuce with some plastic-y tomatoes and carrot curls just doesn't do much for me.
But this salad is different. Maybe because it isn't really a salad.
Unlike a regular salad that leaves you grumble-bellied in a couple hours, Mazidra (pronounced MAH' ZI DRAH) is a hearty meal on a plate that will leave you satisfied (and happy) for hours.
All the Textures! Flavors! Colors!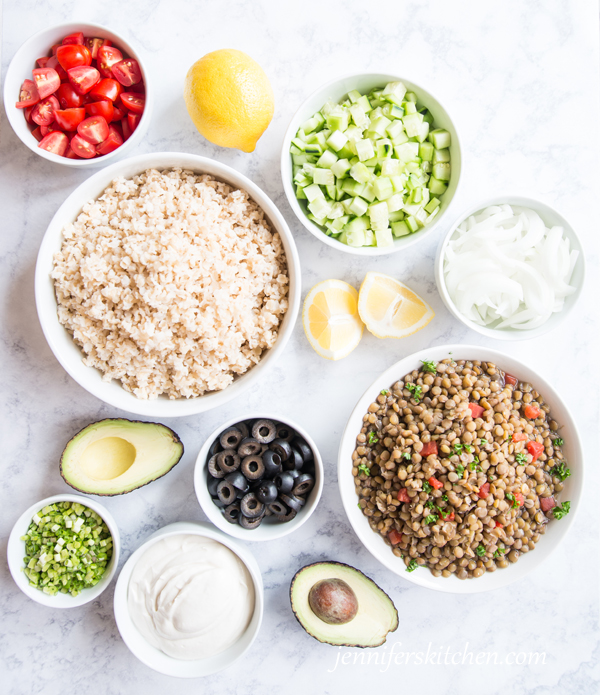 Not only is this Mazidra delicious and filling, but it's also quite beautiful.
We've got whole-grain brown rice, luscious lentils, tangy tomatoes, cool cucumbers, salty olives, spicy onions, and rich and creamy avocados. Layer all those up on your plate and top with an extra-generous dollop or two or five of this vegan sour cream (don't be shy – creamy, saucy Mazidra is a good Mazidra), and you have yourself a filling meal.
The Perfect Meal for Company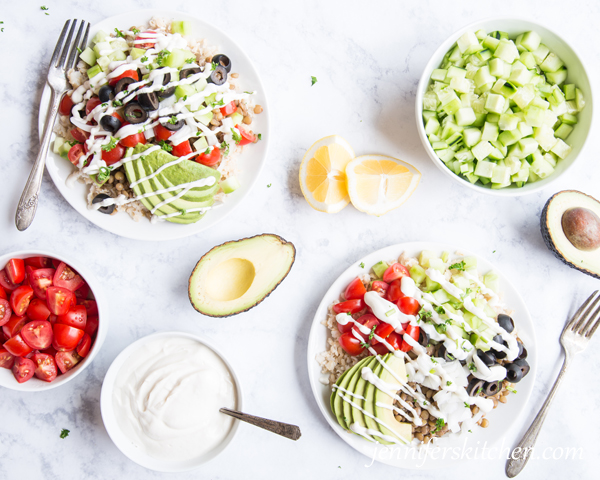 Mazidra is super adaptable and is the perfect meal to serve when you have dinner guests because everyone can make it how they like it. Build your own deliciousness.
And being the wonderfully flexible meal that it is, Mazidra can also be served in a wrap.
Easy, Vegan, Gluten-Free Weekday Meal
Not only is this a perfect meal for company, it's also great for quick, week-day meals. Simply make rice, lentils, and the vegan sour cream ahead of time at the beginning of the week and you have Mazidra fixings all week long!
You'll be so glad you didn't order take-out.
Slimming Mazidra
Coming in at 20 grams of fiber per serving, this dish is great for weight loss!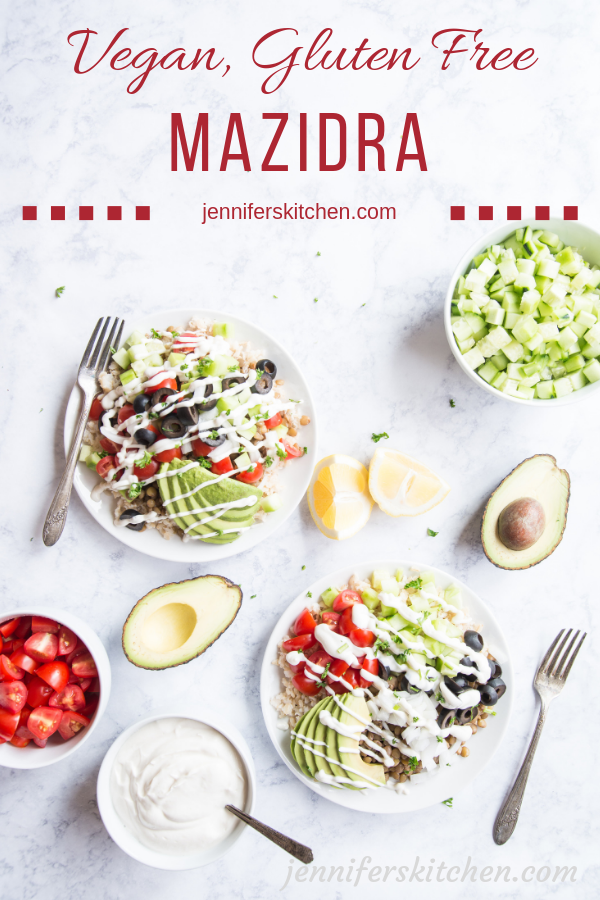 Fiber also reduces risk of chronic diseases like heart disease, diabetes, and cancer.
This website is brought to you without annoying ads because we can live healthier lives without the influence of marketing. But running a high-traffic site is expensive. How can you help? If you purchase anything through the affiliate links on my site, your cost is the same, but I receive a small commission. Thank you!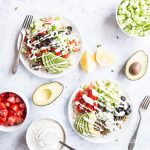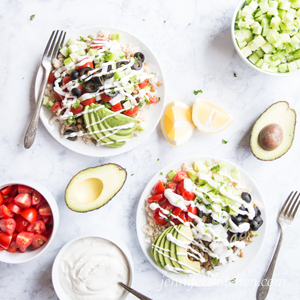 Mazidra
A make-it-how-you-like-it,  full-of-flavor,  vegan,  and gluten-free main dish that EVERYONE will love.
Ingredients
Optional Toppings
minced fresh parsley

minced fresh dill
Instructions
Place approximately 3/4 cup hot rice on each plate.

Spoon approximately 3/4 cup hot lentils over rice.

Top with approximately 2 tablespoons diced onions, 1/4 cup diced tomato, 1/2 cup finely diced cucumber, 1/4 cup sliced olives, and 1/4 (or more) sliced avocado.

Top with a generous dollop of sour cream.

Serve immediately.
Notes
Mazidra is best with lentils that are a little saucy but not too soupy. If your lentils are soupy, you may want to drain them a little.
>> One quick request: if you like this recipe, please leave a rating and a comment. Ratings help more people find these healthy recipes!
Print Recipe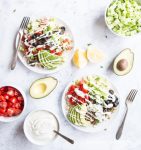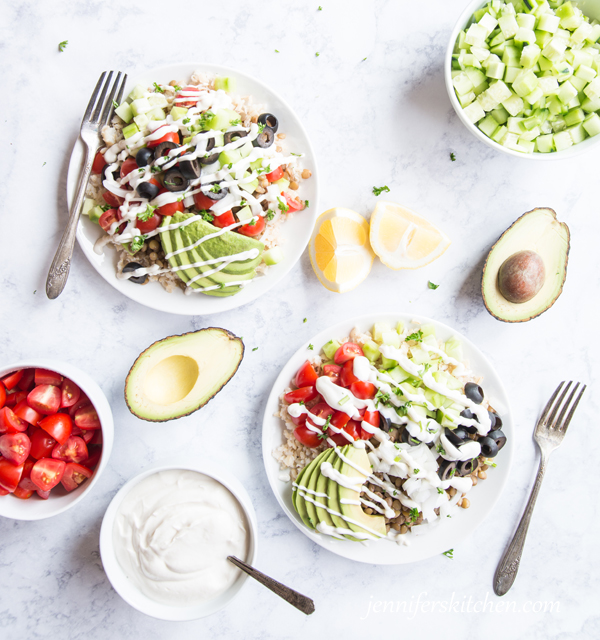 Basic Lentils
High in fiber, protein, and folate these simple lentils are very good and very good for you.
Instructions
Place all ingredients except salt in sauce pan. Cover and bring to boil over high heat.

Reduce heat and simmer for 1 hour or until very, very soft.

Remove bay leaf and stir in salt.

Serve hot.
>> One quick request: if you like this recipe, please leave a rating and a comment. Ratings help more people find these healthy recipes!
Print Recipe
You my also like:
Before you go . . .
Did you know that you can eat all this delicious food AND lose weight? You can!
No calorie counting. No portion sizes.
Join my online weight loss program today!