5-Minute Vegan Cheese Sauce
One sauce. A hundred ways to use it!
This amazing, vegan cheese sauce is the perfect sauce because you can use over pasta, in burritos, in cheesy potatoes, as a chip dip, over enchiladas, as a base for a cheesy soup, over veggies, as a topping for toast …
Aaaaannd … it makes the most scrumptious vegan lasagna.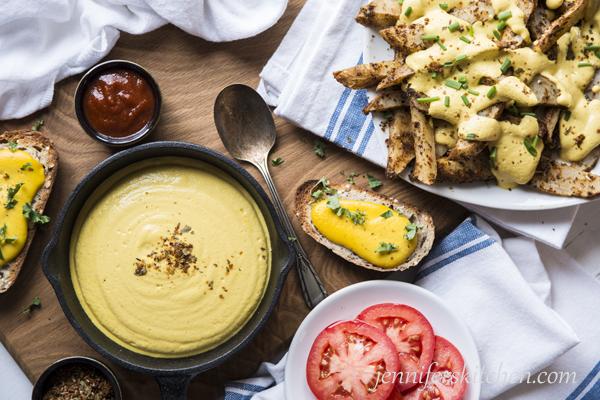 And, it's nutritional-yeast-free. (Which makes us happy since we try to avoid that ingredient.)
Easy Peasy
And, what's more, it's easy.
Just dump a few ingredients in your blender jar, hit blend, and *poof*, you have this luscious, creamy sauce that has a fascinating ability to take just about any ingredients from your pantry or refrigerator and transform them into a delicious meal.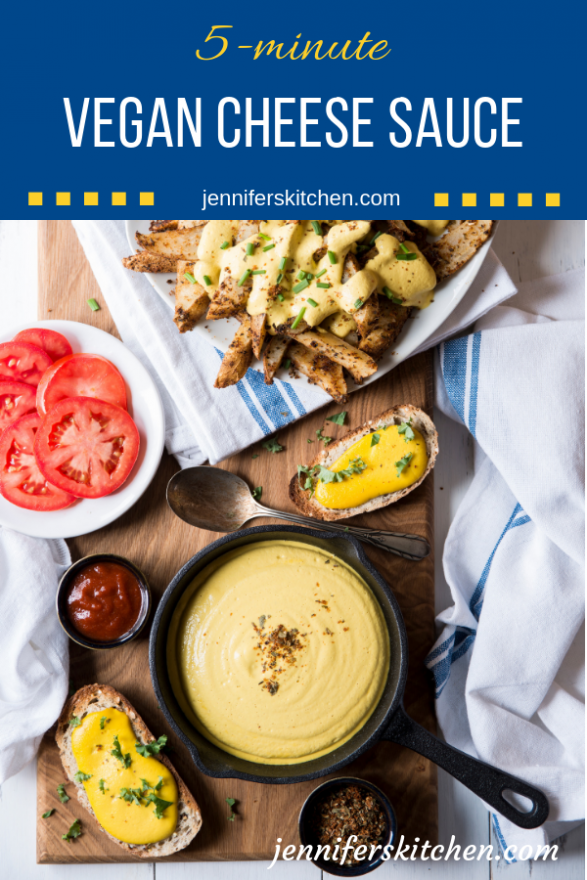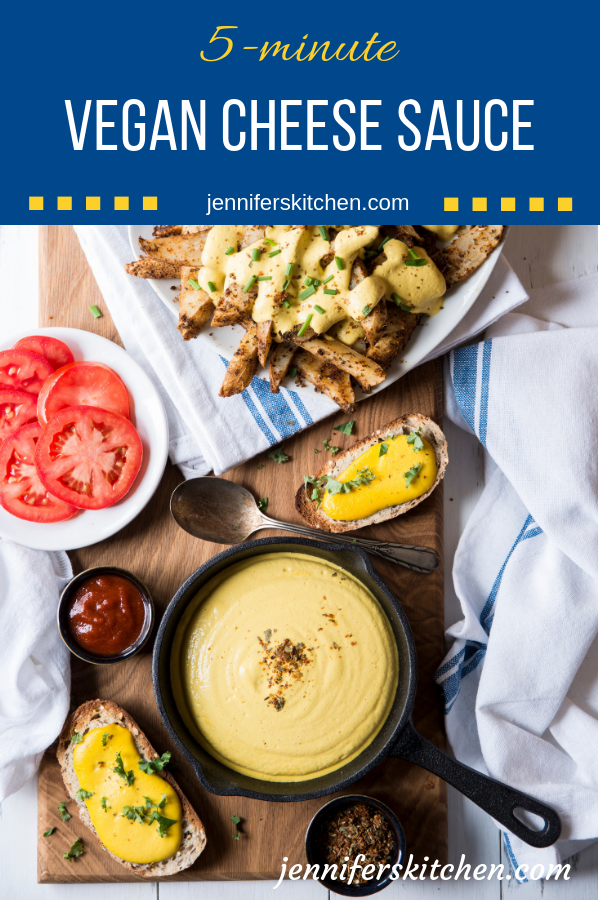 Healthy Cheese
With its high calorie count and its complete lack of fiber, regular dairy cheese (despite what the media tells you) isn't exactly a health food and is a disaster for weight loss. But this homemade vegan cheese is another story. Not only does it offer you a good dose of fiber (great for weight loss!), but it also provides you with vitamin K, manganese, and iron. Plus, it's one of the few oil-free vegan cheese recipes out there.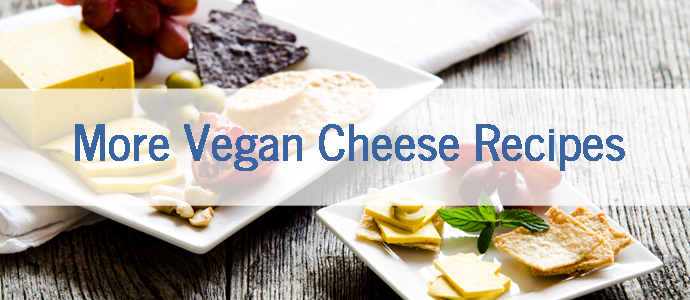 This website is brought to you without annoying ads because we can better live healthier lives without the influence of marketing. But running a high-traffic site is expensive. How can you help? If you purchase anything through the affiliate links on my site, your cost is the same, but I receive a small commission. Thank you!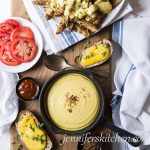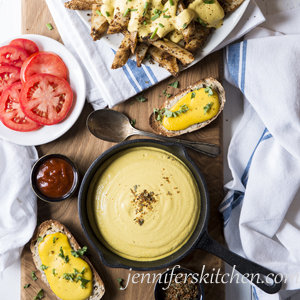 Vegan Cashew Cheese Sauce (without nutritional yeast)
A delicious, plant-based cheese sauce that tastes great over potatoes, pasta, steamed vegetables, and more.
Instructions
Rinse cashews in a colander under very hot water.  Drain very well.

Place all ingredients in blender and blend until very smooth.
Notes
1. It may take several minutes to blend if you don't have a powerful blender. Mixture should be very smooth with no graininess.
2. If you have a powerful blender, just peel and trim a medium carrot and place in blender whole. No need to slice and measure.
>> One quick request: if you like this recipe, please leave a rating and a comment. Ratings help more people find these healthy recipes!
Print Recipe
Want More?
For more healthy and delicious recipes like this one that will simplify your journey to a healthier and thinner you, check out my
Healthy Weight Loss Program!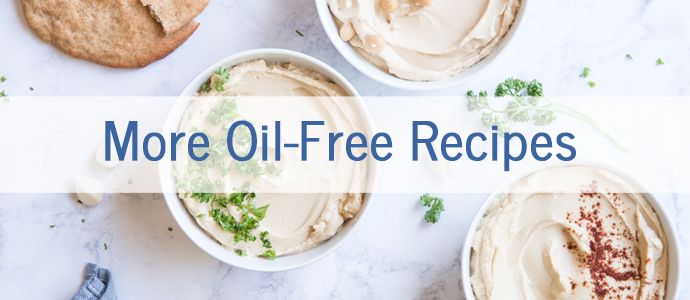 Why No Nutritional Yeast?
While there is limited research on the health effects of consuming nutritional yeast and more studies certainly need to be done, I personally try to avoid nutritional yeast because it has been shown to possibly affect neurotransmitter function in the brain and artificially stimulate the appetite.
Anecdotally, I have had numerous clients tell me that cravings increase for days after consumption of nutritional yeast. I work as a weight loss coach, so this is a concern to me.
Interestingly, many naturopaths will recommend nutritional yeast to individuals with poor appetite and some veterinarians will recommend giving nutritional yeast or Brewer's yeast to an animal who is not eating to stimulate appetite.
Again, there isn't a lot of research done on this subject, but in the meantime, to be on the safe side and give every advantage possible, I personally avoid it.
"Grains, fruits, nuts, and vegetables constitute the diet chosen for us by our Creator. These foods, prepared in as simple and natural a manner as possible, are the most healthful and nourishing."
You my also like:
Before you go . . .
Did you know that you can eat all this delicious food AND lose weight? You can!
No calorie counting. No portion sizes.
Join my online weight loss program today!