No-Bake Apricot Energy Bites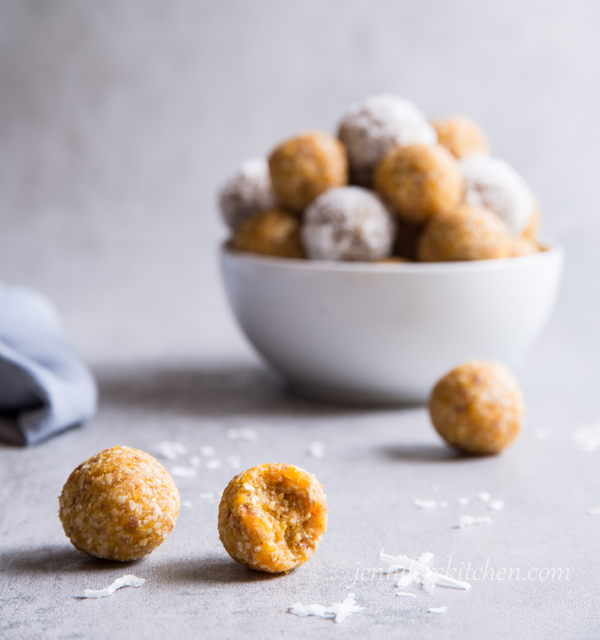 A lot of people ask me what energy bars/bites/drinks I recommend.
That's a valid question since, everywhere we look, we see ads showing skinny women and muscular men with an energy bar in their hand. And grocery stores have entire aisles devoted to energy bars, energy bites, energy drinks, protein bars, sports drinks, and the like.
But I have a question too.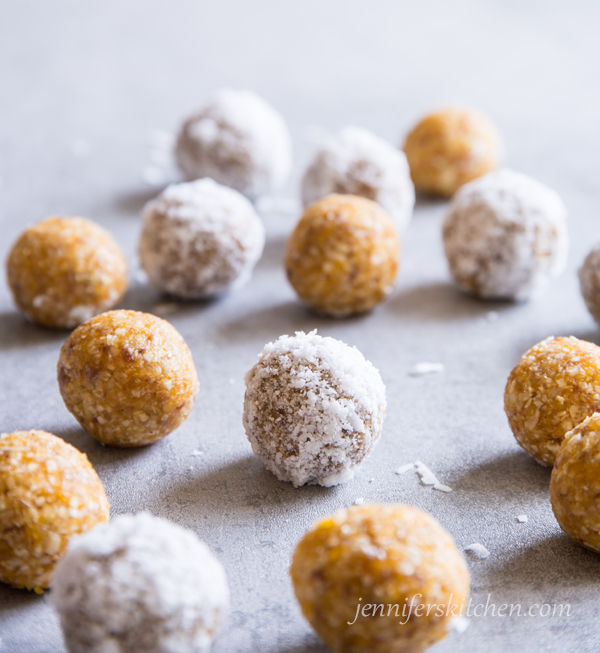 Since when did real food that is grown in nature – food like kale, beans, blueberries, almonds, and potatoes – not supply sufficient energy? Since when did we need "energy" food? Since when was packaged food superior to simple, whole food?
For thousands of years, hard-working people have toiled all day long chopping wood, building houses, laying brick and stone, farming the ground, etc. without ever even hearing of an energy bar. How did they survive?!?!
Junk Food in Disguise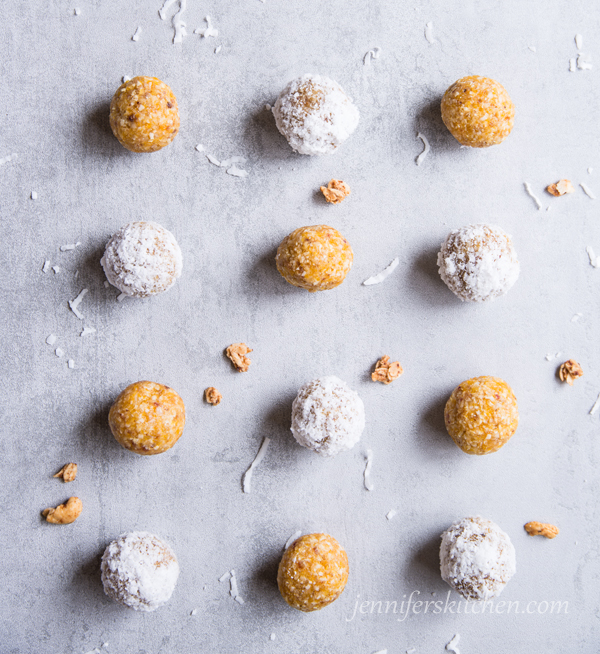 Somehow the media has duped us into thinking that there is something magical about those little packages. But the reality is that not only are energy bars/bites/drinks a waste of money, but most of them aren't even healthy.
Most energy products come with a long list of refined/processed ingredients that cause weight gain, like
whey protein (a highly processed ingredient)
sugar (a highly processed ingredient)
soy protein isolate (a highly processed ingredient)
and more.
A Yummy and Convenient Treat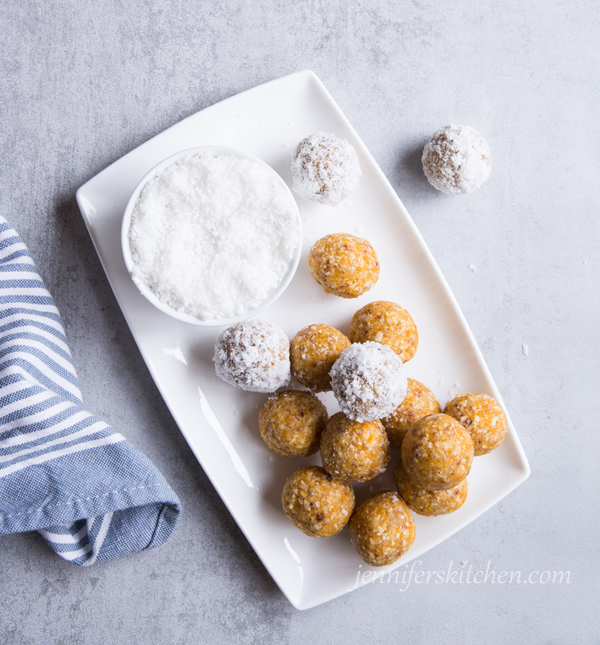 This website is brought to you without annoying ads because we can better live healthier lives without the influence of marketing. But running a high-traffic site is expensive. How can you help? If you purchase anything through the affiliate links on my site, your cost is the same, but I receive a small commission. Thank you!
That said, I've tasted energy bars, and they do taste good. I get the attraction. (Especially if one believes they are good for you.) Sooooooo what do you do if you want something yummy and convenient that's still good for you and can be a healthy part of a weight loss program (and you don't feel like an apple and almonds)?
Homemade Energy Bars
You can make your own energy bars with whole food ingredients (and for a fraction of the cost)!
These homemade energy bites (or you can make them into bars) are quick and easy to make, and don't have all the processed and refined ingredients that are in most store-bought energy bars.
How to Make these Homemade Energy Bites (or bars)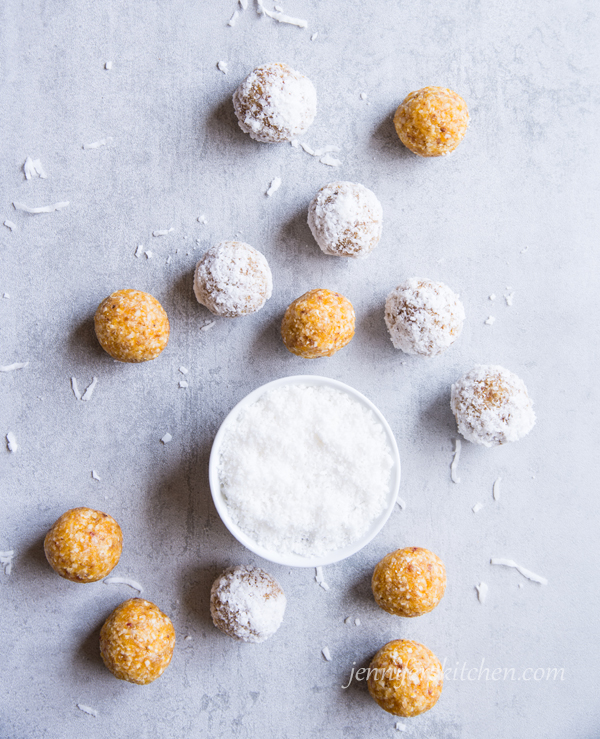 A food processor is the secret tool for making homemade energy bars. Simply place ingredients in as directed in the recipe, shape them as desired, and in just minutes you have some healthy energy bars.
Notes About This Recipe
This recipe calls for toasted cashews. The recipe will work with raw cashews, but I prefer the taste of the toasted ones in this particular recipe.
I always have a bag of raw cashews in my freezer, because I like to make this delicious Creamy Dill Dressing often, but I almost never have toasted cashews on hand. You can toast cashews easily in the oven or on the stove top.
To toast cashews on the stove top
Place a very thin layer of cashews in a heavy bottomed skillet. Toast over medium heat, stirring often, for about 5 minutes. Watch closely as they can burn quickly. They're done when golden and fragrant. Remove from oven and allow to cool before using.
To toast cashews in the oven
Preheat oven to 350F. Place cashews in a thin layer on a baking sheet and bake for approximately 10 to 12 minutes, stirring occasionally. Watch closely as they can burn quickly. They're done when golden and fragrant. Remove from oven and allow to cool before using.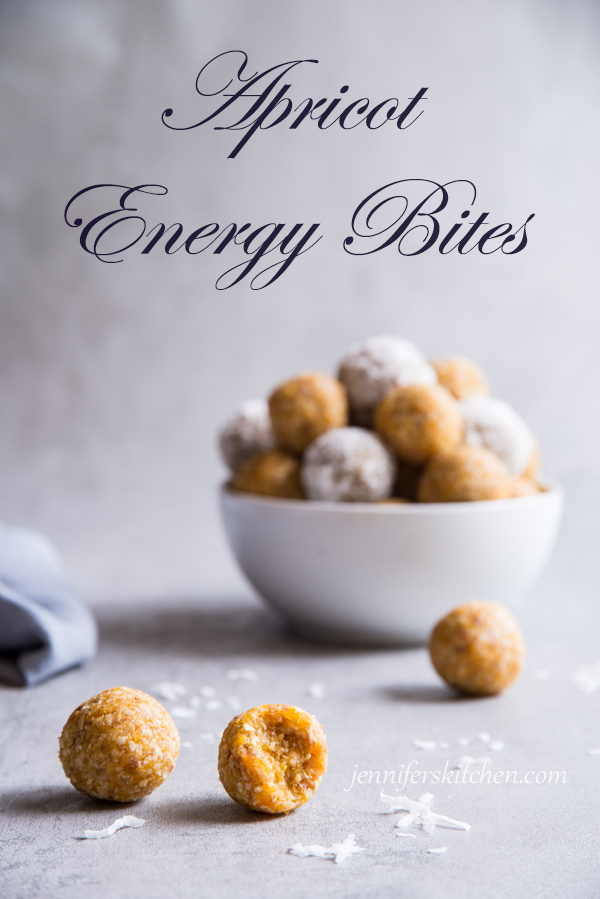 Sulfured or Sulfur-Free Apricots
When you purchase dried apricots, you may notice that you can buy either sulfured or sulfur-free apricots. Sulfured dried apricots are prepared using sulfur dioxide – which is a food preservative that keeps dried fruit bright and colorful. Many people prefer to avoid this preservative either because they are sensitive to it (for them sulfur can cause serious issues such as difficulty breathing) or simply because they want to eat more natural.
If you would like to avoid sulfur, you can buy sulfur-free apricots. Because they are dried without a color-keeping preservative, sulfur-free apricots are a more of a beautiful (natural) brown rather than orange.
These Apricot Energy Bites will work with either type of apricots.
Apricot Energy Bites
These homemade energy bites are so much healthier than the energy bars you find in the grocery store.
Instructions
Place coconut, dates, and vanilla in food processor and process until finely chopped.

Add salt, apricots, and nuts, and process until nuts are coarsely chopped.

Add granola and process until granola is very, very finely chopped.

Add orange juice concentrate and process until mixed.

Shape into 1 1/4-inch balls. (Place in freezer for a few minutes if mixture is too stick to roll into balls.)

Keep in freezer.
Notes
To learn how to easily toast cashews, see instructions in post.
This recipe uses a large (12- to 14-cup) food processor. If your food processor is smaller, divide recipe in half.
If preferred, these can be made into bars instead of bites.
Variation:
Walnuts can be used in place of cashews but
only
if you really like walnuts as they lend a strong walnut flavor to the Apricot Bites.
Make Ahead Tip:
These keep well in the freezer for up to 3 months.
>> One quick request: if you like this recipe, please leave a rating and a comment. Ratings help more people find these healthy recipes!
Print Recipe
You my also like:
Before you go . . .
Did you know that you can eat all this delicious food AND lose weight? You can!
No calorie counting. No portion sizes.
Join my online weight loss program today!