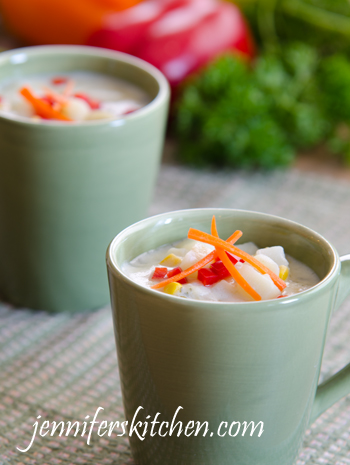 On a snowy winter day, there's nothing like a hot bowl of homemade soup to warm you up!
The good news is this warm and cozy comfort food isn't high in fat. This chowder uses slimming potatoes and non-dairy milk instead of fattening cream for its richness and creaminess.
So grab a pair of thick and cozy socks and whip up some of this scrumptious soup … and then enjoy the yummy compliments passed around the table to you.
Low Fat Potato Corn Chowder
A great main dish for any meal! Rich and creamy without all the fat of traditional potato corn chowder.
Ingredients
2 stalks celery, diced
1 small carrot, diced – optional
1 medium yellow onion, diced
2 tablespoons oil
5 medium potatoes
2 cups water or a mild stock or broth
2 bay leaves
1 tablespoon granulated onion
1 tablespoon dried parsley
1/2 teaspoon granulated garlic
pinch dried sage
2 cups plain soy or cashew milk (not vanilla-flavored)
1/4 red bell pepper, diced – optional
1 1/2 cups corn kernels
1 teaspoon salt – or to taste
Instructions
Prepare celery, carrot, and onions. (I use my vegetable chopper.)
In a large pot, sauté onions, celery, and carrot in oil over medium heat until onions begin to appear translucent.
Meanwhile, peel potatoes if desired. Dice into small dices. (I use my vegetable chopper to make fast work of this.)
Turn heat to high and add potatoes, water, and seasonings. Cover and bring to boil. Reduce heat and simmer until potatoes are tender (about 10 minutes).
Meanwhile, pour milk into blender.
When potatoes are tender, remove approximately 1 cup of soup from pan and add it to milk in blender.
Stir diced pepper into soup and continue simmering.
Add salt to blender mixture and blend until creamy. Add this mixture to pan along with corn and stir. Cook until hot.
Discard bay leaf. Season to taste.
Serve hot.
Popular Posts