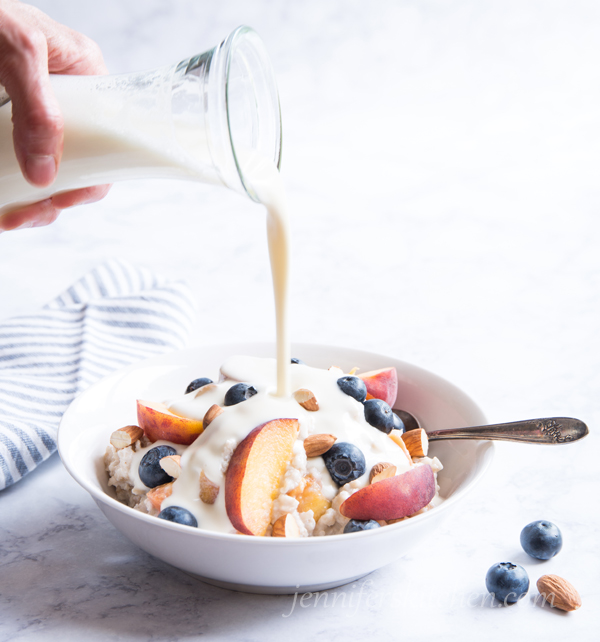 Many people have asked me, "Of all the recipes on your website, which one is your favorite?" Up until now, it's been really difficult to choose.
I do like this Creamy Dill Salad Dressing and eat it at least once a week. And I quite enjoy Mazidra. And these Wonderful Waffles are really wonderful too. But I like a lot of different foods, and I would have a hard time choosing an actual favorite.
Until now.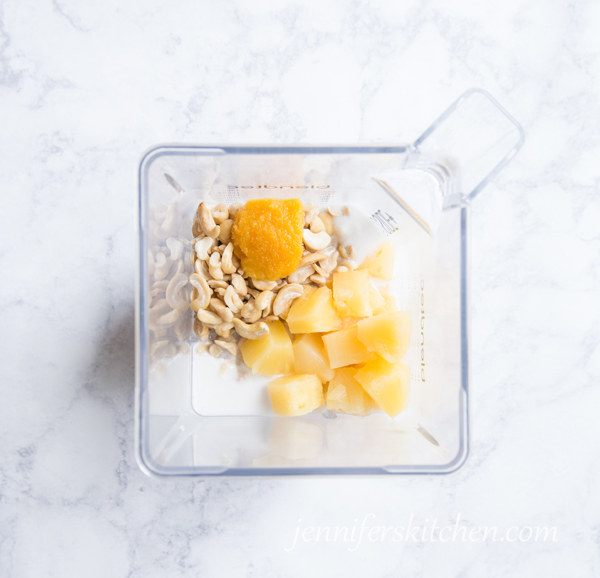 And I can't even take credit for the recipe!!
A few weeks ago, we had some leftover coconut milk and pineapple in the refrigerator and my daughter decided we should use them up before they went bad. So, she threw them in the blender along with a few other ingredients … and wow!!!
Later that day I took a sip of it, and immediately tracked her down to ask her how she made it. It was delicious!!!! I convinced her to try making it again, only this time writing down the actual ingredient measurements.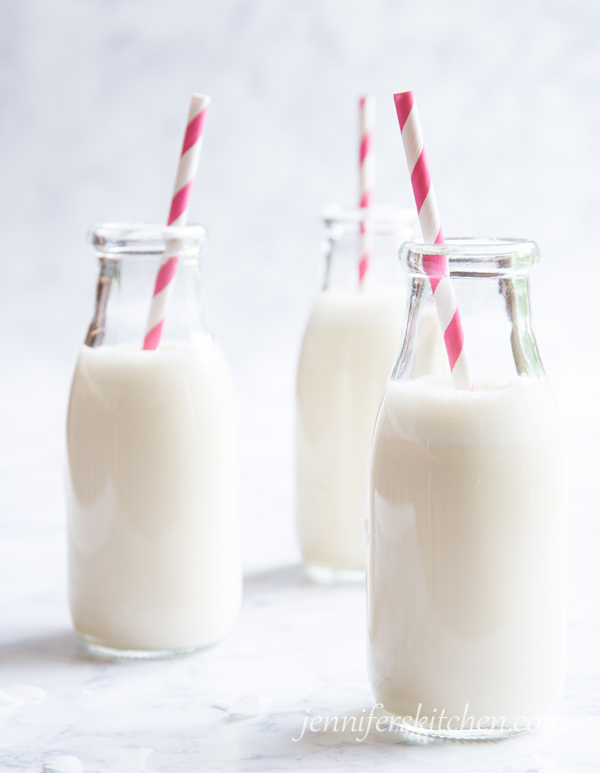 And the results (thank you, Sarah) is this bright, smooth, and lusciously creamy Coconut Pineapple Milk – the best cereal sauce you've ever had!
I also like it as a base for smoothies, over fresh blueberries, and straight out of a glass.
Health
Many people (90% of Asian Americans, 90% of Native Americans, 80% of African Americans, 53% of Hispanic Americans, and 15% of Caucasians) have difficulty digesting dairy products. For them, the consumption of dairy can lead to stomach distress, irritable bowel syndrome, and digestive issues. In addition, there are other health issues associated with dairy consumption, including eczema, asthma, diabetes, strep throat, obesity, and cancer. Rich in nutrients, this luscious Coconut Pineapple Milk is a perfect alternative.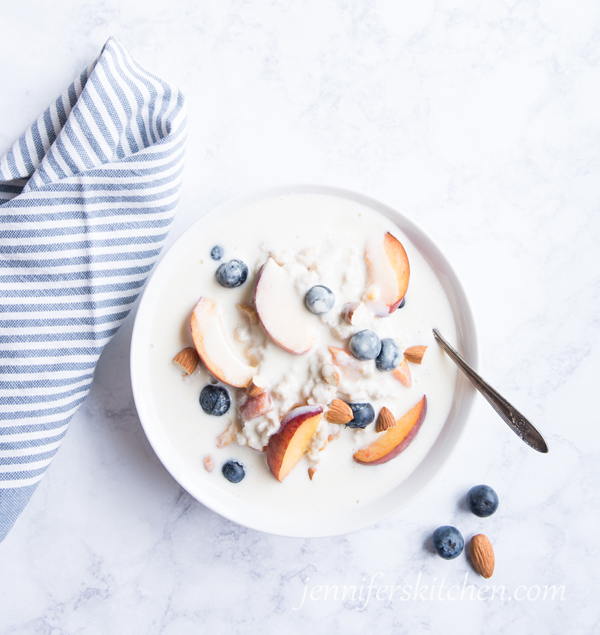 This website is brought to you without annoying ads because we can better live healthier lives without the influence of marketing. But running a high-traffic site is expensive. How can you help? If you purchase anything through the affiliate links on my site, your cost is the same, but I receive a small commission. Thank you!
Sugar-Free
Not only is this a super healthy alternative to regular milk, but – unlike some non-dairy milks – this delicious milk is also sugar-free.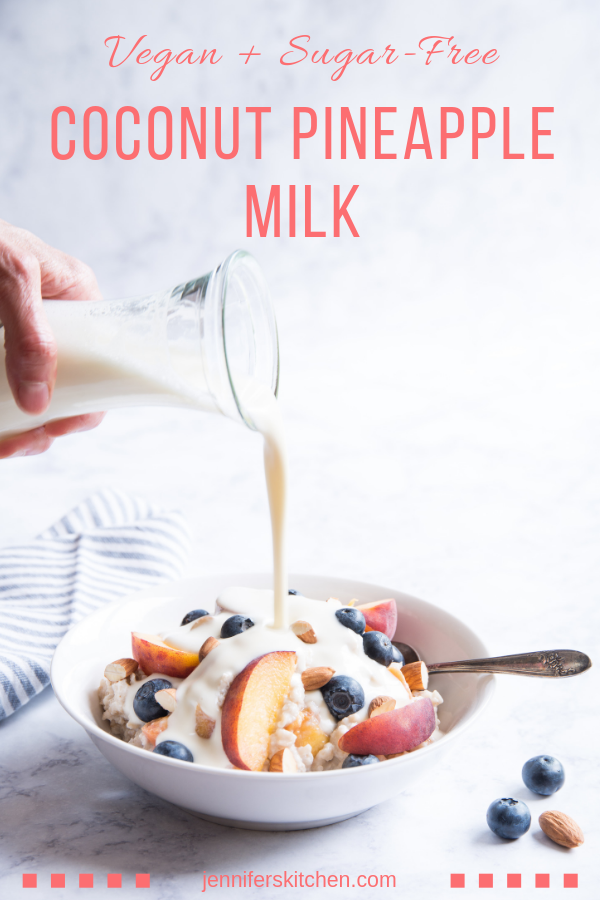 Americans eat way too much sugar. Sugar in desserts. Sugar in yogurt. Sugar energy bars. Sugar in sports drinks. Sugar in salad dressings. And sugar over their morning cereal.
Sweeten Your Cereal without Added Sugar
Now, instead of putting sugar on your cereal, you can top it with some fresh fruit (like strawberries or blueberries), some dates or raisins, and this rich, luscious milk! And you have a super healthy and slimming way to start your day!
Looking to slim down? Become a member of my online weight loss program and get more recipes like this one, plus all the help you need to lose those extra pounds.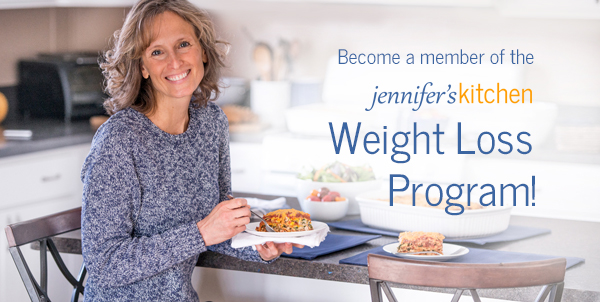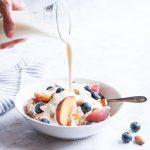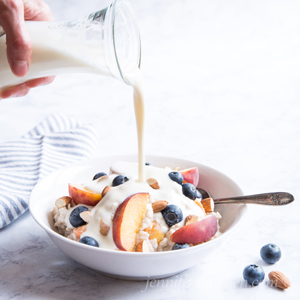 Coconut Pineapple Milk
Bright. Luscious. Creamy. The best cereal sauce ever!
Ingredients
1 1/2

cups

full-fat canned coconut milk

-

(1 14-ounce can)

2

cups

pineapple chunks or tidbits, packed in juice

-

(1 20-ounce can) do not drain juice

2/3

cup

raw cashews

1

tablespoon

frozen orange juice concentrate

1/2

teaspoon

salt

1/2

teaspoon

vanilla
Instructions
Place all ingredients (including pineapple juice) in blender and blend until very smooth and creamy.

This may take several minutes if you do not have a powerful blender.

Chill.
>> One quick request: if you like this recipe, please leave a rating and a comment. Ratings help more people find these healthy recipes!
Print Recipe
You my also like:
Before you go . . .
Did you know that you can eat all this delicious food AND lose weight? You can!
No calorie counting. No portion sizes.
Join my online weight loss program today!