Sugar-Free, No-Bake, Gluten-Free, Cranberry Pecan Bars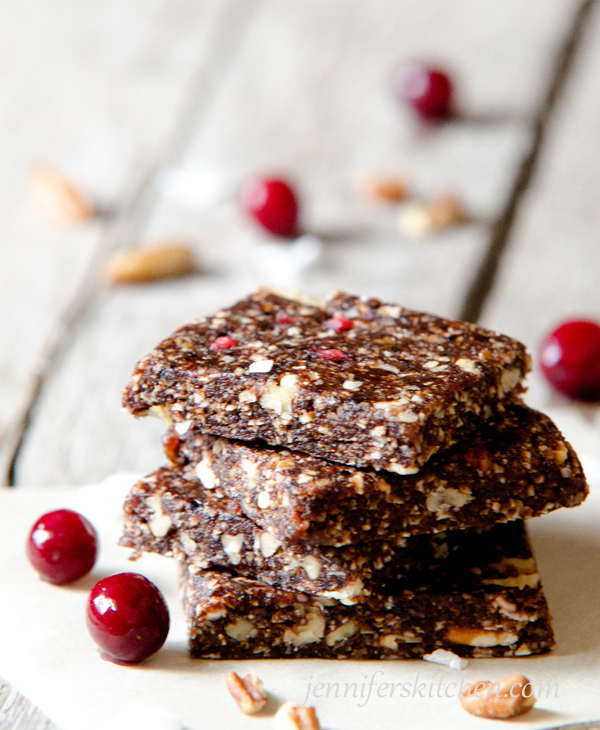 Dear Kitchen Pantry,
Yesterday you and I spent some quality time together. It was good getting to know you. I didn't realize you were interested in gardening. That sprouted sweet potato was impressive. Sorry I had to throw it in the compost.
You are looking quite dapper now with all your beans on one shelf and pasta on another. And the little organization baskets – I like.
Oh, and thank you for reminding me of the dried cranberries you were keeping for me. The No-Bake Cranberry Pecan Bars turned out luscious! I'd let you try some, but I ate them all.
Catch you later.
Your friend,
Jennifer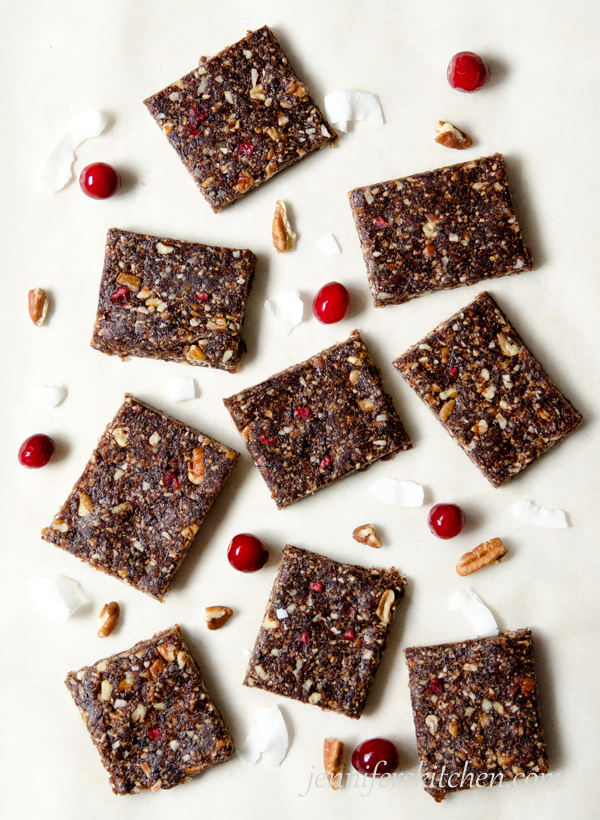 More Sugar-Free Recipes
Looking for some more healthy sugar-free recipes? Here are my favorites.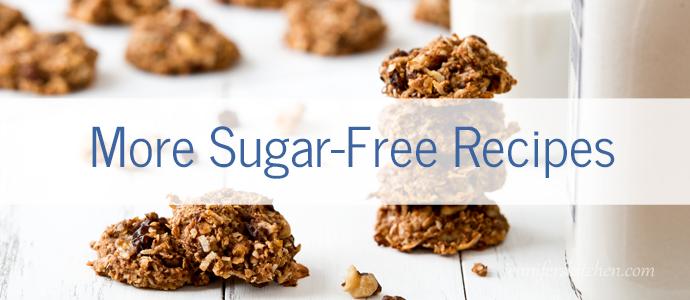 Sugar-Free, No-Bake, Cranberry Pecan Bars
A tangy, no-bake, sugar-free, gluten-free bar that's perfect for the holidays and delicious all year round.
Instructions
If dates are very hard, place in saucepan with 2 tablespoons water, cover, bring to boil, and then remove from heat. If dates are soft, go to step 2.

Place dates, 1/2 cup coconut, dried cranberries, salt, and vanilla in a food processor and process until all ingredients are finely chopped and mixture clumps together. (This takes about 2 minutes in my food processor.)

Add remaining coconut and process until coconut is chopped fine and mixture begins to stick together again. (About 30 seconds.)

Add pecans and pulse a few times until mixed.

Press mixture into an 8-inch x 8-inch dish. (I like to line my baking dish with parchment paper to make it easier to remove the Cranberry Pecan Bars.) Makes 16 squares. Can be stored in freezer.
Notes
This makes a flavorful, but tart bar. If you prefer a sweeter bar, add 1 tablespoon raw sugar along with the dates and cranberries.
>> One quick request: if you like this recipe, please leave a rating and a comment. Ratings help more people find these healthy recipes!
Print Recipe
You my also like:
Before you go . . .
Did you know that you can eat all this delicious food AND lose weight? You can!
No calorie counting. No portion sizes.
Join my online weight loss program today!