Lemon Tahini Cabbage Slaw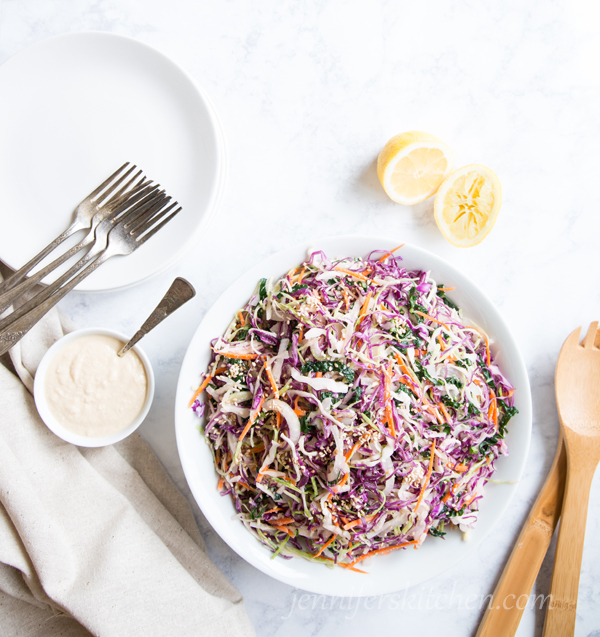 The humble cabbage may not be part of the cool crowd – like the very trendy chia seed, avocados, and grass-fed everything – but given its amazing superpowers, my guess is that it doesn't really care.
Research shows that cabbage can fight off a number of diseases AND help you lose weight. In fact, most experts say that this nutrient-rich veggie is so beneficial for your health that you should eat at least one serving of cabbage (or one of its relatives like broccoli, cauliflower, kale, and collards) every day.
Sound like a tall order? Well, I'm here to help.
Lemon Tahini Cabbage Slaw
With its gorgeous colors, amazing crunch, and fresh taste, this Lemon Tahini Cabbage Slaw is the perfect way to eat more of this super food.
This Lemon Tahini Cabbage Slaw takes boring cabbage and transforms it into a delightful addition to the weekday lunchbox, a great side dish for a summertime picnic, or even a creative replacement for lettuce on your sandwich.
How to Make this Cabbage Slaw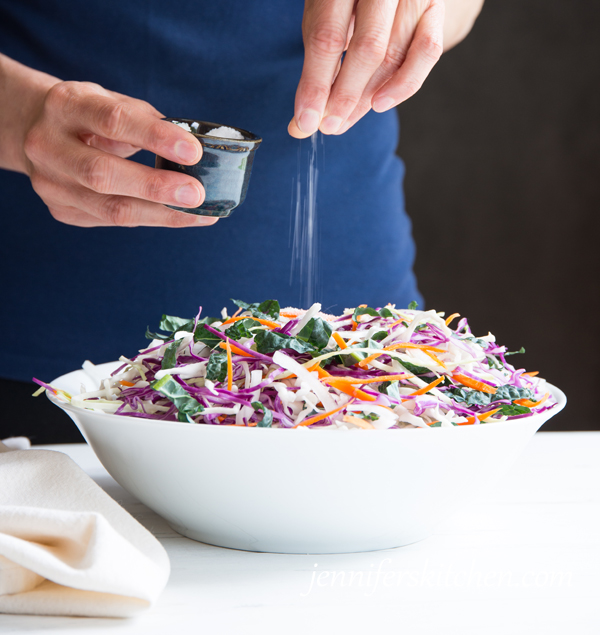 This website is brought to you without annoying ads because we can better live healthier lives without the influence of marketing. But running a high-traffic site is expensive. How can you help? If you purchase anything through the affiliate links on my site, your cost is the same, but I receive a small commission. Thank you!
The first thing I need to tell you is I do not like grating food, and you can pretty much count on me avoiding this task at all costs. If it cannot be done in my food processor – neeexxxxt recipe, please.
Three Minutes and Done!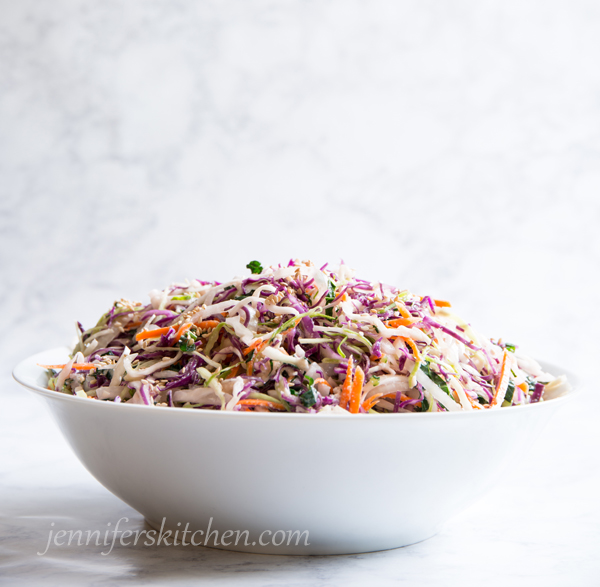 This delicious Lemon Tahini Cabbage Slaw is no exception. I make this lovely salad using the thin slicing blade of my food processor. Three minutes. Lickety split. And you are done.
However, if you don't have a food processor (Really?! It could save you so much time), then pull out your chef's knife. Please don't be tempted to use a box shredder. Take a few extra minutes with a chef's knife to cut the cabbage very thinly. You'll be glad you did.
Also, you will notice that the recipe tells you to salt the vegetables, set them aside for about 30 minutes, and then drain them. This step removes some of the extra water from the veggies and helps prevent soggy slaw.
Health Benefits of Cabbage (and Other Cruciferous Vegetables)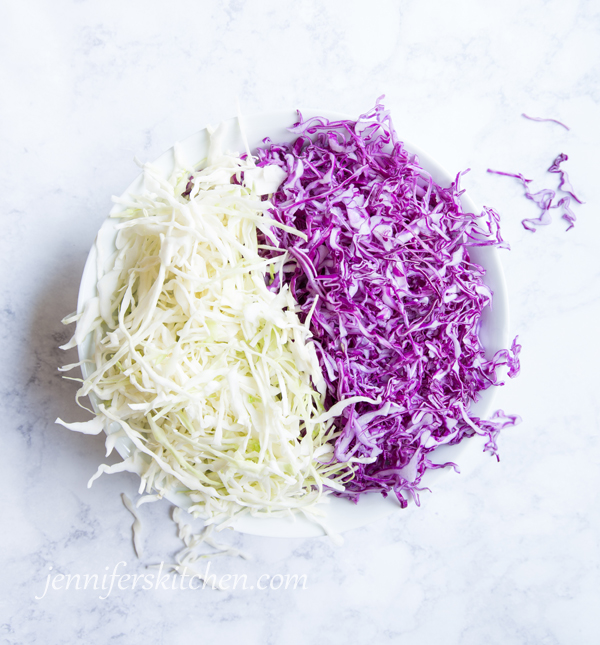 Weight loss
Just like all the other members of the brassica family, cabbage is chock full of fiber. And of all the nutrients that help with weight loss, fiber is perhaps the most powerful.
Research shows that people who are able to lose weight and maintain weight loss consume an average of 33% more dietary fiber than their overweight counterparts. (Psst. If you'd like to be one of those successful people, join my online weight loss program so you can lose weight and never find it again!)
Inflammation
Due to the lovely anthocyanins (an antioxidant) found in red (purple) cabbage and dark green kale, these miracle vegetables are strong inflammation fighters. Just 1/2 cup of red cabbage provides 30 milligrams of anthocyanins.
Ulcers
Amazingly, raw cabbage has actually been shown to help cure stomach ulcers.
Cholesterol
Of all the foods that help lower cholesterol, cabbage is one of the most effective. Cabbage prevents bile from absorbing fat after a meal, which lowers the overall amount of cholesterol in the body.
Cancer
Raw cabbage contains natural compounds called glucosinolates that have amazing anti-carcinogenic properties and can actually inhibit the growth of cancer cells.
Better thinking
Cabbage can even help you find your inner Einstein since the nutrients in this veggie can actually make your brain function better.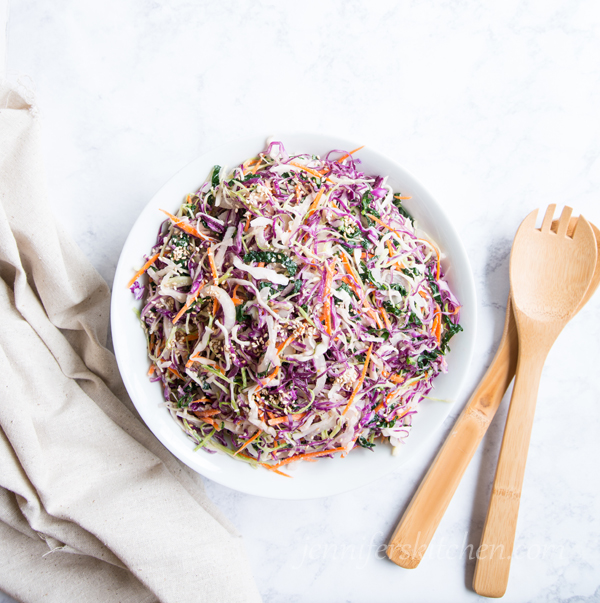 I Love Grocery Shopping – Not
As much as I appreciate the health benefits of cabbage, my extreme dislike for grocery shopping causes me to love cabbage for an entirely different reason.
Purchase lettuce from the grocery store and you better eat it within a day or two. Kale gives you a few extra days, but if you wait more than a week, it may start to become wilty. But a good head of cabbage can stay fresh in the crisper drawer for two, and sometimes up to three weeks.
This means I can stock my frig with a head of cabbage or two (and load my freezer with several bags of frozen blueberries), – and when the lettuce and kale and bananas are gone – no need to sprint to the grocery store. I significantly extend the number of days I can avoid the dreaded grocery store. Two points for cabbage.
What to Eat this Lemon Tahini Cabbage Slaw With
Brazilian beans. Lemon Tahini Cabbage Slaw and these Brazilian Beans. The perfect match.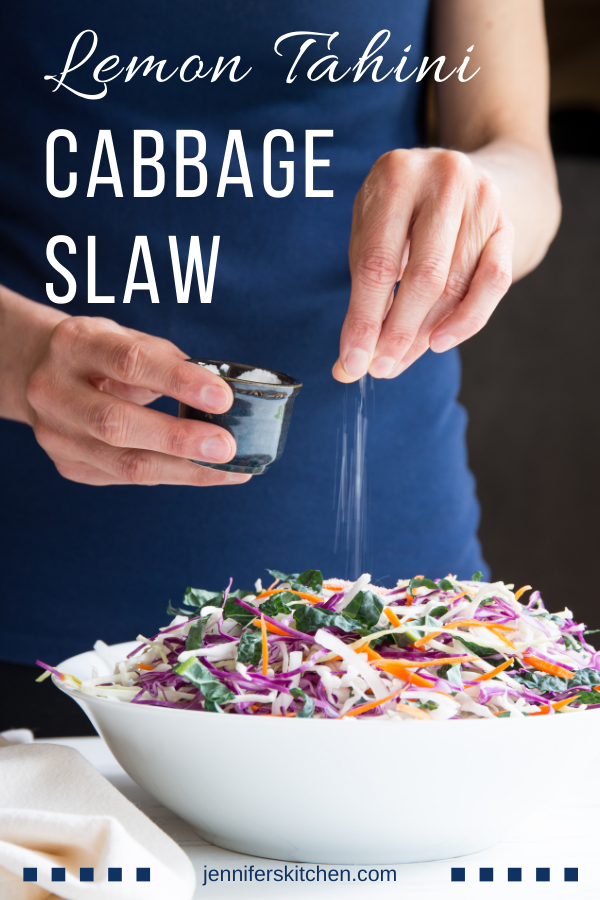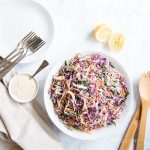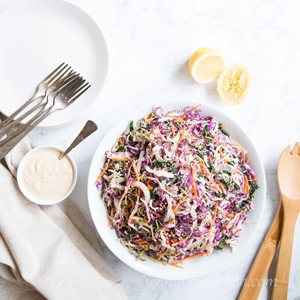 Lemon Tahini Cabbage Slaw
With its gorgeous colors, amazing crunch, and fresh taste, this Lemon Tahini Cabbage Slaw is perfect for a healthy picnic, packed lunch, or just about any meal.       
Ingredients
2

cups

finely shredded red cabbage

2

cups

finely shredded green cabbage

1/2

large

sweet onion, thinly sliced

-

(or more if you really like onion)

1/2

small

fennel bulb, sliced into thin slivers

-

(about 1 cup)

2

small

carrots

-

julienned

2

medium

kale leaves, cut into very thin ribbons

-

(about 2/3 cup)

3/4

(heaping) teaspoon

salt

1/4

cup

fresh lemon juice

7

teaspoons

tahini -

(2 tablespoons + 1 teaspoon)

3 1/2

teaspoons

granulated onion

2 – 3

cloves

garlic, crushed

2

tablespoons

sesame seeds -

toasted
Instructions
Place vegetables in a large bowl. Sprinkle with salt and mix well. Set aside for 30 to 45 minutes.

In a separate bowl, whisk together lemon juice, tahini, granulated onion, and crushed garlic.

After vegetables sit for 30 to 45 minutes, thoroughly drain water from the vegetables. (Do not rinse.)

Drizzle tahini dressing over the vegetables and toss well.

Mix in toasted sesame seeds.

Chill.
Notes
Slaw keeps in the fridge for 4 days.
Variation:
Mix 1 teaspoon dulse flakes in with sesame seeds.
>> One quick request: if you like this recipe, please leave a rating and a comment. Ratings help more people find these healthy recipes!
Print Recipe
Want More?
For more healthy and delicious recipes like this one that will simplify your journey to a healthier and thinner you, check out my
Healthy Weight Loss Program!
You my also like:
Before you go . . .
Did you know that you can eat all this delicious food AND lose weight? You can!
No calorie counting. No portion sizes.
Join my online weight loss program today!