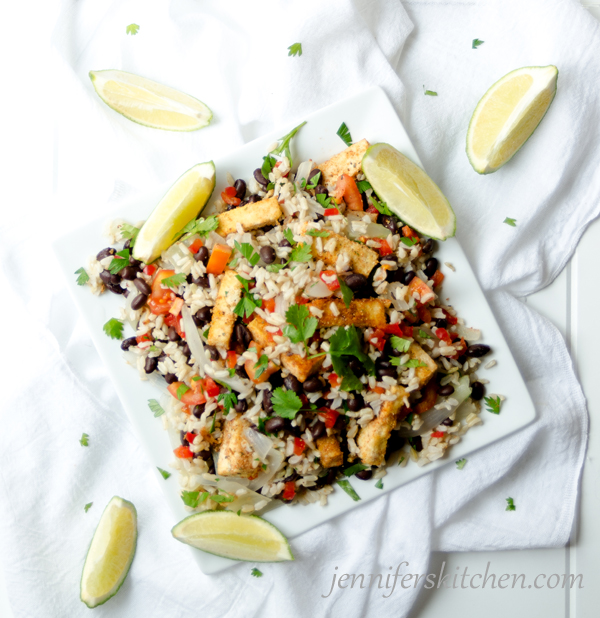 This website is brought to you without annoying ads because we can better live healthier lives without the influence of marketing. But running a high-traffic site is expensive. How can you help? If you purchase anything through the affiliate links on my site, your cost is the same, but I receive a small commission. Thank you!
So, as it turns out, white rice isn't good for you. Something about the milling process and nearly all the helpful nutrients being destroyed.
But what about Chipotle's Cilantro Lime Rice and all the other drool-worthy, white rice dishes?
"And no way am I eating brown rice! I don't like brown rice."  <–  I've heard this more times than I can count.
So here's the thing – most people don't realize how easy it is to train their taste buds. And this recipe is just the one to do it.
Here's how to learn to prefer brown rice over white rice:
1. Find a recipe that features brown rice prepared in an appealing way.  (Hint, hint – Scroll down to the recipe below.)
2. Replace half the brown rice with white rice so you are getting a mixture of the two in the final dish.
Optional tip – Dextrinize the brown rice before using. In addition to making the rice easier to digest, dextrinizing rice  makes it lighter and fluffier. Many people prefer the taste and texture of brown rice prepared this way. I dextrinize a large batch every once in a while and store it in the frig or the freezer so I have it on hand when needed.
3. Once you've eaten the half-and-half version for a while and your tastes have become used to it, gradually increase the ratio of brown rice to white.
You can make your own delicious rice dishes at home with 4 times more fiber (and other nutrients) than their white dish counterparts. (And if your home-cooked meal is a replacement for a restaurant dish, you're probably getting waaaaay less refined fat than found in the restaurant meal.)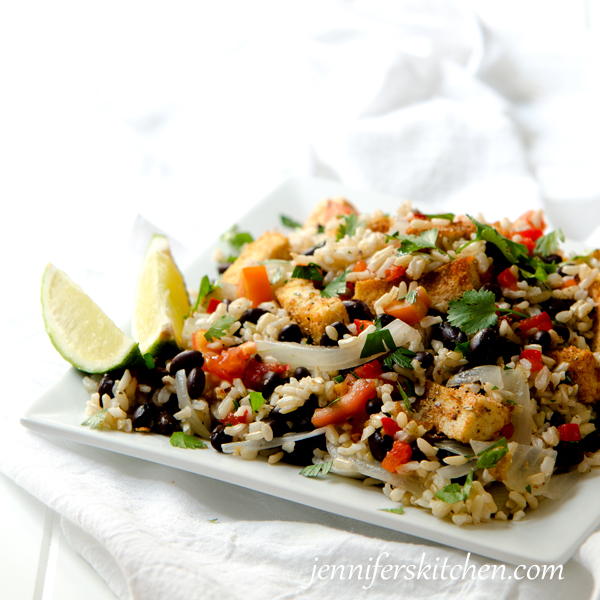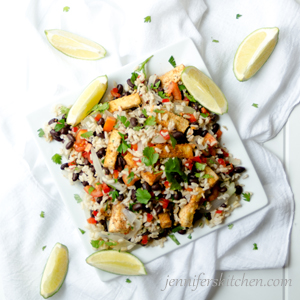 Print
Lime Cilantro Rice with Tofu and Black Beans
Yield 4 servings
This naturally gluten-free dish is so flavorful and filling ... and it tastes fabulous topped with guacamole. Total cook time is 1 hour, but hands-on time is less than 30 minutes.
Ingredients
RICE
1 3/4 cup + 2 tablespoons boiling water
1 cup uncooked brown rice
2 teaspoons granulated onion
1 teaspoon dried oregano
1/2 teaspoon granulated garlic
1/2 teaspoon salt
1/4 cup lime juice
TOFU
1 pound frozen tofu, thawed
2 teaspoons granulated onion
1/2 teaspoon cumin
1/4 teaspoon paprika
1 teaspoon salt
BEANS AND VEGETABLES
2 medium to large onions, diced
1/2 red bell pepper diced
1 tablespoon olive oil
7 cloves garlic, minced or diced small
1/3 cup chopped fresh cilantro
1 cup diced fresh tomatoes
1 1/2 cups (one 15-ounce can) black beans, rinsed and drained
Instructions
Preheat oven to 375°F.
Bring water to boil.
Oil a 1 1/2-quart or 2-quart baking dish. Place rice in dish.
Add seasonings, lime juice, and boiling water.
Cover and bake at 375°F for 60 minutes.
Twenty minutes before rice is done, gently press water out of tofu. Cut into 1/2-inch wide strips or cubes. Place in bowl and stir in seasonings. Place on an oiled baking sheet. (If desired, spritz with oil or cooking spray to help it brown more.)
Place in oven and bake at 375°F for 15 minutes.
In a medium pan, sauté onion and pepper in oil over medium heat until onions begin to look translucent (about 7 minutes).
Meanwhile, chop cilantro and tomatoes. Rinse and drain beans.
Add garlic to onions and sauté for 1 additional minute. Add tomatoes and beans and remove from heat.
Stir vegetable mixture into cooked rice. Add cilantro and tofu.
Popular Posts