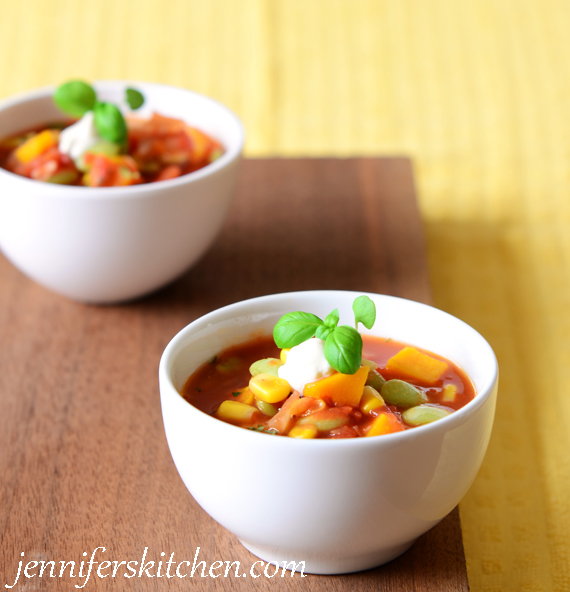 Mark your calendar!!  April 20 is the day!
What day, you ask?  Why Lima Bean Respect Day, of course.  I mean nothing says April 20 like the plump little lima bean, right?  (Really.  I wouldn't make this stuff up.)
Send a card.  Sing a song.  Invite some friends over for some lima bean soup. Salute this sincere, humble, and honest little bean and show some respect.
Side note: Deep apologies to my brother who hates lima beans.  But hey bro – lima beans may not live up to spaghetti-status in your book, but today is the day to embrace their dryness and lack of flavor … ummm … high nutrition profile and versatility! 
Lima Nutrition and Disease Prevention
With a resume that lists protein, fiber, B vitamins, potassium, zinc, iron, copper, magnesium, and manganese, not only are limas worthy of respect, but they're also a great weight-loss food.
The amazing lima bean is also low in fat and has been shown to help stabilize blood sugar levels (good for those with diabetes) and prevent cancer.  No wonder limas get their very own day.
Celebrate!
Celebrate in style.  Lima beans are fabulous in salads, casseroles, dips, or by themselves. Or in this delicious Chilean Lima Soup.
Did you like limas as a kid? Do you like them now?  What's your favorite way to eat lima beans?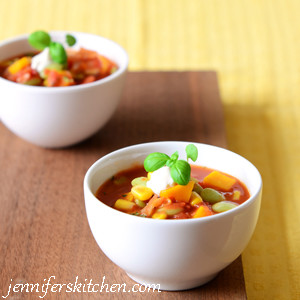 Print
Chilean Lima Soup
Ingredients
2 medium yellow onions
3 tablespoons olive oil
2 cloves garlic, minced
3 cups water or broth
1 1/2 cups canned crushed tomatoes
1 1/2 cups canned diced tomatoes
1 16-ounce package frozen green baby lima beans
2 tablespoons granulated onion
2 tablespoons dried parsley
1 teaspoon (packed) fresh basil
1/2 teaspoon dried basil
1/4 teaspoon dried sage
1/4 teaspoon garlic powder or granulated garlic
1/8 teaspoon dried rosemary
1 1/2 teaspoons salt, or to taste
1 cup frozen or canned corn
Instructions
In a large soup pot, sauté onion in oil over medium (not high) heat until onions begin to turn translucent.
Add squash and garlic and sauté for two more minutes or until garlic softens. (Don't allow garlic to brown.)
Add water, tomatoes, lima beans, and seasonings (except salt). Cover and bring to boil. Reduce heat and simmer for 40 minutes.
Stir corn and add salt to taste. Cook until heated through.

Serve hot.
Popular Posts