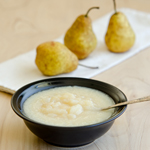 Sugar-Free Pear Sauce
This creamy pear sauce is a delicious change from applesauce.
Ingredients
12 cups fresh pear quarters
1/2 cup orange juice
Instructions
Place orange juice into a large pan and begin heating.
Wash pears and cut into quarters. Add quarters to hot orange juice and bring to boil.
Cook at a very low boil for 30 minutes, stirring often (especially at the beginning) to prevent scorching.
Using a large slotted spoon, transfer pears to blender (draining them well). (A heavy-duty blenderworks best for this recipe; other blenders may not get the pear sauce smooth enough.)
Blend until very smooth.

Makes approximately 1 1/2 quarts of sauce.
Recipe by JennifersKitchen at https://jenniferskitchen.com/2013/09/how-to-make-pear-sauce-sugar-free.html