Maple Coconut Multi-Grain Cereal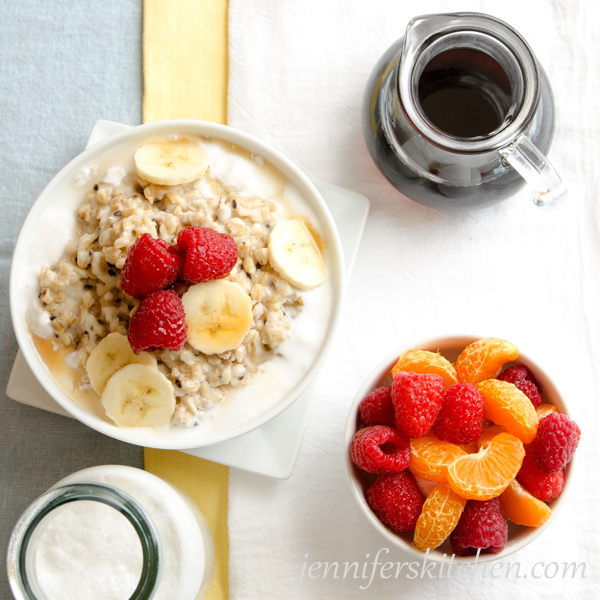 This is now officially one of my favorite breakfasts. And if I were a normal person who made a dish more than once instead of moving on to the next challenge after I've conquered a recipe, I would eat this every day.
This cereal is so easy and so delicious, and it practically cooks itself. Just put the ingredients in your crock pot, turn it on, and in the morning you have breakfast ready and waiting for you.
What are Oat Groats?
Oat groats are the whole grain oats (with the hull removed) before they get flattened into rolled oats.
Steel-cut oats are whole oats that have been cut into pieces. Steel-cut oats have a richer flavor and chewier than rolled oats.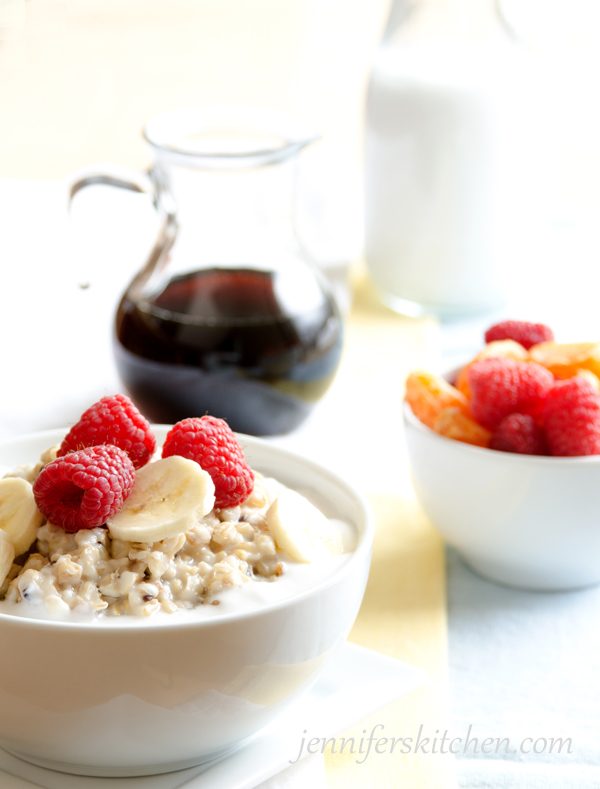 I like to use oat groats or steel-cut oats when I cook cereal grains in a crock pot because they hold up to the long cooking times much better than rolled oats. And the result is a delicious, hearty breakfast with a slightly chewy texture and nutty flavor that gives you the energy you need for the whole morning.
Cook Breakfast in Your Sleep
Cooking hot cereal in a crock pot (slow cooker) is so convenient and saves so much time, I wrote a post about it. Check it out.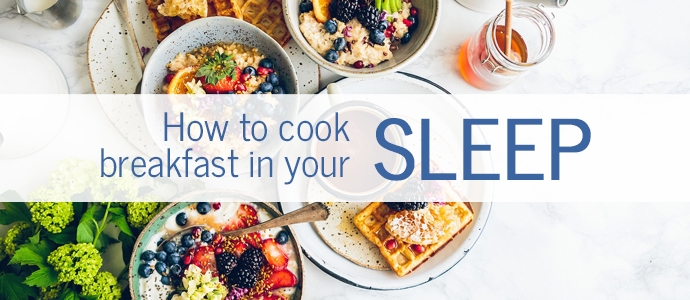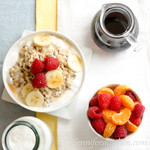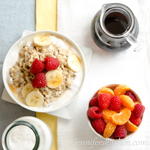 Maple Coconut Multi-Grain Cereal
Ingredients
1 1/2

cups

full-fat, canned coconut milk

-

(one 13-ounce can)

3

cups

almond milk, soy milk, or rice milk

2/3

cup

steel-cut oats -

or whole oat groats, gluten-free if desired

1/4

cup

brown rice

3

tablespoons

millet

2

tablespoons

buckwheat groats

1

tablespoon

flax seed

1/4

teaspoon

salt

2 to 4

tablespoons

pure maple syrup -

Be sure to use pure maple syrup, not pancake syrup.

1/3

cup

coarsely chopped nuts

1

teaspoon

vanilla
Instructions
Pour coconut milk into slow cooker. If milk has separated, mix with a whisk.

Add almond milk, soy milk, or rice milk.

Gently stir oats, rice, millet, buckwheat, flax, salt, and maple syrup into milk.

Cook on low for 6 to 9 hours.

When cereal is done, stir in vanilla and chopped nuts. Stir cereal well to thicken.

Serve hot topped with chopped nuts and a drizzle of maple syrup if desired.
Notes
1. This recipe is for a small (1 1/2- to 2-quart) slow cooker. Recipe need to be adjusted for different size slow cookers.
2. All slow cookers cook differently. If your hot cereal turns out too thin or too thick, adjust liquid amount accordingly the next time you prepare overnight hot cereal. See this post for troubleshooting crock pot cooking.
3. If you would like your slow cooker to turn on and off automatically, you can plug it into an appliance timer.
Yield: 3 to 4 servings
>> One quick request: if you like this recipe, please leave a rating and a comment. Ratings help more people find these healthy recipes!
Print Recipe
Want More?
For more healthy and delicious recipes like this one that will simplify your journey to a healthier and thinner you, check out my
Healthy Weight Loss Program!
You my also like:
Before you go . . .
Did you know that you can eat all this delicious food AND lose weight? You can!
No calorie counting. No portion sizes.
Join my online weight loss program today!