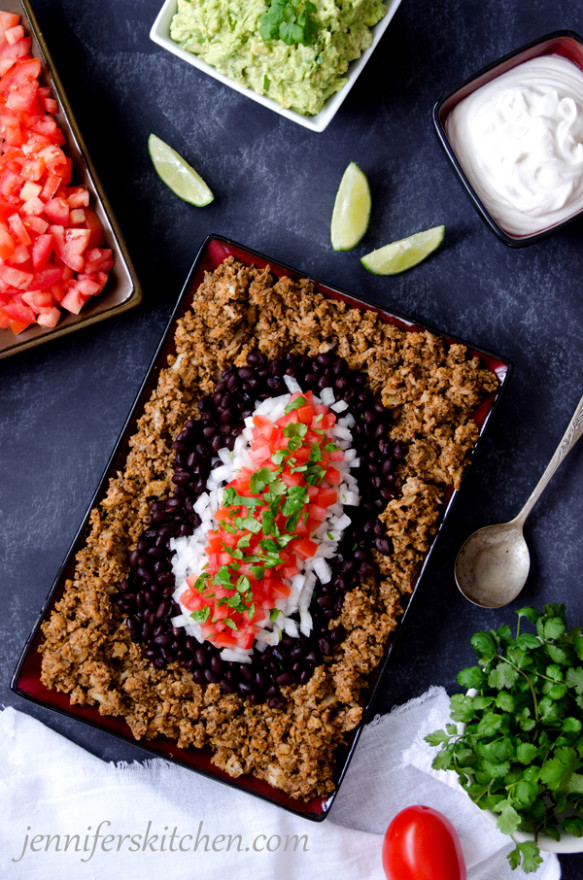 Let me read your mind. You don't like cauliflower. As someone who is not a big fan herself, I totally get it.
But give me a teeny chance and I just may be able to help you with that.
5 Kinds of Cauliflower in the World
There are 5 kinds of cauliflower in the world, so let's just take a closer look.
1. Mushy
I know you've seen this. At a buffet or on a school lunch tray. Not even going to go there. Next …
2. Lightly-Steamed and Nicely-Seasoned
A favorite if you like cauli. But not so if you don't.
3. Transformer Cauliflower
This is the cauliflower that gets made into pizza crust, buffalo wings, lasagna noodles, cookies (really?), and tater cauli tots. Where do people come up with this stuff?
4. Get-Along Cauliflower
The phlegmatic of cauliflowers, this one gets mixed into casseroles, burgers, pasta dishes, and stir-fries and seems to get along great with every ingredient.
5. And then there's Mexican Cauliflower.
Oh, wow. This can't even be healthy cauliflower, can it?
This South of the Border cauli is my new favorite way to eat this boring healthy vegetable. It's amazing and full of flavor!
I need more of this in my life.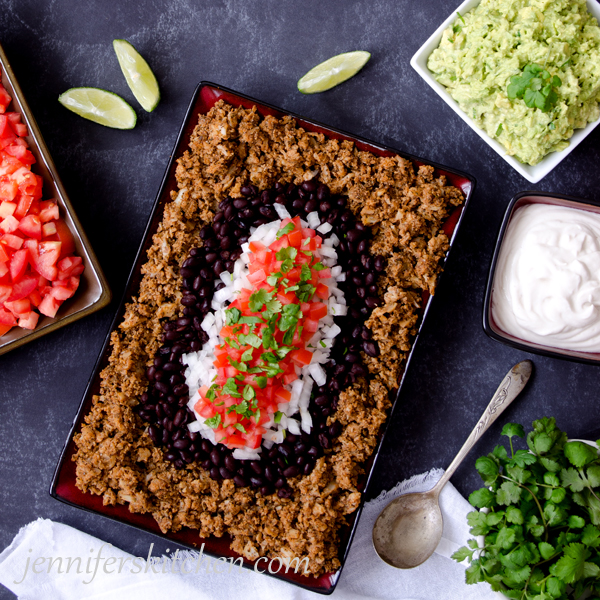 Mexican Cauliflower
Ingredients
Cauliflower
8 – 9

cups

cauliflower florets

-

(about 1 medium head cauliflower)

1 – 2

tablespoons

olive oil

7

teaspoons

granulated onion -

(2 tablespoons + 1 teaspoon)

4

teaspoons

dried basil

-

(1 tablespoon + 1 teaspoon)

4

teaspoons

dried oregano -

(1 tablespoon + 1 teaspoon)

2

teaspoons

granulated garlic

2

teaspoons

sweet paprika

1

teaspoons

cumin

1 1/4

teaspoon

salt

1/4

cup

lime juice -

scant
Instructions
Have toppings ready.

Measure cauliflower florets and place into food processor. (Depending on the size of your food processor, you may want to do this in 3 or more batches.)

Pulse until cauliflower is finely chopped (about the size of small grains of rice). You should have about 5 cups finely chopped cauliflower.

Heat oil in a large skillet or pot over medium heat. Add chopped cauliflower and stir to coat with oil. Sauté, stirring often, for about 5 minutes or until cauliflower begins to turn golden.

Meanwhile measure seasonings into a small bowl.

After cauliflower has sautéed for 5 minutes, stir in seasonings. Add lime juice and quickly cover skillet. Cook on low for 5 to 10 minutes or until cauliflower is tender. (Cooking time will depend on the size of cauliflower pieces.) Stir occasionally to prevent cauliflower from sticking to pan. If necessary, add a tablespoon or two of water. (I've never had to add water, but I put this here to make sure I don't get blamed for scorched cauli. 🙂 )

To serve, place cauliflower on large serving platter or dish. Top with black beans, diced onion, and tomatoes. Sprinkle cilantro over all. Serve with guacamole on the side (and sour cream if desired). Serve immediately.
Notes
1. If desired, black beans can be seasoned with granulated onion, cumin, granulated garlic, and salt.
2. Because some prefer to buy their guac and sour cream rather than making it, I omitted these from prep time calculations. If you are making your own, adjust the prep time accordingly.
>> One quick request: if you like this recipe, please leave a rating and a comment. Ratings help more people find these healthy recipes!
Print Recipe
Want More?
For more healthy and delicious recipes like this one that will simplify your journey to a healthier and thinner you, check out my
Healthy Weight Loss Program!

Caulipower
For very few calories, cauliflower provides you with a hefty serving of fiber, vitamin K, and folate.
Enjoy!
You my also like:
Before you go . . .
Did you know that you can eat all this delicious food AND lose weight? You can!
No calorie counting. No portion sizes.
Join my online weight loss program today!