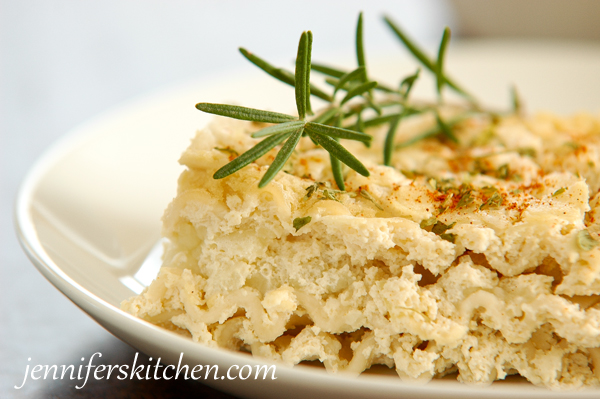 Traditional lasagna calls for pasta, tomato sauce, meat, and ricotta cheese … and is pretty high in fat. But this lasagna is anything but traditional.
And that's one of the great things about lasagna…it's a dish that's quite amiable toward change. Its flexibility is the reason we see probably hundreds of variations of this traditional Italian dish.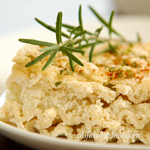 Print
Creamy Potato Lasagna
Ingredients
4 - 5 cups peeled and diced potatoes
2 3/4 cups water – divided
3/4 teaspoon salt
6 cups very hot water
9 uncooked Tinkyada lasagna noodles (Using other types of noodles might work with this recipe, but I don't know since I haven't tried it.)
1 large onion, diced
4 tablespoons olive oil – divided
2/3 cup raw cashews
12 ounces silken tofu
1 tablespoon granulated onion
1 1/8 teaspoons salt
1/2 teaspoon granulated garlic
GARNISH
paprika
parsley
Instructions
Place diced potatoes, 1 cup of water, and 3/4 teaspoon salt into a medium-large pan and bring to boil. Reduce heat and cook at a low boil until potatoes are very tender.
Meanwhile, place very hot water and uncooked pasta in a large, flat dish to soften noodles. Set aside.
Sauté onion in 2 tablespoons of oil in a small pan over medium heat until onions begin to turn translucent.
Place cashews and remaining 1 1/2 cups water in blender and blend until mixture is very smooth with no grit. Add tofu, remaining 2 tablespoons oil, and seasonings and blend until smooth.
Pour one cup of blender mixture into the bottom of an oiled 9" x 13" baking dish.
When potatoes are tender, remove from heat, and add 2/3 cup of blender mixture. (Do not drain potatoes.) Mash potatoes with a potato masher or an electric mixer. Add a small amount of water if necessary to achieve a very soft mash potato consistency.
Stir approximately 1/4 cup of sautéed onion into mashed potatoes. Stir remaining onions into remaining sauce in blender. (Do not blend).
Place 3 drained lasagna noodles into baking dish over the sauce. Spread half of potato mixture evenly over noodles. Place 3 more noodles over potatoes and then spread remaining mashed potatoes over noodles. Place remaining 3 noodles over potatoes. Pour blender mixture over noodles taking care to cover noodles completely.
Cover and bake at 350°F for 30 minutes. Remove from oven and let stand for 5 minutes before cutting.
Notes
Soaking the pasta in water and covering the dish tightly before putting it in the oven are both essential steps for the noodles to be properly cooked. I've been doing a little experimenting with this dish, thanks to some suggestions that Cynthia left in the comments section. We love it! (I made the adjustments in the recipe as of 11-19-08.) Hope you like it too!
Popular Posts